The new Kershaw Eris folding knife was released at this year's SHOT Show. Though a fairly straight-forward and simple design, the new Eris has some nice features that could make it a viable on-duty or off-duty EDC pocket knife.
The concept of a pocket knife has been around for perhaps millennia, but in the last 150 years or so the designs and features have changed quite a bit. From daggers to folders, and everything in between, a good pocket knife is not only handy for practical jobs but could be a last-ditch tool for life-and-death self-defense.

Kershaw Eris Details
The Kershaw Eris uses a modified drop-point blade, made from 8Cr13MoV steel. This steel should be more than capable of handling day-to-day jobs while maintaining a decent edge. This Chrome-Moly blended steel is also not too difficult to re-sharpen when that time comes along. The Eris blade includes a unique top "swedge" cut, providing a visually appealing profile. In addition, Kershaw adds a 2-tone finish to the Eris blade. The grinds on the blade have a stonewashed appearance, while the flats have a nice satin look.
Accessing the Eris blade is both fast and easy, using Kershaw's SpeedSafe assisted opening. This system uses a torsion bar on the bottom back-end of the blade. When the blade is folded into the handle, the torsion bar sticks out the top of the handle. The user simply uses their forefinger to roll the torsion bar towards their hand to quickly open and lock the blade. This system is arguably better and safer than thumb studs that require users to place their thumb on the blade itself.
The Kershaw Eris handle is pure stainless steel with a fantastic titanium carbo-nitride coating in a soft matte grey color. The handle is contoured to specifically fit into the user's hands, providing a great grip position. The top of the handle curves slightly upward to meet the bend in the user's hand, while the bottom side has a slight cut-out to provide the fingers a secure gripping area. This handle not only provides the strength and stability necessary for a good knife but the corrosion resistance necessary for a true working knife. The Eris uses a sliding frame lock to secure the blade in the open position while in use.
Kershaw designed the Eris with a reversible pocket clip at the rear of the handle for a folded tip-up position while carrying. There is also a slot in the handle for a lanyard should the user find a need or use for this option.
Features
SpeedSafe assisted opening
Reversible pocket clip
Sliding frame lock
Lanyard slot
2-tone blade finish
Stainless steel handle
Titanium carbo-nitride handle coating.
Specifications
Type: Folding, flipper knife
Blade Material: 8Cr13MoV steel
Blade Style: Modified drop-point
Blade Finish: 2-tone (stonewashed grinds, satin flats)

Handle Material: Stainless steel

Handle Finish: Titanium, carbo-nitride
Overall Length: 7.5 inches
Closed Length: 4.1 inches
Blade Length: 3.0 inches
Weight: 4.7 ounces
Locking System: Frame locking bar
MSRP: $49.99 (on sale here for less than $25 right now)
Final Thoughts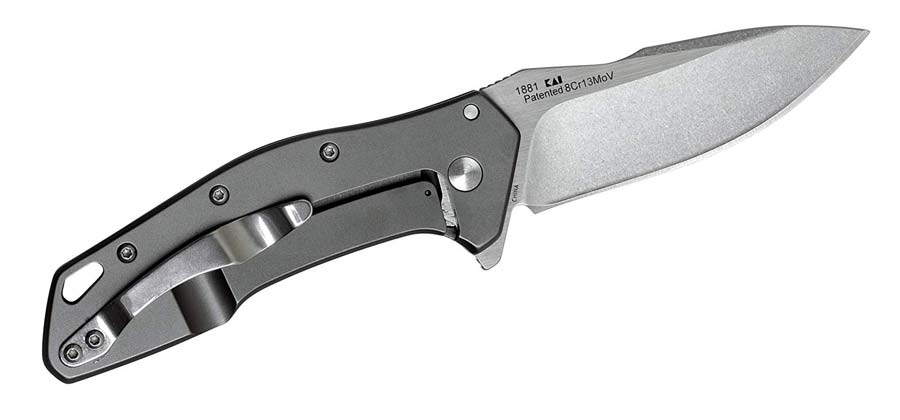 The Kershaw Eris knife is a reasonably priced folder (we found the best price here), made with quality materials, and provides several features worthy of an every-day carry (EDC) knife. The drop-point blade is made with decent quality steel and has a nice finish as well. The razor edge provides good cutting, scrapping, and stabbing features covering a wide range of jobs. A stainless steel handle with Titanium carbo-nitride finish provides excellent corrosion resistance.
The BlueSheepDog Crew are strong advocates of carrying a pocket knife on duty, and off-duty as well. The utility of a good knife will often come in handy while on patrol or even investigations. From trimming threads off your uniform to scrapping fraudulent license plate tabs a good pocket knife is one of those essential gear items that sometimes gets overlooked.
In addition, a good knife can be used as a seatbelt cutter in an emergency, or as an emergency self-defense tool (readers are encouraged to verify their local laws first), though a small fixed blade knife is much better prepared for self-defense work.