Trijicon announced the release of MRO rifle optic, after its debut at SHOT Show 2017.
Adding to their impressive list of rifle optics, the Trijicon MRO (Miniature Rifle Optic) is a relatively compact red dot optic designed for reflex rifle shooting, tailored for the AR-15. These types of optics have proven to be extremely valuable, especially in the close-range or close-quarters shooting situations.
Trijicon has already established a strong presence for rifle optics, with their ACOG optic/scope being heavily used by U.S. armed forces in the current Global War on Terrorism. Additional high-quality products like the MRO are continuing to solidify Trijicon's place among the leading rifle optics manufacturers.
[Ed. note: Make sure to read Richard's Trijicon MRO Review on this optic. You can also pick up the optic for less than $450 here.]
The Miniature Rifle Optic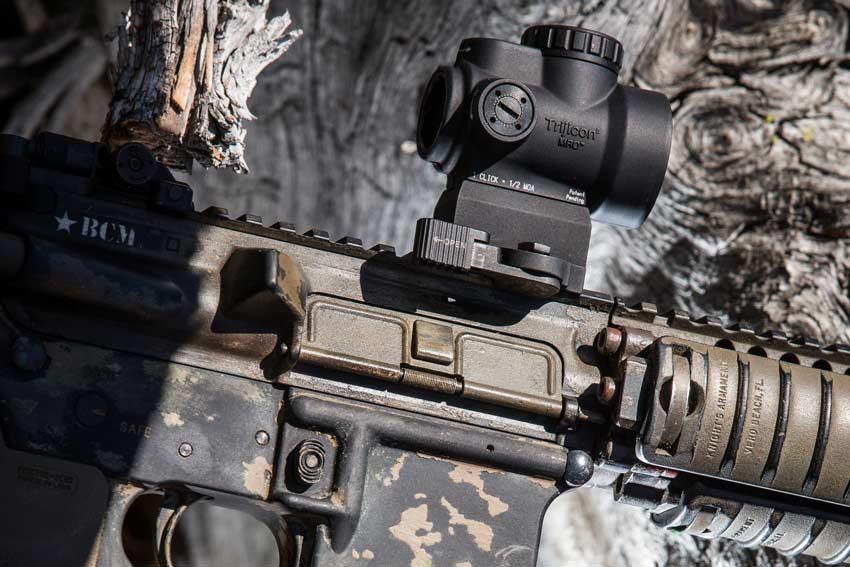 The Trijicon Miniature Rifle Optic (MRO) uses a fully sealed, forged aircraft-grade 7075-T6 aluminum body, to house a very nice 2 MOA red dot sight. For many rifle optics, a 2 MOA dot is standard (see also our article on the Aimpoint CompM4s.)
The MRO body is hard anodized for corrosion resistance and is waterproof as well. The MRO is particularly suited for rifles, carbines, or shotguns, but could also be a beneficial addition to rifle/carbine-based pistols as well. In fact, the MRO has been tested for strength and durability to the same MIL-STD-810G environmental and durability requirements as their ACOG.
The MRO features a large aperture to provide the shooter with the greatest opportunity to acquire the target and align the dot for accurate shooting. This aperture uses a tapered light path, along with a larger optical image area to maximize the viewing area for the shooter. Some red dot/reflex optics have small apertures and glass. Though the compact nature of those smaller optics has benefits in portability and weight, the smaller size also creates a much narrower field of view and can sometimes interfere with proper dot alignment on a target.
The larger glass on the MRO provides much better situational awareness when the rifle is up and on target, as well as aiming during a variety of shooting positions. The objective (front) lens is ideally angled for perfect centering of the dot to the user's eye. The MRO lenses are multi-coated to provide quality glare reduction while increasing the usable light reaching the shooter's eye. These lens coatings provide clearer imaging of targets, even in lower-light conditions, allowing a shooter to have confidence in what, whom, and where they are shooting.
The Trijicon MRO will provide the shooter an ambidextrous brightness adjustment control placed on the top of the optic rather than on a side. This makes manipulation easy for both right or left-handed shooters. The ambidextrous brightness control is a particularly nice feature and allows for a much better off-handed shooting experience as well. If you are not practicing off-handed shooting (both long-gun and pistol) you are seriously hindering your ability to address threats. We've posted before on the importance of off-handed shooting here.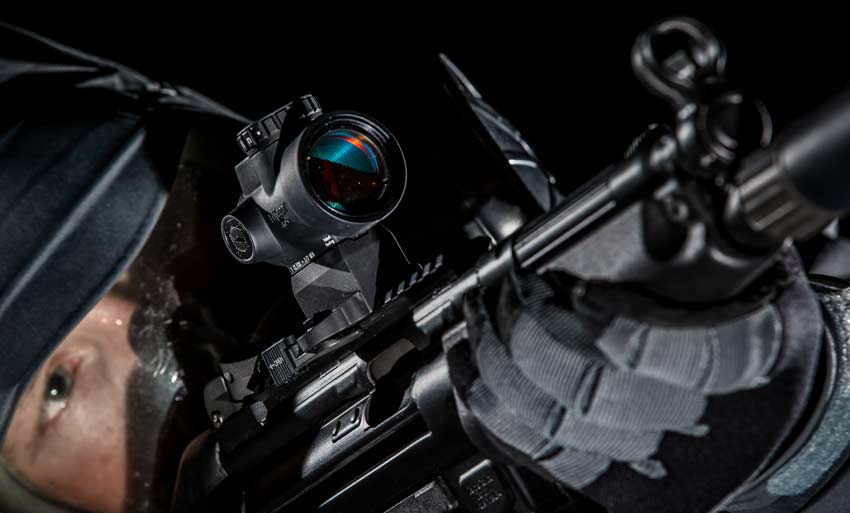 There are eight brightness settings on the MRO, with a mid-position off feature. Of the eight settings, there are five daylight settings, one super-bright setting, and two night vision settings. The illumination is powered by a single CR2032 Lithium battery and can provide continuous on power at day setting 3 for up to 5 years. This is a very important feature as it provides ready use even if you accidentally left it turned on.
Other very nice features include the sub-flush turret adjusters located in the body-protected low-profile turrets. By being sub-flush the adjusting dials are protected from inadvertent movement and damage through jostling or impact. This is particularly important considering the adjusters are open and exposed (waterproofed). Turret adjustments are set at 0.5 MOA (1/2″) at 100 yards, a fairly standard adjustment range for red dot/reflex optics.
There are three mounting options for the Trijicon MRO: Low, Co-Witness, and Lower 1/3. The low mount will provide the lowest profile and bore-to-sight off-set of the three (see picture below).
The Full Co-Witness mount is higher and will center the dot on standard mounted iron sights. Some shooters really enjoy this and often run both red dot and iron sights together. The dot speeds sighting, while the irons can provide additional assurance of aiming point. Finally, there is the Lower 1/3 mount. This mount is the tallest of the three, and provides a co-witness with the iron sights in the lower 1/3 of the MRO viewing area. Taller mounts can benefit reflexive shooting, as the dot comes on target quicker, even if the shooter's shooting platform is not perfect. The mounting torque specifications for the four included #4-48 screws is no more than 12 in./lbs.
MRO Features
Forged, 7075-T6 Aircraft-grade aluminum housing

Large viewing area – reduced "tube" effect

Eight adjustable brightness settings, including two NV
Ambidextrous brightness control – top of optic
Multi-coated lenses for glare reduction and light transmission
Compatible with add-on magnifiers
Surface-flush adjusters, easily set
Waterproof to 30 meters (100 feet)
One Lithium battery – 5 years continuous on at day setting 3
Limited Warranty – electronics for 5 years after manufacture
MRO Specifications
Material: Aircraft-grade aluminum housing
Magnification: 1x
Overall Length: 2.6 inches
Objective Lens Width: 25mm
Width: 1.7 inches
Height: 2.0 inches (optic only, mounts raise higher)
Weight: 4.1 ounces
Eye Relief: Infinite
Clear Aperture: 0.805 inches (20.4mm)
Battery: one CR2032 (included)
Picatinny Mounts: Low, Co-witness, or Lower 1/3
MSRP: $579 (no mount), $629-$639 (standard mounts)
Street Price: Less than $450 through this affiliate link
Final Thoughts
Trijicon is on my shorter list for quality optics. There proven platforms have served our nation well, and many law enforcement agencies as well. The general public has tossed in their support and acknowledgment of quality with significant purchases.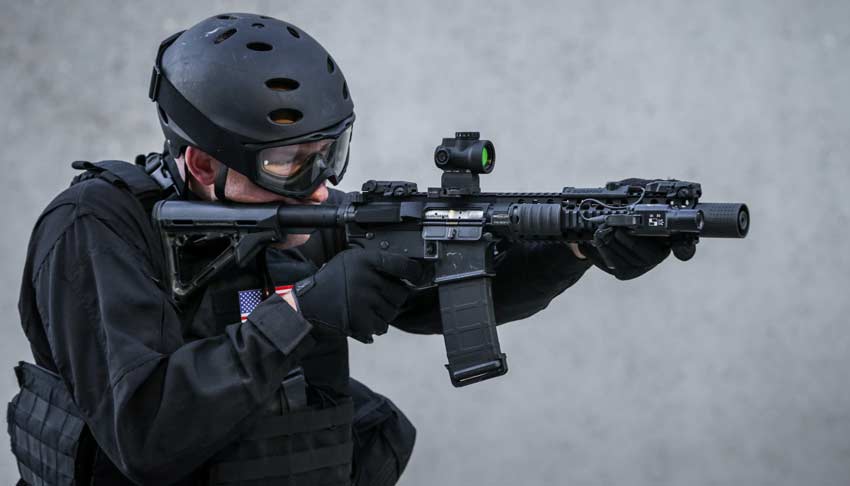 The Trijicon MRO is very nicely sized, and the 2 MOA red dot is perfect. Any smaller and you really have to increase brightness just to locate the dot accurately during reflexive shooting. Any larger and the dot begins to significantly impair accurate targeting at distances even as short as 50 yards. The high-quality aircraft-grade aluminum body and multi-coated lenses should give the MRO a long life. Speaking of long life, I love the potential life of the CR2032 battery – even if left on continuously at day setting 3. That feature cannot receive too much credence!
Even with our limited exposure to the Trijicon MRO at SHOT Show, I would have no problems recommended this optic for duty use. However, you might want to check out this Trijicon MRO review for additional details.
Disclosure
BlueSheepdog.com is a for-profit website. I do not charge readers a dime to access the information I provide.
Some of the links on this page and site are affiliate links to companies like Amazon and Palmetto State Armory. These links take you to the products mentioned in the article. Should you decide to purchase something from one of those companies, I make a small commission.
The links do not change your purchase price. I do not get to see what any individual purchases.