I should preface this column by saying that I am a big fan of Ford.  In reality, I am a fan of all of the "Big Three" and I own vehicles wearing all three emblems (and no others). I support our economy by only buying American branded vehicles. I like my American cars and trucks, but, in particular, I respect Ford a lot. Henry Ford is one of my personal automotive heroes and I have visited Dearborn frequently. I was the ONLY automotive columnist who supported Ford during the gas tank fire brouhaha. I am impressed by Ford's innovations of the past (including the creation of the first Pony car, the Mustang, of which I have owned many). I am thankful they produced North America's favorite police car (the Crown Victoria Police Interceptor [CVPI]) for 13 years and I have tremendous respect for Ford's decision NOT to take the Federal handout and then turning a profit on their own.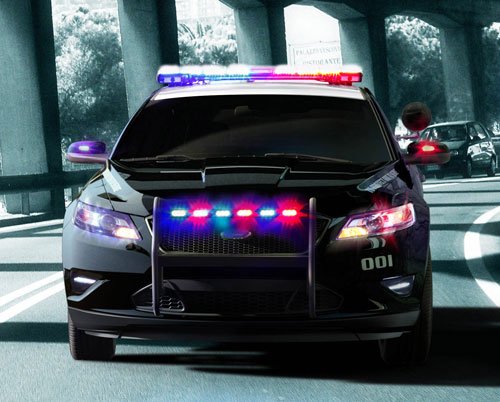 Leader of the Pack
All of that being said, why did Ford stop building the Crown Vic? I realize fleet sales account for the least profit for a car builder, but when they (Ford) consistently owned around 85% of the police car market throughout all of North America, year in and year out, surely, it was profitable for them. The 13 year run of the Interceptor (1998-2011) was a study in how to do it right. The venerable Panther (body on frame) platform was time-tested, reliable, stronger and safer than most unibodies. The Crown Vic consistently rated in the top five of the government's front impact survivability tests.
Ford operated throughout the CVPI years with an "if it ain't broke, don't fix it" attitude – not making changes simply for change's sake. But, every year, the cars were tweaked and improved, primarily in response to consumers' complaints and suggestions and input from Ford's Law Enforcement Advisory Panel (an industry first which was later imitated by the others).
The cars were easy to work on and many parts were interchangeable throughout the years. Large departments (with all CVPI fleets) could stockpile new and used parts. Another tremendous benefit for agencies using the CVPIs was that, as new models were blended into the fleet, the public did not lose recognizability of the marked units. Unless some commander had a wild hair and changed graphics midstream, all of the years looked the same throughout the 13 year run.
The Crowns fended off the competition all of those years and continued to provide law enforce- ment with their ideal police car: a V-8, RWD with four doors. GM was never a serious challenge with their FWD Impalas and expensive Tahoes. Mother Mopar did start eating away at Ford's sales with the Chargers, in V-6 and HEMI® V-8 options, but they were years away from becoming a real threat. So, why kill it now? Of course, we all realize there
is a huge not so secret effort in this country to put us all in front-wheel drive compacts – even our police. But, hello, is anybody listening? Damn it, they just don't work for most law enforcement applications. And, FWD repairs are terribly expensive when compared to similar damage in RWDs. Just think of all the other FWD police cars which were fielded by the Big Three over the years and failed to gain support (sales) – Taurus, Lumina, Intrepid, and Impala.
I've interviewed Ford Fleet brass numerous times and they all stick to the corporate speak that this was a corporate decision, steeped in years of research, but we all know the Panther platform
Crowns could have sold for many more years. Part of the decision was because Ford was under pressure to move police car pro- duction back to the U.S. and the Crowns were built in St. Thomas, Ontario, Canada. Unfortunately, the death of the CVPI also meant the closing of the St. Thomas plant and the loss of jobs for all those employed there. So, after delays and despite hopes that it was all just a bad dream, the last CVPI rolled down the assembly line on Septem- ber 15, 2011.
The End of an Era
All you die-hard fans of the CVPI need to take a few minutes and check out http:// www.crownvic.net/ubbthreads.php?ubb= showflat&Number=2372034#Post2372034 . This incredible set of pictures shows the last Crown trav- eling down the line at St. Thomas on that fateful day. The employees "customized" it a bit by adding the chrome street appearance grille and 17″ Mustang wheels. The significant thing to note is that every employee signed the car as it passed through their station – they signed the frame, inside the trunk and hood, on the floor pan, inside doors. Builders are pictured with the car as it traveled down the line and it was adorned with a draw- ing and the words, "The fat lady is singing." Another employee expressed his feelings in stronger terms, "The last f…… one!"
Last summer, I asked a Ford exec where the last (and quite historical) CVPI was headed.(My personal choice would have been the Henry Ford Museum.) I was told the Kansas State Highway Patrol had requested the last one. Hey, that's something I could live with.The KHP has retained (and restored) several different styles of patrol cars and this would have been a fitting addition to that collection. But, unfortunately, that was not to be. Sit down and take a couple of deep breaths for this one (and maybe a shot of your favorite adult beverage,
too) – the last Crown Vic, this historic icon of American law enforcement, was claimed by Al Jaz/Rah Vehicles Agency and it was shipped to Saudi Arabia. Some of the options on the build sheet now make sense: rear AC, smoker's package, and more. I won't go off on a rant now – just fill your own thoughts in here.
Questionable Decisions Are Contagious
Ford's actions remind me of similar questionable decisions made by the other two companies during the last couple of decades. Chrysler killed off the M body Diplomats and Gran Furies with the 1989 model year – despite nearly every city, county and state agency owning them sometime during the 1982-1989 run.
Chrysler was never again a successful player in the cop car game until the 2006 Chargers. Folks, that's 17 years without a viable (sellable) product! Not many companies (of any kind) could survive with that track record. Could that be why they have had three owners during the same time period?
Of course, Chrysler and Ford aren't the only ones. Consider the 1992-1996 Chevy Caprices. They were ridiculed at first, but then loved and respected by the time the 1994-1996 9C1 models arrived with the LT1 engines. They are still con- sidered by many automotive experts and cop car fans alike to simply be the BEST police cars EVER!
These cars were so incredibly popular, in fact, that an entire cottage industry sprang up (after their demise) in which Caprices were rebuilt with new engines, transmissions, suspensions, and more and returned to their owners for many added miles of reliable service. Sadly, it seems no one is willing to step up and do the same for the CVPIs.
I had the opportunity to tour the Chevy Assembly Plant in Arlington, TX, with my car club to watch the last of the 9C1 Caprices and their cousins, the Im- pala SSs, roll off the line in the summer of 1996. It was emotional, to say the least, as we were witnesses to the last of an era. But, now, as I reflect on those images, the past once again becomes the present. As the tour ended, we spotted a group of approximately two dozen sedans parked in a dark corner of the plant and, being car guys, we naturally headed over to check them out. The multicolor fleet sure looked like Impalas, with the subtle body mods which differentiated them from Caprices, but they were all badged "Caprice SS." When we asked our tour guide, we were told, "Those are all going to Saudi Arabia. The Caprice name is more prestigious over there than Impala." They were all built without catalytic converters, so they could burn leaded fuel. Are you beginning to see a pattern here?
Today's Options
As we mourn the loss of the Interceptor, we must continue to look ahead for suitable replacements. As all regular readers of P&SN know, there are only two V-8, RWD sedans left – the Dodge Charger (also available in a potent V-6) and the Australian built Chevrolet Caprice, currently the fastest police sedan available. Several departments are opting for Chevrolet's other V-8, the Tahoe SUV. It is more expensive than the Caprice (and Charger), but boasts more versatility and a taller stance. A nonpursuit rated version is available in 4WD.
For those of you wishing to experiment with – or wanting to make the jump to – FWD, Ford's two new Interceptors await you. Both the sedan
(Taurus) and the SUV (Explorer) are FWD standard, with AWD and potent tur- bochargers as options. Chevrolet is also still a player in the FWD arena with the time-tested Impalas, currently the fastest FWD cruisers out there. They are available in two packages – the 9C1 patrol unit and the 9C3 undercover unit.
So, there are other choices available when your last Crowns head off to that taxi lot in the sky, but they will be missed.
Enough said, I suppose. Let's all hoist a cold one to the memory of great police cars past and hope for the best in the future with something we all can live with.
About the Author: James Post always appreciates your comments and encourages your ideas about future topics. He can be reached at 5922 S. Primrose Rd., Lowell, AR 72745-9379, or via E- mail at kopkars@arkansas.net.
This article is a contribution from articles and gear reviews for the patrol officer.  P&SN is a valued supporter of BlueSheepdog and the Blue Crew.  You can obtain a free subscription to the Police & Security News magazine by joining the Blue Crew.