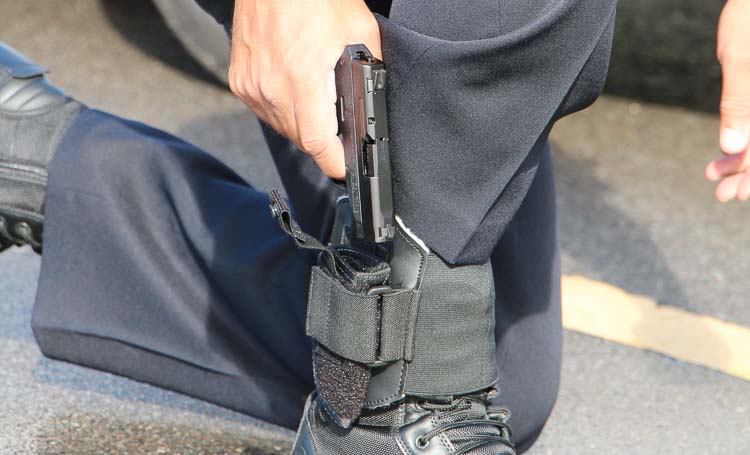 Thanks for checking out my guide to Smith & Wesson Bodyguard 380 holsters. I've been shooting for many years as both a cop and an armed citizen. It can be tough to find honest reviews and comprehensive listings of carry rigs for specific models of guns.
Since the Bodyguard line of pistols are popular as back up guns and for personal protection, I figured I would tackle this one and try to help everyone out by sharing my experiences.
I've had a chance to shoot and carry both versions of the .380 ACP Bodyguard: models with and without the integral laser. Hopefully my experiences will offer you some guidance in finding a system that works for you.
I've offered suggestions on the best holsters in each category – based on my experiences – in the styles of carry section. Here I describe the different ways you can carry your 380 pistol and let you know what works best for me.
In the companies section, I go through all of the companies that are offering carry rigs for this gun and describe the holsters that they make. Where I have had experience with particular models or companies, I give you my thoughts.
At the bottom of this page, there is a comments section. I sincerely hope that readers will chime in with your experiences. If everyone shares their thoughts, then other readers can get a good feel for what works and not waste money on something that doesn't fit their needs.
The M&P Bodyguard 380 Pistol
If you are not already familiar with the Bodyguard 380, it is a subcompact pistol introduced by Smith & Wesson at the 2010 SHOT Show. As the name suggests, it is chambered for the .380 ACP cartridge. It was first introduced with an integral red laser, but is now also available with a green laser or without any laser at all.
Due to its small size, it has been popular as a self defense gun and has been approved by many agencies as a BUG (backup gun.) Although it is considered part of the M&P line, it shares no commonality with the full size or compact M&P pistols, nor is it anything like the Shield. Check out Randall's review of the pistol here.
Styles of Carry
There are a variety of ways one can carry a concealed handgun, and the one you select is a highly personal decision. Factors that will influence how you carry include:
purpose – is this a backup gun for uniformed officers or carry off duty?
clothing – some clothing styles preclude certain modes of carry
comfort – you won't carry something that is painful or very uncomfortable
I'll go over several of the more popular methods of carry for the little .380 ACP pistol and offer my perspective for both law enforcement and armed citizen carry.
Ankle Carry
Ankle carry gets a bad rap from some in the firearms and law enforcement communities, which is unfortunate. I've carried a wide variety of guns on duty and off in this position. The position has both advantages and disadvantages that can make it a good or bad choice depending on your needs.
For carrying a backup gun when in uniform, this was always one of my favorite locations. I would strap my BUG into a holster and lock it down on top of my duty boot. The gun can be slow to get to if you are standing and never practiced, but is very fast and easy to reach when seated in a car.
If you want the best ankle holster for the Bodyguard 380 for use in uniform, I recommend the very affordable Uncle Mike's rig. I have tried several different brands of ankle rigs for a back up gun, but always came back to this one. It mounts nicely on the boot, is very secure and is reasonably priced. The real bonus is that it can be hosed off or tossed in the washing machine. Make sure you get the "size 1" for the best fit on the pistol.
For armed citizens and off-duty cops, the ankle carry can be an ok position, but is much slower to access than a belt or pocket rig when standing and walking. It still is fast to get to when seated in a car.
If you are carrying it as a BUG, go for it. Likewise, if you have no other concealment options, carrying in this position is better than not carrying at all.
I don't recommend the Uncle Mike's rig for off duty use as it is not as comfortable against the leg as some of the other options. With a duty boot, the Uncle Mike's works great. With just a sock, however, it loses its appeal.
For the best ankle carry rig when off duty or as an armed citizen, I suggest you look at the DeSantis Die Hard. This is a much more comfortable option while maintaining a high degree of security and concealability. It has a soft neoprene strap that is backed with thick, soft sheepskin.
Vest Carry
This style of carry applies almost exclusively to uniformed police officers carrying a gun on their body armor. You don't need anything fancy, just a simple pouch. I've found several brands all work equally.
I found that the Uncle Mike's body armor holster seemed to work the best and is really inexpensive.
Some come with a Velcro strap that acts as a retention device. I found that the straps of the vest hold the gun very securely, even when rolling around on the ground with a suspect. Therefore, I always removed the Velcro strap as it served no good purpose and just got in the way.
Pocket Carry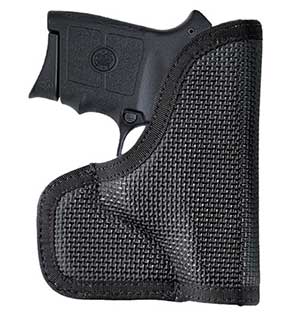 The Smith & Wesson Bodyguard 380 is a great gun for pocket carry as it is small and light. Even though the gun is fitted with a small manual safety, I highly recommend using a pocket holster with the gun. This helps to ensure the gun is properly aligned if you need to grab it, plus it keeps dirt and debris out.
My go to pocket holster is the DeSantis Nemesis. It is the best all around pocket holster for the Bodyguard 380 as it:
protects the gun,
doesn't wiggle around,
doesn't add much bulk, and
is affordable.
The Nemesis is made from synthetic materials, so it can be washed if needed. Frankly, if you carry often, you will want to wash your pocket holster on a regular basis. They can get dirty and sweaty.
Wallet Holsters
Wallet holsters are a kind of pocket holster. Where a pocket holster is generally designed to slip into a front pocket, a wallet rig is designed to go into a back pocket with the profile of a man's billfold. There are relatively few wallet holsters on the market, and I've not tested many of them to tell you which is the best one for the Bodyguard 380.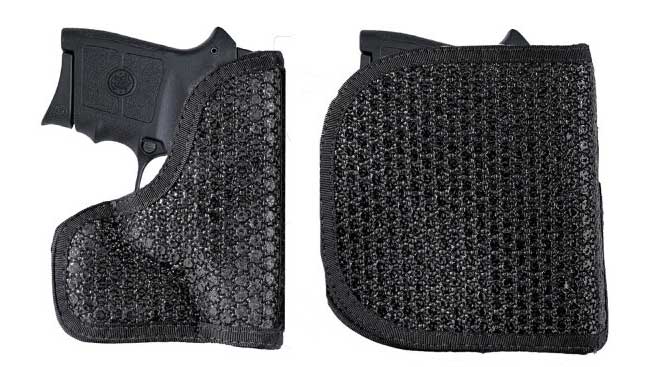 I have tested the DeSantis Super Fly and found it worked well as a wallet rig. The Super Fly has a similar shape to the Nemesis, but with a removable flap that disguises it as a wallet. If you want to use it as a "normal" pocket holster, just pull off the flap. The Super Fly is constructed with different materials that make it very sticky in the pocket.
I'd love to have some feedback in the comments section on what wallet holsters have worked for you.
IWB: hybrid, appendix and more
IWB stands for inside the waistband which describes where the pistol is carried. There are a wide variety of holsters in this category including those that are designed for strong side carry, appendix carry and cross draw.
Additionally, some designs allow you to tuck in a shirt over the top of the gun so no cover garment in needed. These are called "tuckable" designs.
Due to the breadth of designs in this category, it is tough for me to say which is the best IWB rig for the Bodyguard. However, there are several that work well for me that I list below. However, I strongly encourage you to take a look at all of the holsters under the manufacturer section to see what may appeal to you.
Belt Clips
Grip clips, hip clips, frame clips – these are all descriptions for similar devices that mount a belt clip directly to your Bodyguard 380 pistol. Then the clip holds the gun in place, typically inside the waistband of your pants. Think of it as a holster-less holster.
Some folks like these a lot because of their lack of bulk. I don't much care for them because the trigger is not protected from anything getting into it and the gun's finish not being protected from body sweat. Of course, that's just my opinion and you might like them quite a bit.
Although I've never tried one, you might want to take a look at the TechnaClip. I met the owner of the company and he seemed like a stand up guy.
OWB: belt and paddle
As many of you know, OWB stands for outside the waistband. These holster are also available in a huge range of designs including belt slide rigs, paddle holsters and more. There are so many varieties, I cannot tell you which is best.
With a gun as small as the Bodyguard, I much prefer to carry this IWB or in a pocket, not in an OWB holster.
What I suggest is you read through all of the holsters in the manufacturers section below and see what appeals to you. I offer my thoughts on many of the individual rigs there.
The Others…
There are a wide range of other carry options for this pistol. The category includes things like belly bands, shoulder holsters, waist packs and more. Some of the more exotic options include thigh rigs and bra holsters. These will be covered in the companies section below.
Companies
This is a list of holsters for the Bodyguard 380 arranged by maker. Some of the companies listed are small, one-man shops. Others are large international companies. I list the majority of the rigs from each of these companies for the handgun, and gladly share my experiences with the companies and scabbards where appropriate.
If I've missed any companies, please leave a note in the comments section below. Also, if you've had any experiences with some of these rigs, please share those in the comments section also. Let others know what worked – or didn't work – for you. Hopefully, we can build a good resource that other shooters and cops can rely on for advice.
Alabama Holster Company
Alabama Holster Company is a small holster maker based in the Mobile area. This group of experienced shooters make a range of Kydex rigs for the Bodyguard 380 pistol. Below are a few of them, though you should probably go to the company's website to see the current and complete list of everything they offer.
The company offers a pair of pocket holsters, with one designed for a front pocket and the other being a wallet rig. Alabama Holster Company also offers three different OWB rigs and four varieties of IWB models.
I've not had a chance to test any of their holsters, so I can't give you any feedback on them. If you have used their stuff, please leave a comment below.
Alien Gear Holsters
Strange name aside, this company makes affordable holsters that are very comfortable. Their flagship model is the Cloak Tuck, now in its third iteration. The backer is a soft synthetic material that cushions the body from the gun without creating excess bulk, while a steel retention core gives it strength. The company also makes OWB rigs for the Bodyguard 380.
I've tested the Cloak Tuck 2.0 with several different guns and found that it was comfortable to wear even in the heat of a Florida summer. Additionally, the rig does a good job of holding the gun in place while moving throughout the day.
Black Arch Holsters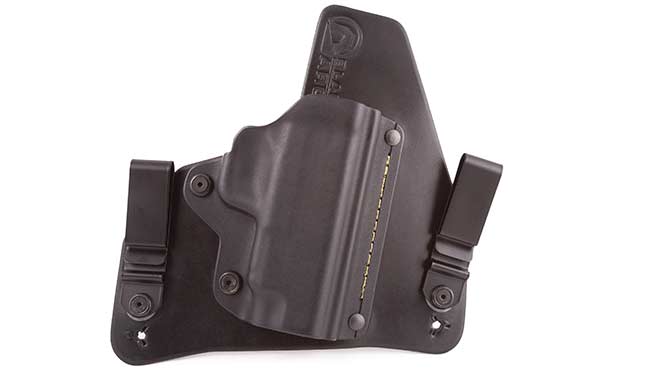 Black Arch Holsters may be familiar to some readers under the company's old name of SHTF Gear. Personally, I like the new name better. Regardless, the company builds a hybrid-style IWB holster for the Bodyguard. The tension is user adjustable, as is the ride height and cant. Additionally, the company backs the holster with a lifetime warranty, and all of the rigs are made right here in the USA. You can take a look at their rig here.
Blade-Tech
Blade-Tech makes quality holsters, and one of the company's most popular models is available for the Bodyguard 380: the Klipt appendix holster. This IWB rig has proved to be quite popular with many people due to its combination of comfort, concealability and aggressive price point. I'd suggest taking a look at this one if AIWB carry is appealing to you.
Bravo Concealment
Texas based Bravo Concealment offers two options for the Bodyguard 380 pistol: the BCA and the DOS. The BCA is an outside the waistband holster made of Kydex with an open top and belt loops. The DOS is an inside the waistband holster that is also made of Kydex. I have a DOS that I have used with my Glock 19. I like the was the rig carries and am happy with it.
Celtic Holsters
Celtic Holsters offers both IWB and OWB holsters for the Bodyguard 380 pistol. I'm afraid I don't know much about the company or how good its products are. If you have any experience with the company, please leave your comments at the bottom of the page for others.
I do know that the company's website is in dire need of assistance. If anyone from Celtic Holsters reads this and would like some free help, please contact me.
CNC Holsters
CNC Holsters is another Kydex rig maker that offers fits for your Smith & Wesson 380. It offers both inside the waistband and outside the waistband holsters that can be had in any of more than two dozen colors with a large number of preferences such as cant and belt loop sizes.
One of the interesting things the company does is name its products after military combat aircraft such as the Harrier, Stratofortress, Lightning and Mig-25.
Cook's Holsters
The folks at Cook's Holsters make a range of Kydex rigs for the Bodyguard. Unlike many of the smaller Kydex shops, Cook's Holsters offers a fairly comprehensive line. In addition to a number of IWB and OWB holsters, the company also makes a purse holster and a boot holster for the Bodyguard 380 pistol.
Another of the company's interesting designs is the surface mount holster. This flat back rig is lined with Velcro and can be mounted in Maxpedition bags or other "fuzzy" surfaces. I like the idea of using something like this on the underside of my work desk.
CrossBreed Holsters
CrossBreed Holsters is most famous for its hybrid-style concealed carry rigs. In a hybrid holster like the ones offered by Crossbreed, a hard polymer shell that fits the gun is mounted to an oversized leather backer. Belt clips are then mounted on the "ears" on either side of the shell. The idea is to spread the weight of the gun over a wide area to improve carry and comfort.
Brossbreed offers a number of rigs for the Bodyguard pistols including those with and without the factory laser module. In addition to the typical hybrid IWB rigs, the company also offers fits for the gun in its OWB, belly band and ankle holsters.
Dale Fricke Holsters
Dale Fricke Holsters offer a few options for the Bodyguard including both IWB and OWB rigs. One of the company's products that I like the look of is the Jonathan Deep Concealment IWB. This rig is designed to allow people to carry a small gun deep inside the waistband for maximum concealment.
For an officer working undercover, this may be a good option when getting caught with a gun could blow your cover.  Likewise, any citizen working somewhere where guns are frowned upon might like this for the added concealment.
Although I've never tested any Dale Fricke holsters, good friend and trainer, Paul Carlson of Safety Solutions Academy has. Carlson has many good things to say about the rig he ran.
Dara Holsters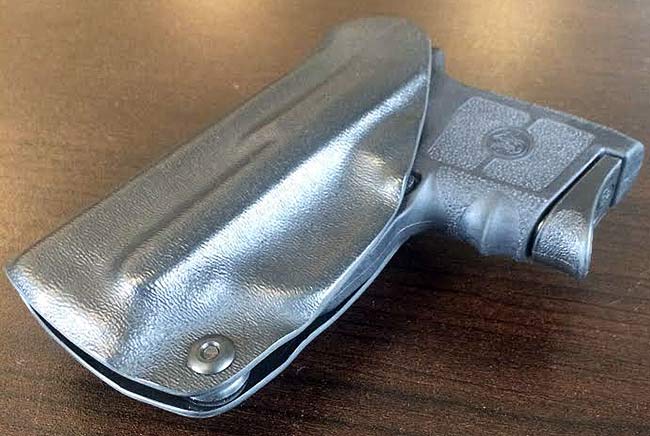 Dara Holsters manufactures carry rigs for a wide range of guns including the Smith & Wesson M&P Bodyguard 380. I've had a chance to interact with the company plus test two of their holsters. I've found them very easy to work with and their rigs are top notch. You can check out my review on two of the Dara Holsters here.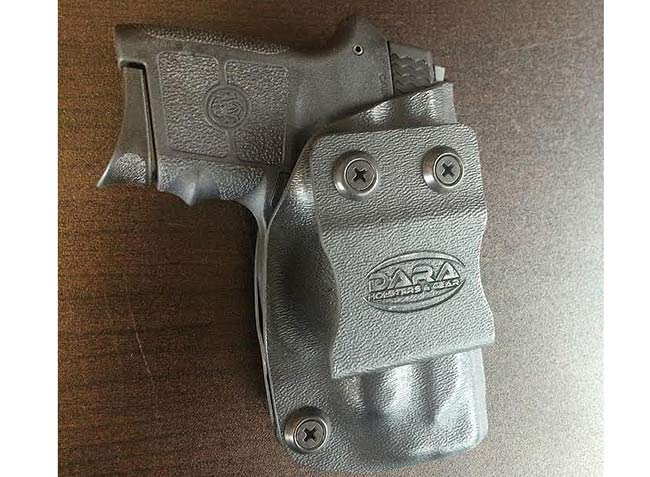 I like the company's IWB enough that I've rated it as one of the best holsters for the Bodyguard 380 in the section on inside-the-waistband holsters at the top of this article.
DeSantis
DeSantis Gunhide has been making quality rigs for a long time, and I have been one of its happy customers for a significant portion of that time. The company offers quite a few different models for the S&W Bodyguard, so I have organized them into categories below.
Inside-the-Waistband
Versa-Tuk – The Versa-Tuk is one of DeSantis' inexpensive IWB holsters that allows you to tuck your shirt in over the top of the Bodyguard. It is not my favorite rig for IWB, but they seem to work pretty good for the money. These are not fitted rigs, but are instead a one size fits many style. Go for the small gun sized one. You can get these in nylon, suede or standard leather.
Invader – DeSantis designed this all synthetic rig in the vein of the hybrid tuckable holsters that have become popular in recent years. Instead of a leather backer, this one uses a neoprene and nylon body pad. The shell is made of Kydex and is form fitted to the pistol. The belt clips are adjustable for ride height and cant.
Intruder – The Intruder is a lot like the Invader with the exception of the backer material. On the Intruder, DeSantis uses premium leather instead of a nylon and neoprene. Between the two, I prefer the comfort of the Invader. The real bonus is that the Invader is also less expensive.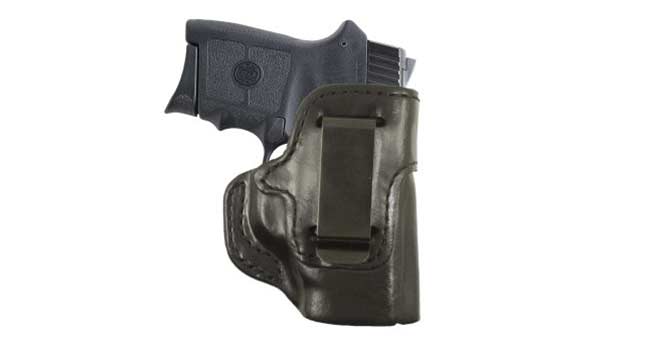 Inside Heat – For a basic leather IWB rig with traditional styling, it is hard to beat the Inside Heat. This is a bare bones – but still molded – leather rig with a metal belt clip. While it is not my favorite, it is still recommended by me if you need a good leather rig on a dime.
Cozy Partner – Styled similarly to the incredibly popular Summer Special from Milt Sparks, the Cozy Partner is a traditional leather rig with soft belt loops that snap into place. The leather is molded to the gun and DeSantis uses top quality cutting and stitching. This is a great rig.
The Insider – This rig is a step down from the affordable Inside Heat above. Where the Inside Heat is fitted to the gun, the Insider is made of soft leather that collapses when the pistol is drawn. This prevents any reholstering of the weapon. Also, I've found these kinds of rigs tend to wear out sooner than molded ones. It is cheap, though.
Outside-the-Waistband
The Intimidator 2.0 – This is a hybrid OWB style rig. It uses a leather backer with a Kydex shell. The belt loops are spaced far apart to widen the weight distribution of the gun. Overall, this is a good design, and it tends to be comfortable for many people.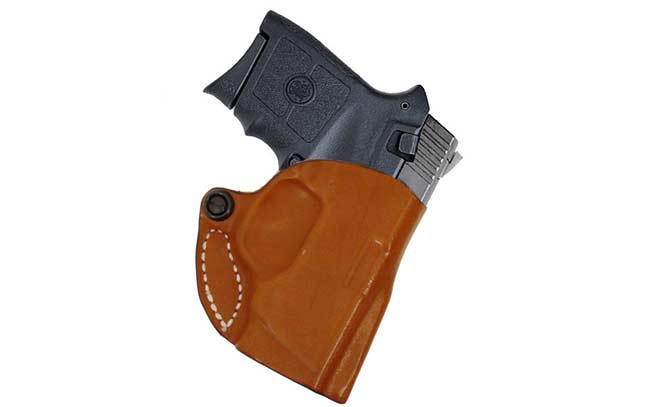 Mini Scabbard – The Mini Scabbard (pictured above) is a traditionally styled, all leather holster with top notch stitching. Belts up to 1.5″ wide can be used with this holster. It is an open top and uses friction to secured the gun in the rig. As you can see in the photo, it has a forward cant.
Nylon Mini Scabbard – As you might expect from the name of this rig, it is a nylon version of the leather Mini Scabbard. The nylon is stiff and holds its shape for easy holstering.
The Maverick – The Maverick is a simple OWB holster with a thumb snap. It has a clip on the back of it to make it very easy to put on and take off.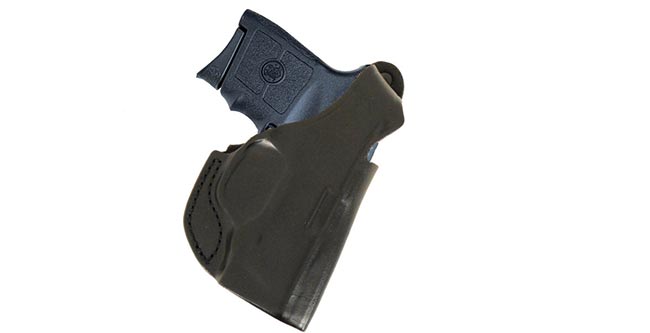 Quick Snap – Similar to the Maverick above, this rig uses a snapping belt loop to attach to the pants. I've found the loop to be more secure than a clip, but still be fairly quick to take off like the Maverick. Of the two, I prefer this one.
Ankle Holsters
Apache Ankle Rig – For comfort, it is tough to beat the Apache ankle holster. The system uses a soft neoprene strap that is easy on the leg. The back of the strap that is between the leg and pistol has a thick sheepskin layer that softens all of the gun's hard edges.
The thumb snap can be difficult to activate – watch the above video and you will see the DeSantis spokesman skips that part of the demo.
If you are intending to wear this over a boot, I suggest going with the cheaper Uncle Mike's ankle rig below. If you are looking for a rig to wear directly on top of your sock, this or the Die Hard (next one) will serve you well.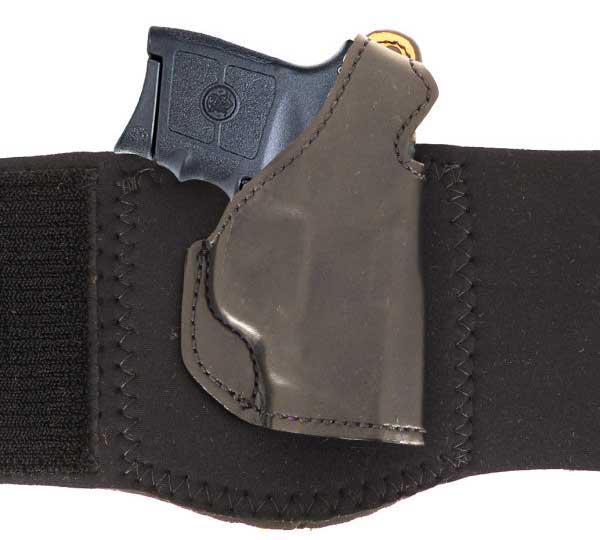 Die Hard Ankle Rig – The Die Hard is similar to the Apache, but it uses a leather holster attached to the neoprene strap. The leather is sealed and should offer long service life even when exposed to real world dirt and grime. I prefer this model to the Apache as the thumb break is much easier to work.
Pocket Holsters
N38 Nemesis Pocket Holster – As I mentioned near the start of this article, this is my pick for the best pocket holster for the Bodyguard 380. There are other good rigs on the market, but this one offers excellent performance and good comfort for a very affordable price. I own several of these rigs for various guns I own. I don't think I can recommend it too much.
Super Fly – This is another pocket rig I mentioned earlier in this guide. For a standard pocket holster, I much prefer the Nemesis. However, the Super Fly has the benefit of having a removable flap that allows you to disguise the gun as a wallet. If this is important to you, then this is the model to get.
DeSantis uses a super grippy exterior to ensure this thing is anchored in the pocket should you ever need to draw your gun quickly.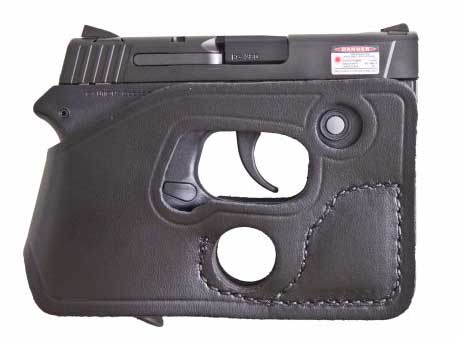 Pocket Shot – This is an ingenious little rig that acts as a skeleton over the gun to give it the shape of a wallet. However the trigger and other moving parts are all exposed allowing you to shoot the gun while still in the holster. I can see a few potential problems with the design, but I like it anyway. For some strange reason, California has deemed this holster as illegal.
Other Non-Typical Holsters
Stowaway – The Stowaway is specifically designed for women who run or are otherwise engaged in physical activities. Since I am a man, I'm not the best judge of this rig.
Essentially it is a specially contoured belly band that includes a suspender system to prevent the gun from sliding about. It looks like a really good rig, and I hope someone can leave feedback on it in the comments section below.
Hide and Chic – I'm not a huge fan of off-body carry. However, I understand that sometimes it may be the only option for carrying a weapon. If you are a woman who are in need of just such an option, consider the Hide and Chic purse. It is a shoulder bag made of high quality garment leather with a special compartment for a firearm.
Incognito – This is a nylon belt pouch that hides the Bodyguard pistol in a container that looks like a PDA case. These work well for some people and have the benefit of not needing a concealment garment. However, the nylon exterior simply doesn't work in a professional environment.
For a top notch, high quality leather belt case, scroll down to the Sneaky Pete rigs. I've had a chance to run those also, and I really liked them – both for looks and function.
Thigh Hide – As one might guess from the name, this is a thigh holster specially designed for women when wearing a skirt or dress. It is made of soft neoprene and includes garter straps to help keep things in place. I'm afraid this is one that I have no experience with.
Hot Jox – Some might classify the Hot Jox as a form of IWB holster. Perhaps it is. However, due to its very non-traditional nature, I choose to separate it out from the IWB rigs.
The Hot Jox is like an IWB version of the waist pouch. It has a waist strap that fastens around the hips with a holster pouch that conceals the pistol in the area of your groin.
To draw the gun, you have to reach into your pants, making the draw somewhat slower than a traditional rig. However, it is very good for concealing a pistol completely from view.
Detriot Holsters
I'm afraid I don't know much about Detroit Holsters, but I have had them recommended to me by several readers. The company offers a number of fits for the BG 380 including an IWB holster called the 8 Mile.
Elite Survival Systems
Elite Survival Systems makes an ankle holster that is shown at the very top of this page. It is a nylon rig similar to the Uncle Mike's that I recommend for backup duty. However, the ESS rig gas a compression strap over the body of the pistol for additional security. I don't feel it is needed, but if you do, this is the rig for you.
F3 Holsters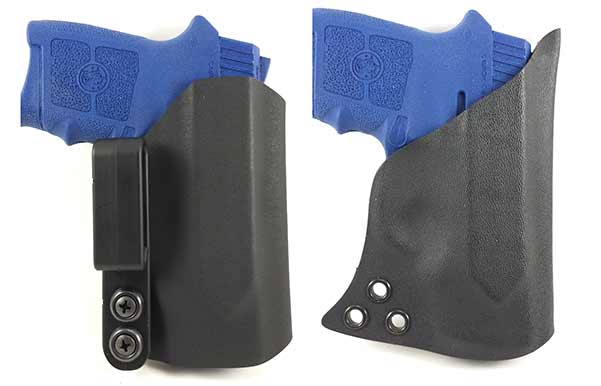 F3 Holsters is an outfit that I know very little about. The company does advertise that is makes a pocket holster and an appendix-type IWB holster for the Bodyguard 380. The prices are pretty cheap, so they might be worth taking a look at. They could be a real bargain. Fair warning – the company's site is a mess and it might take you a little while to find what you want.
Flashbang Holsters
For a unique way to carry a pistol in an undercover op or off duty, women can try the Flashbang holster. This rig securely carries the pistol underneath the breasts by hooking onto the front of a bra. Without going into detail, this will obviously work better for some women than others.
While I'm completely unqualified to give you any real life feedback on these, I have talked to women who like these a lot. I strongly encourage watching the above video for tips on how to wear these.
Fobus
Fobus makes a range of affordable synthetic holsters, but only one for the Bodyguard 380. The Evolution belt holster is an open top, OWB style rig with your choice of belt loops or a paddle. Fobus is not my first choice for a concealed carry rig, but they work ok. If you are on a tight budget, give it a look. For about $20, you could do a lot worse.
Fury Carry Solutions
Fury Carry Solutions is a Kydex holster maker that appears to specialize in OWB rigs. In fact, the company offers four outside-the-waistband for the pistol while making but a single IWB rig. I've not tried their products, but they appear to be well made. Please sound off in the comments section if you've used Fury Carry Solutions products.
Galco Gunleather
Galco is one of the major players in the holster industry, but the company offers few choices for the Bodyguard 380 pistol. They are:
Garrett Industries
Garret Industries offers three basic designs that the buyer can customize. Since these are all Kydex holsters, you have a wide range of colors and finishes that your holster can come finished with. Garret Industries offers an IWB, AIWB and and OWB rig for the BG 380.
Gould & Goodrich
Gould & Goodrich (aka G&G) offers a number of rigs for these pistols. Lets take a look at what is offered:
Body Armor Backup – This attaches to the straps of your body armor and conceals the pistol under your uniform shirt. While the leather is quality, I much prefer the Uncle Mike's version at the top of the article. The Uncle Mike's rig is washable, just as secure and is dirt cheap. I like good quality holsters, but you don't need to waste money here. Get the Uncle Mike's.
Tension Belt Slide – This is a leather OWB rig with an open top. It is a good rig, but I prefer the offerings from DeSantis and Galco at this price point.
Inside Trouser – This is a basic IWB rig that uses a metal clip to attach to the belt. This is very similar to the DeSantis Intruder.
HarWell Holsters
HarWell Holsters manufactures three different carry rigs for the M&P Bodyguard 380 pistols: the ProSlide, the Clip-N-Go and the ProTuck. The ProSlide is a belt slide style OWB while the others are IWB rigs. While the rigs look to be well made, I've never used one myself. Can anyone give us some feedback on these holsters in the comments section?
Kusiak Leather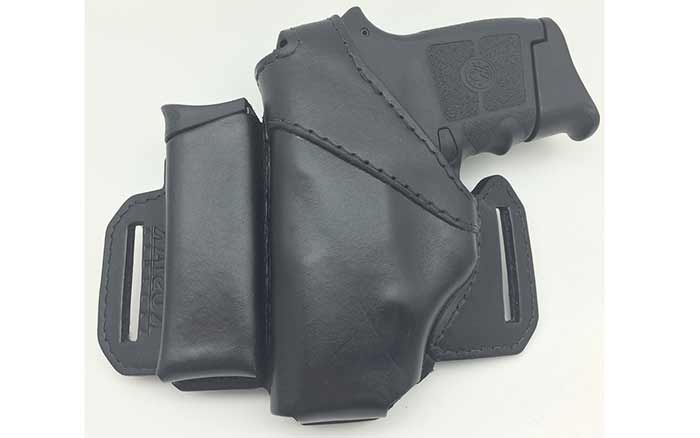 Kusiak Leather offers several different IWB models and a single OWB model for the .380 Smith & Wesson handgun. The IWB rigs are all open top with your choice of cant. One model offers a spare magazine pouch. These run from $36 – $60 as a base price.
The outside the waistband model is a belt slide rig with a thumb break and a spare magazine pouch. This rig starts at $110.
Milt Sparks Holsters
Without a doubt, the rigs from Milt Sparks Holsters are some of my favorites. However, there are some downsides to the brand that include a long delay between ordering and delivery (upward of 6 months when I last checked) and a website that does not make it easy to find and order what you need. Of course, the rigs are not cheap either. If you do want to order one, you have to call them at (208) 377-5577. I sincerely hope the company invests in its web presence as both the prices and wait times are worth it for these rigs.
Mitch Rosen
Mitch Rosen makes some very fine leather holsters. Like Milt Sparks above, Mitch Rosen has been crafting great carry rigs for decades. The ordering process for the Bodyguard is a bit difficult – you have to download a form and fax (!) it back, e-mail it to them or call them. If you want one of the company's rigs, it is worth the hassle, but seriously – it is time for the company to invest a few dollars into the site so customers can more easily order the products. There are a few rigs the company will allow you to order online, but none of them are for the Bodyguard 380.
MTO Holster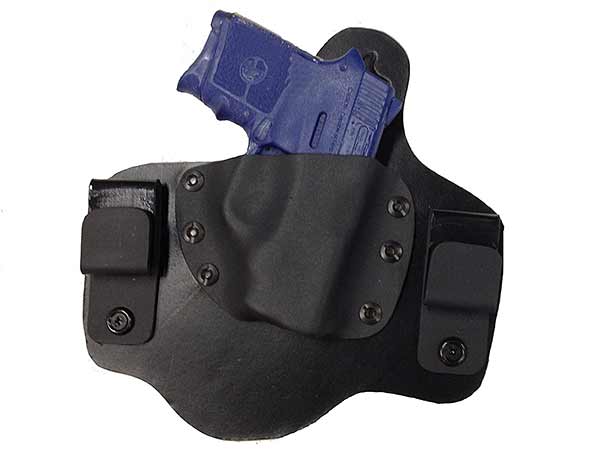 MTO Holster offers a reasonably priced hybrid style IWB rig for the Smith & Wesson .380 ACP pistols. The rig uses a leather backer with a Kydex shell and belt hooks. The belt hooks grab the underside of the belt for increased stability when drawing the pistol. Also due to the shape of the hooks, you can tuck a shirt in on top of the gun to completely hide it without the need for a jacket or other cover garment.
Multi Holsters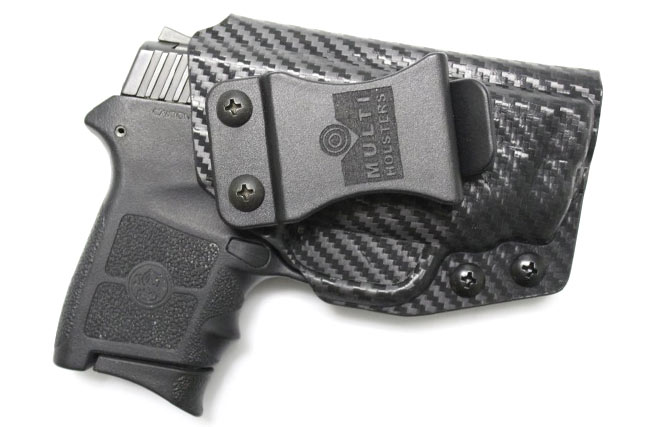 These look like good IWB rigs, but I have not tested these. For what it is worth, they get very good reviews on Amazon from others who have purchased them. If you have one, please sound off in the comments section below with your thoughts on them.
Nightingale Leather
Nightingale Leather offers old world leather concealment rigs that are made in a one man shop. Consequently, the quality is top notch, but delivery times are slow. When I glanced at the company site earlier today, wait times were at 28 weeks (6 months.) You will also pay a bit more money than you would by ordering something from Galco or Safariland. But, you are helping to keep a true artisan in business. Nightingale Leather offers a variety of styles, so you are best served by visiting that site and finding what you like from the current offerings.
OUTBAGS
Frankly, I don't know how this company makes money on these holsters. This is a simple IWB design with a metal clip similar to the designs used by DeSantis and others. However, these are the least expensive IWB leather rigs I have run across. Although I've not tried one, I know a lot of people have purchased these for their Glock 43 and Smith & Wesson Shield pistols – and they are very happy with them. Leave a comment below with your thoughts if you grab one.
Raven Concealment Systems
Raven Concealment Systems offers a number of rigs for the Bodyguard pistol. Although I have never used on of this company's products, I have generally heard good things about them.
One exception is a friend of mine who told me he loves his holster – when it is not broken. He's had to return it twice to Raven Concealment for repairs. He's a guy who wears his gun all day, so I don't know if he is a little harder on the rig than most folks.
Like I said, he still really likes the way the holster carries the gun. Frankly, I don't think I would buy one just based on his experience. However, he is a sample size of only one – not enough to draw any reasonable conclusions from.
Recluse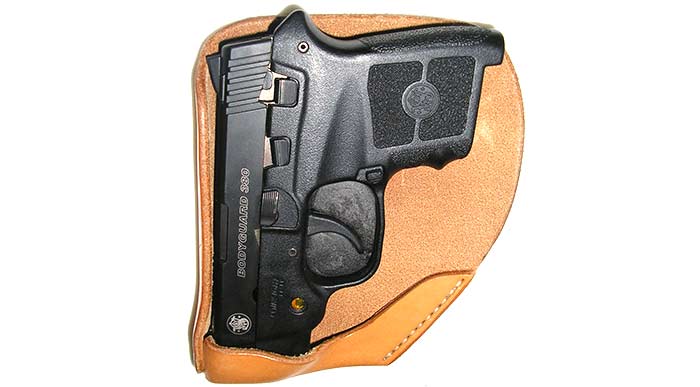 Recluse designed a unique pocket holster for the Bodyguard 380. For lack of a better description, I call it a half holster. In effect, it is the outward facing part of a pocket holster with the rearward facing side removed. This eliminates some of the bulk often associated with pocket carry.
Recluse uses a trigger block to help prevent an unintentional discharge of the gun into your leg, but you do give up the protection from pocket debris getting into the mechanicals of the pistol. Nothing is perfect, so if you like the reduced thickness of this carry package, just make sure you frequently check and clean the pistol.
Remora
Remora offers a slightly different approach to concealment by making holster "pouches" that slip inside the waistband like a regular IWB. However, instead of having some device to secure the holster to the belt, the pouch is covered with a gripping surface that uses friction to hold the gun and holster in place when worn. The good news is they can also be used as an awesome pocket holster.
Remora is also offering ankle holsters, bra holsters and OWB rigs now. In general, the pricing on these rigs is pretty affordable.
RKBA
RKBA Holsters is a small leather shop that makes some great pocket holsters for the Bodyguard. I've purchased several of this company's rigs for myself and another for my father. They wear well and protect the gun without adding much bulk at all.
Safariland
Safariland is one of the top holster manufacturers – especially when it comes to police duty rigs. However, when it comes to the diminutive Smith & Wesson pistol, the company offers only two options.
Model 22 Wallet Profile Holster – This is a pocket holster that is designed to disguise the shape of the pistol to look like a common billfold. This allows the gun to be carried in the back pocket if so desired. The material used is very soft and contains a moisture barrier to prevent sweat from reaching the gun.
Model 25 Pocket Holster – While I normally like Safariland products a great deal, this is not a rig I can recommend. While the construction and durability of this holster are fine, the problem is that does not reliably stay in the pocket when the gun is drawn. I'd suggest you take a look at the DeSantis Nemesis instead. I've had a great deal of experience and success with that rig.
Sneaky Pete Holsters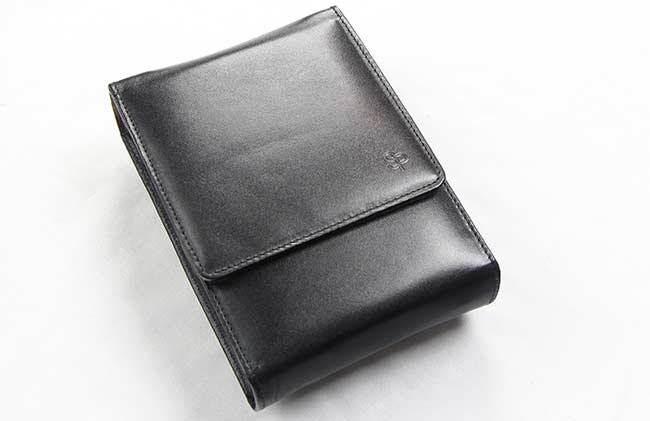 Sometimes hiding in plain site is the best way to go. For those times, Sneaky Pete Holsters has an option for your consideration.
These rigs are high quality leather belt pouches that resemble a PDA or large phone case. A flap is held closed through the use of magnets. When opened, your gun is immediately accessible. When the flap is closed, however, it will not accidentally pop open and disclose its contents.
I've tried these rigs in the past and found they work well. Due to the use of high quality leather and stitching, they work well in  business environment. They aren't for everyone, but do work well if you like the concept.
Stealth Gear USA
Stealth Gear USA offers comfortable IWB holsters that use a hybrid design. Instead of a leather backing, however, the company uses a padded synthetic backer that breathes and is washable. So, not only do you sweat less due to the airflow, but you can toss it in a washing machine should it get nasty.
Currently the company offers three different designs including the Onyx, a standard IWB design that I've previously tested. The Onyx was one of the more comfortable rigs I have used and recommend it for your consideration. I think the materials are slightly more durable than the Alien Gear I mention above, though the Alien Gear is slightly more comfortable. Truthfully, both are nice.
Two other rigs are also available: an appendix model and a more compact version of the Onyx. Models for both the lasered and laser-less pistols are available. These rigs are not as affordable as they once were, but are still less than $100.
Sticky Holsters
Sticky Holsters are similar in concept to the Remora rigs described above. These holsters are not fitted to a specific gun, but instead are pouch-like that hold a variety of guns that are of a similar size. According the Sticky Holsters, the SM-2 size will fit the Bodyguard 380 without a laser. If you have the pistol with a laser, the company suggests you buy the SM-3 size.
Theis Holsters
Based in Arkansas, Theis Holsters is a one-man shop turning out hybrid holsters of both the inside- and outside-the-waistband variety. The holsters use a leather backer matched to a polymer shell. Several of the IWB models are tuckable as well. The company also offers a Kydex pocket holster. Rigs are available for both the Bodyguard 380 with a laser and the model without it.
Tulster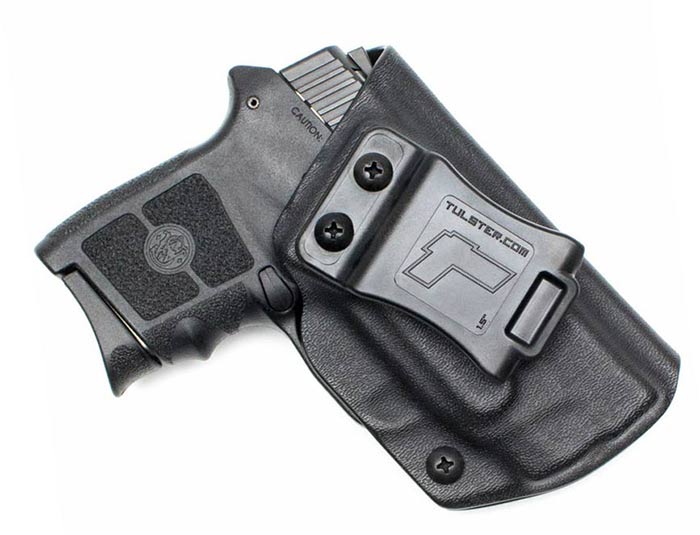 Tulster offers a variety of quality rigs with this IWB Kydex being available for the Bodyguard. The design allows for it to be carried in either an appendix position or behind the strong side hip. The belt clip locks into place and simply will not slip off of the belt. Currently, it is only available as a right handed holster.
Uncle Mike's
There are only two Uncle Mike's holsters that I recommend for carrying the Bodyguard 380 on duty, and both of them I mentioned in my top picks at the start of this article. I've carried both of these extensively on duty and both have worn very well over the years.
The first is the company's body armor holster. This is a basic pouch that attaches to the straps of your concealable body armor. Although it has a retention strap, it is not needed. When you put it on the straps to your body armor secure it into place and prevent the gun from falling out – even when you are fighting with a subject on the ground.
The other Uncle Mike's offering I recommend is the company's ankle rig. As I mentioned earlier in the article, this is my preferred ankle holster for strapping over the top of a boot. If I am not wearing boots, there are better options. I've used an Uncle Mike's rig to carry a BUG every day I was on duty, and it always kept the gun in place no matter how many foot chases, fights and other activities I found myself in. Grab the size 1 for the best fit.
Vedder Holsters
Vedder Holsters makes a variety of Kydex rigs for concealed carry. I've had a chance to test several models out recently, and I have enjoyed using them. Without hesitation, I gladly recommend them if they have a model that matches your needs. Two of their models I want to highlight.
The first is the LightTuck IWB. This rig allows you to adjust both ride height and cant by adjusting a pair of screws on the belt clip. Retention tension can also be adjusted with the turn of a tool. This is a tuckable model, and I have found it to work very well with small pistols like the BG 380.
The other holster I want to point out is the company's pocket holster called the Pocket Locker. This rig completely covers the trigger guard offering very good security. Also, Vedder designed the rig with a large hook-like feature on a wing of the holster. This hook catches the inside of the pocket to ensure that it stays in the pocket when the gun is drawn.
YetiTac Custom Holsters
YetiTac is one of my favorite small shops turning out Kydex rigs. I've had a chance to test a few of their products in the past and found them to be well made. In fact, I listed the YetiTac Darkside as one of my picks for the best Bodyguard 380 holster toward the beginning of this article.
YetiTac allows for a wide range of customizations that can be ordered on its website – everything from which side of the body you are going to carry on to color options to sweat shield heights and more.
Disclosure
No company paid to be on this list nor do I have any financial interest in any holster or firearms company. At the time of me writing this, none of the companies are advertisers nor am I in any talks with any of them to be one.
All of the opinions expressed are my own. Holster comfort and suitability is a very subjective thing. I've offered the best information I can here, and it is up to you to find what works for you.
BlueSheepdog.com is a for-profit website. I do not charge readers a dime to access the information I provide.
Some of the links on this page and site are affiliate links to companies like Amazon and Palmetto State Armory. These links take you to the products mentioned in the article. Should you decide to purchase something from one of those companies, I make a small commission.
The links do not change your purchase price. I do not get to see what any individual purchases.
Stay safe!