[Ed. note: The Need for the Patrol Rifle  is part three of a police training series on Tactical Patrol.  The prior articles are Tactical Patrol Mindset and Patrol Response to Critical Incidents.]
The use of a patrol rifle is not a new concept. In fact, when you think about the "old west" the image of a lawman with a trusty Winchester lever-action is the standard. The 20th century witnessed the creation of some of the most deadly criminals to ever prowl our country. Names like Dillinger, Bonnie & Clyde, Pretty Boy Floyd, Baby Face Nelson, and Al Capone. This was the era of the "Tommy" gun, even BAR's, and of course shotguns. Those heavier weapons ended the careers of many criminals.
After WWII times were good, America was growing, the Baby-Boom generation was in full swing. Then the 1960's came. The Civil Rights struggle, the progressively unpopular Vietnam War, and the emergence of radicals saw America suffer home-grown terror from groups like the KKK, the Black Panthers, and the Symbionese Liberation Army.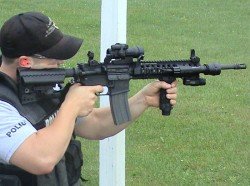 During this time America had its first, real taste of an active shooter when a murderer mounted the bell tower at the University of Texas in Austin and shot multiple victims before two brave patrolmen and an armed citizen raced up the tower and ended his reign of terror. The racial, political, and social violence led police departments to look for a way to counter this new era of deadly threat.
Former Inspector, Daryl Gates, of the Los Angeles Police Department is often credited with the formation of the first "S.W.A.T." team in America in 1968.  However some teams were already in place across the country. Specially selected and trained police officers now had the skills and equipment necessary to respond to the most violent of situations that patrol officers were not trained or equipped to handle. S.W.A.T. spread across the country in a short time, and today most departments with more than 25 officers have some form of participation with a tactical team.
So where does the patrolman fit into this equation? Right at the forefront! Time and time again it has been shown that the only way to successfully end immediate deadly threats is by the rapid and decisive application of lethal force by the initial patrol officers. And the best way to ensure that success is to provide the patrolmen with the training and arms necessary to engage in the myriad of deadly threats we can expect to encounter.
Unfortunately, the invention of S.W.A.T. teams created an internal dilemma in law enforcement that was probably best exposed on February 28, 1997. Police Administrators had swallowed the need for S.W.A.T. because they hoped the use of teams would be sparse, and they could keep the focus on returning to the kinder "community policing" image of yesteryear. This actually led to the disarming of patrol officers. Some agencies didn't even provide patrol officers with shotguns. Chiefs and government administrators wanted their police to look "friendly".
S.W.A.T. is necessary and good, but in almost all jurisdictions the team takes significant time to gather forces. Even in the larger metropolitan police forces like Los Angeles, where S.W.A.T. is a full-time assignment, the response time can be lengthy. But on that day in 1997 two heavily armed criminals engaged police in a heavy weapons shootout that lasted 44 minutes outside of a Bank of America in North Hollywood, and exposed the error in police philosophy.
The first officers to observe the botched robbery were on "routine" patrol and just happened to witness the armed thugs enter the bank. Armed with only 9mm pistols and one shotgun, they were completely outmatched by the robbers who were armed with multiple rifles, handguns, and extensive body armor. Multiple responding patrol officers faced the same dilemma as the first officers. Some officers scrambled to a nearby gun shop to acquire AR-15 rifles. Wounded officers could not be evacuated because of the long range and heavy firepower of the criminals. It would not be until the arrival of a group of underdressed S.W.A.T. officers with MP-5 submachine guns and AR-15 rifles, that the nightmare would end.
Eleven officers and seven civilians were wounded, the two thugs were dead, and nearly 2,000 rounds were exchanged in that epic gun battle. Dozens of buildings and vehicles were shot up as well, and a nation was shocked at the images from news helicopters. The need to properly equip patrol officers was once again in the spotlight of national law enforcement. Patrol officers needed to be equipped and trained to give the best first response that was possible.
The response around the country was the beginning of the trend to re-arm patrol officers with rifles – mostly AR-15's or surplus government M-16's. In April, 1999, the violence at Columbine High School caused Active Shooter Response training to sweep the nation perhaps like nothing ever seen before. And then on September 11, 2001 America woke up to the reality that our world had changed forever. Terrorism had struck with such a magnitude that America would change its viewpoint on security and how we wanted our police to protect us. Remember, that the 9-11 terrorists were living among us. In that regard, we must be prepared for a Mumbai type attack from these radical Islamist terror groups.
We cannot change history, but we can change the present. By acting now to prepare ourselves for the rise in violence seen all across the nation, we can have an impact on our future. From small and rural communities to large metropolitan centers, patrol officers need to be prepared to effectively protect the innocent.
One of the most critical methods of providing the patrol officer with the tools necessary to accomplish this daunting task is to arm them with a long range weapon. Shotguns are great weapons for medium range and short range work, but quickly become limited in their effectiveness at ranges beyond 50 yards. Even with a slug round, the shotgun is limited at longer ranges. Many slugs begin to deviate several inches from point of aim at 100 yards. Some agencies only provide patrol officers with 00 Buck rounds, so an officer must be aware of the spread of the shot and the limited range that a subject can reasonably be engaged without having shot go past the target and hit unintended targets down range.
The obvious solution to the increasingly heavier armed threats that law enforcement is facing today is to arm patrol officers with rifles. One of the advantages and reasons law enforcement went to semi-auto handguns was the increase in firepower offered with a magazine fed weapon with as much as three times the capacity of a revolver. This was infamously demonstrated in the 1986 F.B.I. shootout in Miami where agents armed mostly with revolvers and two shotguns were outgunned by criminals armed with a Ruger Mini-14 and a shotgun. That incident left two agents dead, and five wounded. The apparent disadvantage of limited rounds and firepower caused the F.B.I. to move to semi-auto handguns, and much of the nation followed.
Eleven years later the officers in Los Angeles faced similar disadvantages, despite having semi-auto handguns, and the results were nearly as bad for law enforcement.
That same philosophy can be applied to the selection of rifles, and the reason a rifle can be more advantageous than a shotgun in some situations. Probably the most commonly used patrol rifle in American law enforcement is the AR-15. This weapon allows the officer to field up to 30 rounds of .223 rifle ammunition at the start of an engagement. Should the need arise, extra magazines are relatively easy to carry and quickly add to the officer's ability to engage armed criminals, multiple adversaries, and even those who themselves are armed with rifles and maybe ballistic armor.
The benefit of a detachable magazine fed system is the quick reload of multiple rounds. A shotgun does not provide this same benefit, despite it's awesome firepower, nor does a bolt action rifle or even a lever-action rifle.
The AR-15 also allows officers to deliver accurate fire at greater distances. This is a tremendous benefit to patrol officers as they are now capable of delivering lethal force to stop heavily armed criminals, but can afford to do so from distances that provide the greatest benefit of space and cover. With proper training a patrol officer could reasonably engage a suspect at distances of up to 200 yards with an AR-15, without negating the need for accuracy or the concept of knowing your target and beyond. With even more training and a proper optic, the AR-15 can even be used to engage adversaries at greater distances, but for most patrol officers this will not be an option so I'll focus on the 0-200 yard range.
The AR-15 is not a difficult weapons platform to master, and there is an abundance of training across the country for this weapon. Parts are plentiful from a number of sources, as are the availability of Armor schools. Reputable manufactures are long and include big names like Colt, Smith & Wesson, Ruger, Remington, Rock River Arms, CMMG, Bushmaster, Olympic Arms, and others.
Other reputable rifle choices can be found in the H&K G-36 (.223), or in the H&K 416 (.223) or H&K 417 (7.62 mm). The 416 and 417 take on the similar AR-15 style platforms, while the G-36 is uniquely H&K in function and style. One disadvantage of H&K is that they tend to be more expensive than American made AR-15 platforms, and getting parts and Armor training can be difficult. Outside of these choices there are other acceptable options such as the Ruger Mini-14, chambered in .223, or even an M1 Carbine chambered in .30 caliber. Other options are out there but far less popular.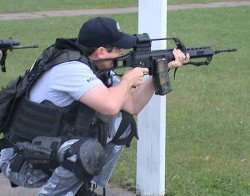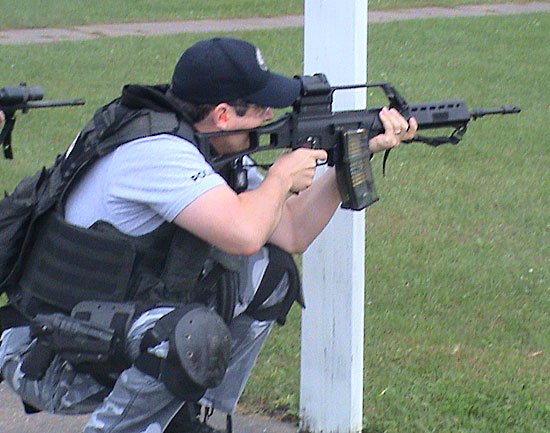 Some agencies have selected to arm officers with various carbine rifles that are chambered in the same caliber as the officer's pistol. There are obvious advantages to this decision, as some carbines allow for interchangeable magazines. And if an officer has a malfunction with one system, they are transitioning to the same caliber and have extra rounds available to them. The disadvantages to a carbine are found in the stopping power provided by a pistol cartridge. Though accuracy and distance are improved through the rifle platform, a pistol round maintains its limitations. In the instance of the LA bank robbery, the suspects were covered in ballistic armor from head to toe so a pistol round, even fired from a rifle, may not have been sufficient to stop the threat posed by those criminals.
For the purpose of this article I will focus on the highly popular AR-15 platform. For the patrol officer to be sufficiently armed with this rifle there are a few additions that I feel are critical to the successful deployment of a rifle.
First, the rifle should be equipped with a sling. For that matter, shotguns should be too. If you go into an armed conflict and cannot safely discard your long weapon (by leaving it slung) then you are not prepared to handcuff the suspect, or tend to the wounded. A proper sling will be a tactical sling that goes over the head and drapes over one shoulder. These allow for the shooter to use the sling to tighten unsupported shooting positions, and allows for the weapon to be fairly securely slung for hands-free operation.
Second, the rifle should be equipped with a light. Half of what we do is in the dark, and even if an officer works during the day they are likely to encounter dark basements or other spaces. This lighting system should allow the officer to manipulate the light on and off from the support hand so as to not interfere with the shooting hand. The light should also preferably be set up to cause the operator to engage the on/off switch with their thumb, or a full grip squeeze. This should help prevent any sympathetic reflex from using a finger squeeze.
Although not as critical as the first two are, I feel that a proper patrol rifle should be outfitted with an updated sight. Trying to use iron sights in the heat of battle could be tedious to say the least, especially if we're in low light conditions. A better option is to use a hollo-graphic sight that displays a red dot or red targeting circle. There are plenty of good choices from such manufacturers as Aimpoint, Bushnell, and EOTech to name a few. An officer should be able to acquire targets in the fastest manner possible in a deadly force encounter.
Finally, I believe that a good patrol rifle should be outfitted with a collapsible stock. These forms of stocks are almost universal and standard issue in many AR-15 configurations so this should not become an issue. Although not absolutely necessary, a collapsible stock provides the shooter a greater deal of mobility in tight spaces, and also allows officers of different builds to set up the rifle to fit them.
Before a patrol officer enters the field with the rifle they must undergo an orientation and qualification training. Failure to do so opens agencies to liability for negligently providing equipment that an officer does not know how to use.
In this course the officers should be trained on the following critical areas:
nomenclature of the weapon
proper carry positions
use of the sling
use of the light
use of the sighting system including iron sights
field stripping for proper cleaning and maintenance
safety features
loading, unloading, and failure to fire drills
transitioning to sidearms
defensive tactics while a long gun is slung
basic proficiency firing drills
combat qualification course that includes different position shooting.
Hopefully this article is preaching to the choir, but I am keenly aware that there are still many agencies that do not arm their officers with patrol rifles. Whether this is due to image or budgetary concerns creative ways to overcome these obstacles must be found. Active shooters from around the country have struck in rural areas, not just major metropolitan centers. Armed robbers often target smaller communities due to lessor security measures and fewer cops. To maintain our professional image, the trust of the people, and to fulfill our sworn duty we must have the necessary tools to accomplish the tasks that we may face.
Ultimately we must recognize that the first line of defense in our struggle with armed criminals and terrorists, is the properly trained and equipped patrol officer. One of the best ways to prepare those officers is to entrust them with the patrol rifle.
Stay safe!
Aaron is a sergeant with a midwestern police department, where he serves as a trainer, supervisor and SWAT sniper. In addition to his broad tactical knowledge, Aaron has experience in DUI, DRE and undercover narcotics investigations.