Magpul Industries is one of those companies that truly provides a picture of what the American Dream can fully realize. From their very humble beginnings in 1999, to the major influence on the firearms market today, Magpul has stood firm to their motto of "Unfair Advantage". Basing their products on actual end-user needs, and not just wants, Magpul products are designed to improve the function and performance of some of the most critical gear a shooter needs. If there isn't a product already out their to improve on, Magpul designs and makes their own.
In full faith to that concept, and to fill a gap that has long been overdue for filling, Magpul Industries announced their new PMAG 17 GL9. These polymer magazines are specifically designed to fit into Glock 17 9mm pistols. They feature all of the same design advancements of other Magpul PMAG's, and finally offer a viable polymer alternative to the very expensive Glock brand magazines.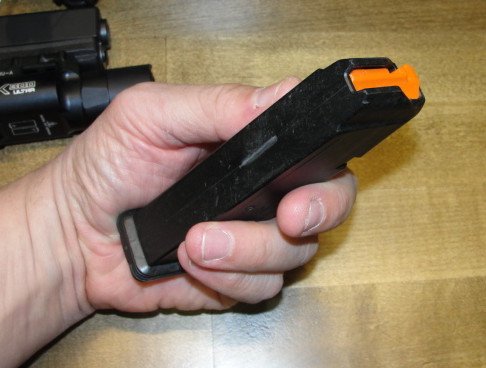 The Magpul PMAG 17 GL9 is currently only offered in a 17-round capacity for 9mm Glocks. As such, civilian purchase of these magazines will be restricted in several States and/or Cities. Military and law enforcement agency purchases are exempted by those local laws, but may require Department purchase rather than individual officer purchase (NOTE: Consult your State/Local laws before ordering the Magpul PMAG 17's for individual officer purchase).
The PMAG 17, like Glock full-size magazines, will fit into the full size Glock 17; as well as, the compact Glock 19, and subcompact Glock 26. Obviously, if the PMAG 17 is placed into the two smaller pistol versions, there will be some extension of the magazine beyond the pistol frame.
Magpul PMAG 17 GL9 Specifications:
Meet measurement requirements of standard Glock 17 magazines
Durable lightweight polymer construction
Magpul anti-tilt follower
Tool-less plate removal for easier inspection
Paint-pen dot matrix for labeling
Visible capacity indicator hole for round count
Capacity – 17 rounds
Release – Spring 2015 (aiming for end of March)
MSRP – $15.99.
I was able to handle, load, and unload a PMAG 17 GL9 several times in the Magpul booth at SHOT Show. Immediately I recognized a weight difference from the standard Glock magazines. The PMAG 17's are lighter, though no specific weight was offered. Though lighter, the polymer construction still appeared robust and durable.
In addition, Magpul has ensured that the PMAG 17's polymer sides are "polished" (my word not Magpul's). The PMAG 17's are much smoother to the feel than standard Glock magazines, and there was absolutely no problem in feeding or dropping a magazine – and that was an unloaded magazine. Upon depressing the magazine release button on the Glock 17 in booth, the PMAG 17 quickly fell free with absolutely no physical input from the author.
The user should be extremely confident during tactical or combat reloads that the PMAG 17 will not hang up in the magazine well, especially one with some ammunition still inside. This will likely speed up magazine changes, which is another great benefit of the Magpul PMAG 17 design.
With Magpul recommending a retail price of $15.99 it is safe to say that competitive retailers will likely offer PMAG 17 GL9's for less than $15. This is a huge savings from standard Glock magazines that often go for over $30. Magpul representatives on the SHOT Show floor indicated a very high likelihood of more calibers being offered for PMAG Glock magazines in the future.
Carrying a Glock 22 on-duty I readily await their arrival!
The following two tabs change content below.
Aaron is a sergeant with a midwestern police department, where he serves as a trainer, supervisor and SWAT sniper. In addition to his broad tactical knowledge, Aaron has experience in DUI, DRE and undercover narcotics investigations.