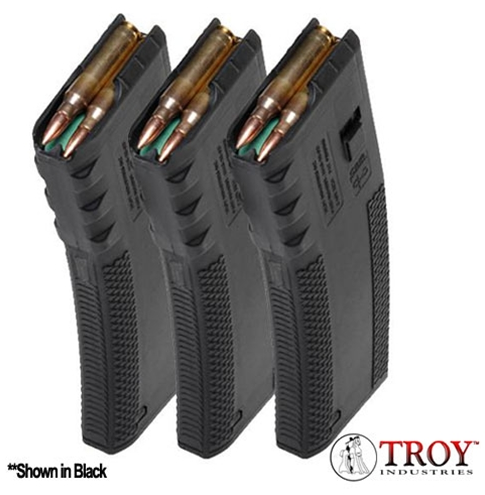 The Troy BattleMag® is not a new product, but one that is still worthy to review. Troy Industries is recognized throughout the firearm industry for producing very high quality rifles and accessories. Their attention to detail has garnered a large following, and an excellent reputation. I personally own several Troy BattleMags and have found them to be great quality and durable magazines.
Troy BattleMags are made from an improved proprietary military-grade, chemical, biological and impact resistant polymer. BattleMags have been extensively tested by Special Ops units, and have consistently proven their functionality and reliability. Troy BattleMags are engineered to function flawlessly with all M4, M16/AR15, HK416® and FN SCAR® rifles and carbines.
The front and rear portions of the BattleMag has an aggressive scale pattern that provides a unique and sure magazine grip of the magazine even in dirty or wet conditions. The floor plate is set flush to the magazine body to eliminate the BattleMag from catching on loose gear or creating unnecessary bulk when stacked or pulled from a pouch.
Reinforced feed lips on the BattleMag provide the anti-tilt follower enough support that the magazine does not require a clamp to keep the feed lips from spreading when kept loaded for extended periods of time.  The shooter has the option of the flush, or extended floor plate lock. The extended lock is included, and offers a quick-pull point for retrieving magazines from pouches.
Troy BattleMags MSRP:
(1) 30-round magazine – $15.00
(3) pack of 30-round magazines – $42.00
(1) 10-round magazine – $15.00
(3) pack of 10-round magazines – $42.00
Troy BattleMags can be found for under $10.00 per magazine.
Troy BattleMags are available in Black, Flat Dark Earth, Coyote Tan and OD Green.
Troy Battlemags Torture Tests
Caleb Giddings from Gun Nuts Media (www.gunnuts.net) has performed several torture tests on the Troy Industries Battlemags. In the video below, Caleb shoots a loaded Battlemag with an AR-15. As you can see the damage was fairly significant. However, the magazine performed flawlessly, and even loaded to the full 30-round capacity with just a little help.
Hank Strange on Troy Battlemags vs. Magpul Pmags
Hank Strange, has taken the firearms world by fire in the last few years for his direct, no-nonsense approach to 2nd Amendment rights and firearms issues. An avid gun owner, shooter, and writer, Strange like to get up close and personal with the firearms and accessories that he highlights on his website and Youtube page. In this video Strange compares the very popular Magpul Pmag to a Troy Battlemag.
Final Thoughts
Troy BattleMags are outstanding AR-15 magazines, made from superior polymer and using highly dependable springs and followers. I own and use BattleMags and have been very pleased with their performance. Though I own and use Magpul Pmags while on duty, I would not hesitate to recommend Troy BattleMags for personal or duty use, especially now that the retail prices have come down and become more competitive with the Pmags.
The following two tabs change content below.
Aaron is a sergeant with a midwestern police department, where he serves as a trainer, supervisor and SWAT sniper. In addition to his broad tactical knowledge, Aaron has experience in DUI, DRE and undercover narcotics investigations.