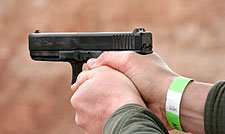 The Florida Highway Patrol is purchasing unique Glock pistols that are unavailable, for now, to anyone else, according to Randy Pitts, a Glock sales representative at the 2010 SHOT Show.  These new pistols will replace the aging Beretta 96 handguns currently carried by FHP.
Recently the Florida Highway Patrol conducted testing for a new duty pistol in Tallahassee, Fla.  One of the pistols they tested was the Gen 4 Glock.  The problem is Glock is only offering the Gen 4 in 9mm and .40 S&W, and FHP wanted a .45.  To secure the contract of "about 3000 pistols,"  Glock agreed to manufacture a special run of Gen 4 pistols chambered in .45 GAP.
According to Pitts, "We don't even have a model number for these guns."  Pitts stated Glock has secured ATF approval for the new pistols, and FHP should take delivery of the new guns in "two to three months."
It is unknown if Glock will turn these custom pistols into a regular production item.  The .45 GAP has gained some popularity with law enforcement, but has not captured the shooting public's attention.  Though the GAP reproduces the ballistics of a .45 ACP in a smaller package allowing for a "normal" Glock grip size, the relative high cost of ammunition has kept many buyers away.
Other agencies carrying the .45 GAP pistols include the Georgia State Patrol, New York State Police, Pennsylvania State Police, and South Carolina Highway Patrol.  FHP is currently the only department that will have a Gen 4 .45 pistol.
For a full review of the Gen4 Glock pistols, click here. Even though there was a recoil spring recall on early Gen4 Glock pistols, that problem was sorted out quickly, and the guns are back to their famed reliability. For what it is worth, I've purchased a Gen4 Glock 19 to supplement my Gen2 model. I like it a lot, and it runs as good as the older gun.