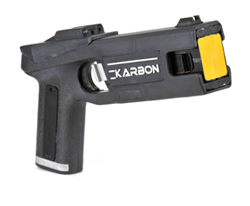 Did you know there was an alternative to the TASER?  Randall takes a look at the Karbon Arms MPID, an affordably priced alternative to the TASET X26.
In September 2010, the Karbon Arms company purchased Stinger Systems, Inc. and its holdings.  Stinger Systems had marketed an electronic control device that was an alternative to the ECD's offered by Taser International.  The Stinger ECD, called the S-200, became the focus of a lawsuit for patent violations.
While Karbon Arms still sells other products originally developed by Stinger, the Karbon MPID, or multi-purpose immobilization device, is purportedly new technology not derived from the S-200, according to a conversation I had with Karbon Arms Regional Sales Director George DiScioscia.
The Karbon MPID seeks to improve on Taser's M and X series by introducing these features:
A recessed cartridge
An illuminated front sight
Top-mounted push button on and off
Use of off the shelf batteries
A simplified rear display
One handed cartridge ejection
Rubber side grips
Single shell construction
No spark test required
In examining existing ECD's, Karbon Arms, and Stinger Systems before it, took what they perceived to be design deficiencies and tried to eliminate their drawbacks.  For instance, because the MPID's cartridge is recessed, it cannot be dislodged by side pressure or an impact.
Reloads with the MPID should be quicker because the cartridge can be ejected while the officer retrieves a second, unfired one with his support hand.  This is analogous to reloading a magazine in a semi-automatic handgun.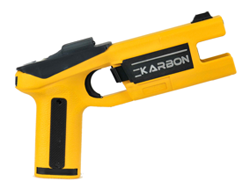 According to DiScioscia, the top-mounted on and off button is hardy, is still ambidextrous, and is not prone to breakage as is a plastic toggle switch.  The other features listed above are similarly seen by Karbon as advantages over Taser.  The MPID includes standard ECD compliments such as a forward white light, a laser sight, computer download docking, and an optional camera.
A key priority for Karbon Arms was to attempt to create a refined ECD at a lower price point than competitive units.  The Karbon MPID's M.S.R.P. starts at $549.00, which DiScioscia said is far below that for a Taser X-26.
If the Karbon MPID can deliver what it promises, and at its lower cost, it may well catch on in light of the current purchasing constraints of money-starved government agencies.  MPID's are already being fielded by local police departments and sheriff's offices.
Randall is a twenty-three year sworn police officer in a mid-sized Florida police department.  He has been an FTO, K9 Handler, Detective and SWAT Team Leader.  He is currently the Midnight Shift K9 Sergeant and department SWAT Coordinator.