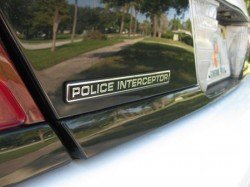 Our last shipment of Ford Crown Victoria Police Interceptors has arrived at our City Public Works Complex. A moment of silence, please.
Ford introduced the CVPI, or product code P71, in 1992. Built in St. Thomas, Ontario Canada, the rear-wheel drive V8 sedan has been a staple of American law enforcement for almost twenty years.
Solid body-on-frame construction, a strong but thrifty 4.6L V8, the stability of a rear-wheel drive platform, and a long service life have given the CVPI near legendary status.
It is a testimonial to the enduring reliability of the CVPI platform that during 2011 departments across the nation attempted to stockpile them in the face of uncertain replacements. Fleet managers are wary of the new front-wheel and all-wheel drive Ford Police Interceptor.
Many remember the front-wheel drive Ford Taurus police cars of the 1990's that had persistent problems with CV joints and boots. The old Tauri (?) just seemed to disintegrate under normal police use.
The future of the police car is in uncharted territory, as some see the Dodge Charger as having too small a trunk and front seat space. The Chevrolet Caprice has been a latecomer to the party, so it is still seen more as a "prototype" than a tried and true production vehicle.
Some agencies balk at the idea of equipping their rank and file patrol officers with a Chevy Tahoe, despite its cost and mileage parity with the old CVPI and the increase in officer safety of a larger vehicle.
Like any machine, the CVPI had its share of ups and downs. Pre-2005 models had issues with high-speed rear end collisions. Lawsuits followed. Redesigns addressed the problems, but there were fatalities.
Other complaints about bad wheel welds, faulty alternators, and weak fuel pumps may have had more to do with the sheer mileage and abuse a police car endures in its short but exciting lifespan than with the design.
I have logged hundreds of thousands of miles in a Ford Police Interceptor. I had many miles in pursuit, and many, many more miles running lights and siren. I was uninjured in two Crown Vic on-duty crashes. A CVPI is parked in my driveway as I write this.
I am supposed to receive my final Police Interceptor, which will replace the 2000 model I am currently driving, from the last 2011 shipment. So I guess I'm a little excited and a little sad.
I feel like I've viewed the highs and lows of America through the glass of one of these police cars. The last Crown Victoria rolled off the assembly line on August 15, 2011. The plant then closed.
Randall is a twenty-four year sworn police officer in a mid-sized Florida police department. He has been an FTO, K9 Handler, Detective, and SWAT Team Leader. He is currently the K9 Unit Sergeant and department SWAT Coordinator.