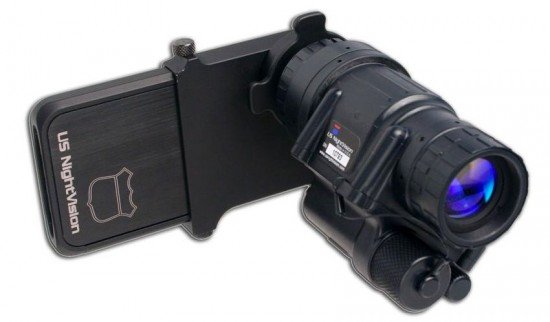 With this device, law enforcement professionals can now record – and then transmit – high resolution Gen Three images or video over any 3G network in any light condition.
Today, night vision equipment and smartphones are two key technologies in law enforcement's crime fighting aresenal. Recently, U.S. Night Vision Corp. combined these two technologies into its new iPhone Night Vision Adapter. Basically, the adapter allows the capturing of images from night vision and other devices so they can be manipulated and shared just like any other images taken by a smartphone. These images can be also be viewed in real time on the smartphone screen.
Simple
The concept is quite simple. U.S. Night Vision has developed an adaptor which attaches to a device such as a AN/PVS-14 Monocular Night Vision Device. The smartphone is slid into the adapter so the phone's camera lens lines up with the eyepiece. The smartphone can now transmit high resolution Generation Three images or video over a 4G network to other police officers or to a command post. Also, the images are now digitized so they can be used like any photo or video taken by a high resolution digital camera, such as being included in reports, magnified for analysis, or projected during court procedures. The adapter also allows crystal clear audio recording, digital zoom, GPS tagging, and time/date stamping.
Initially marketed as the "iPhone 4, 4S Night Vision Adapter" for the AN/PVS-14, currently the most widely used night vision device in the world, other adapters are currently available for other U.S. Night Vision devices. These include the AN/PVS7, AN/PVS-15 and AN/PVS-18, as well as the M24 and M18 FLIR (Forward Looking InfraRed devices). Other applications are under development, including daytime optics and laser range finders. Besides the Apple iPhone 4 and 4S, it's also available for the iPad® 3. Plans for the near future will include the Samsung Galaxy STM II, SkyrocketTM and Motorola Droid Bionic.
Affordable
Besides being simple to use, adapters are relatively inexpensive with retail prices starting at $199. All adapters are hard anodized in Xylan®, the strongest and most durable finish available today. To protect the device, an industrialgrade protective graphic wrap and backer is included. Not only does this further dampen and protect the device, it adds a matte nonreflective finish for use at night. U.S. Night Vision is also manufacturing a line of hard use cases called American Armor to protect the night vision and optics adapter. The American Armor case offers superior protection with a lightweight futuristic and covert look, and features a 360o clocking adapter for use with current night vision and infrared devices. Another valuable addition is new attachments for the cases which will allow for Molle and helmet mounting options for daytime camera mission recording.
About the Author: Bill Siuru is a retired USAF colonel. He has a Ph.D. in mechanical engineering from Arizona State University. His military assignments included teaching engineering at West Point, commander of the research laboratory at the U.S. Air Force Academy and Director of Engineering at Wright-Patterson AFB. For the past 35 years, he has been writing about automotive, aviation and technology subjects.