Last year Randall posted an article from the SHOT Show floor on the new bargain priced Bullet Safe Level IIIA ballistic vest (https://www.bluesheepdog.com/2014/01/29/bulletsafe-ballistic-vests/).
In review, the premise is  police officers, security officers, EMT's, or other First Responders that do not have ballistic vests provided to them by their departments. For that reason I think the Bullet Safe ballistic vest option is great for those professionals not issued a ballistic vest (more on that later). The Bullet Safe Semi-Concealable vests are available in (5) sizes – S, M, L, XL, 2XL. There is a 4XL as well, but costs a little bit more for the added material. I got to talk with President, Tom Nardone on the SHOT Show floor about additional Bullet Safe options.
The Home Ballistic Protection Option
In addition to personnel not issued critical protective equipment, here's another concept to ponder – do you have ballistic protection at home? Some officers take all there gear home with them everyday, but there are many (myself included) that store their police gear in a locker at the station. The idea of spending $600-$900 on a home ballistic vest does not go over well with most budgets, but a $300 home security purchase is definitely a plausible consideration.
The basic Semi-Concealable Bullet Safe vest is rated to Level IIIA protection, and only costs $299.00! That's protection from handgun rounds up to .44 Magnum, and provides the highest level of NIJ-rated (0101.04–Ballistic Resistance of Body Armor for Level IIIA) protection for a concealable ballistic vest. 
In addition to the standard Bullet Safe "Semi-Concealment" vest, there are several other affordable options for specialized units. These are again, very affordable alternatives specifically targeted to those officers in specialized units who have limited resources for critical protective equipment.
Ballistic Plates
The Bullet Safe ballistic plates, when used in conjunction with the Standard Ballistic Carrier, provide Level IV protection. That is the highest level of protection currently available and will stop some .30-06 armor-piercing rounds. They are made of ceramic, and have the "shooter's cut".
Lightweight Ballistic Plates
Level IV protection (ICW) standard Bullet Safe Ballistic Vest (including .30-06 armor-piercing)
Weight – 5.7 lbs.
Measurements – 10″ x 12″
Material – Ceramic
MSRP – $169.00!
Ultra-Light Ballistic Plates
Level IV protection (ICW) standard Bullet Safe Ballistic Vest (including .30-06 armor-piercing)
Weight – 3.5 lbs.
Measurements – 10″ x 12″
Material – Polyethylene
MSRP – $299.00.
These prices are significantly lower than traditional alternatives in ceramic or polyethylene. The ceramic plate is also about 3-5 lbs. lighter than many available alternatives. The ability to have rifle-grade protection for such a low price cannot be lightly dismissed. The Ultra-Light plate is a serious contender on my "must have" list for upgraded protection.
The Backpack Panel
Recognizing that schools are unfortunately a major target for active shooters, Bullet Safe has created a Level IIIA ballistic panel to place inside a toddler's backpack. Being lightweight and slim. the Backpack Panel will not take up too much space or unduly weight down a child. In addition, these panels can provide outstanding protection for adults during everyday or vacation opportunities.
Size – 10″ x 12″ rectangular shape for maximum protection
Weight – 1.25 lbs.
Washable outer cover
MSRP – $99.00.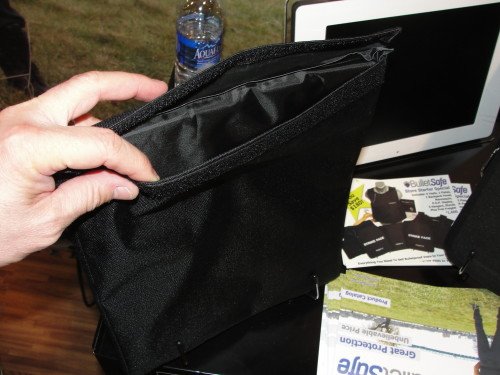 The K-9 Vest
Ask any K-9 officer and they'll tell you that their dog is a full-time partner (and family member). Police K-9's represent a significant investment for the department, and a personal investment of the handler. The Bullet Safe K-9 Vest provides outstanding ballistic protection for our K-9 partners, at an inexpensive cost.
Protection – Level IIIA bullet protection; S-l stab protection on chest
Size – One size set for larger police K-9's
MSRP – $499.0o.
The New "Alpha" Tactical Vest
There are thousands of tactical officers across the country that are forced to improvise with ballistic protection. Whether using second-hand tactical vests, or simply using patrol vests with a carrier, these officers are not as protected as they should be. In addition, how many Task Force officers are performing warrant services where a heavy tactical vest would be more appropriate?
Protection – Level IIIA
Added Components – Shoulder protection, collar protection, and a groin protection flap
Molle attachment straps for additional equipment options
Pouches – (6) included pouches – (4) AR-15 magazine holders; (2) utility pouches
MSRP – $699.00.
Our department just replaced outdated ProTech heavy ballistic vests for our SWAT Team, and the cost was around $1500 for each vest with (6) included pouches. Those "heavy" vests are also Level IIIA vests (unless the ceramic plates are added). Having the ability to have extra protection in critical areas, for a price hundreds of dollars less than competitors, is a great option for financially strapped officers.
Prototype Ballistic Ball Cap
The Ballistic Ball Cap is still in the prototype phase, but the concept is to provide ballistic protection to the forehead in the ball cap.
Protection – Level IIA
Only covers the forehead
Has potential for various colors and specific embroidery
MSRP – $129.00.
AUTHOR'S NOTE:
O.K. – at the beginning of the article I put a side-note in the text saying "more on that later". One of the biggest complaints about Bullet Safe products is that the vests and ballistic panels are made in China. I recognize that this is a new company, and the vests are "untested" as far as saves, but I seriously recommend that SheepDogs evaluate the Bullet Safe ballistic option for potential life-saving protection at an incredibly affordable price.