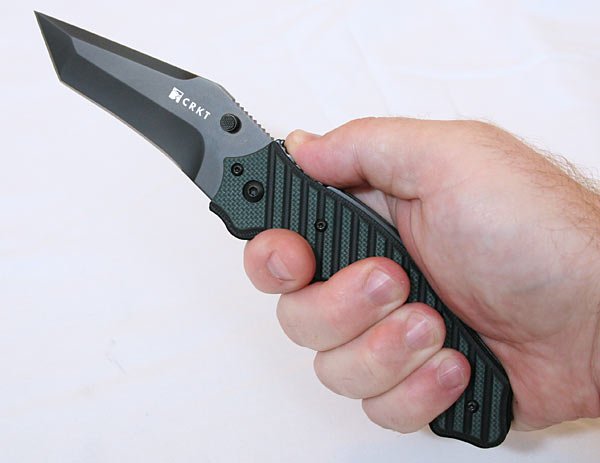 Note – Columbia River Knife & Tool (CRKT) discontinued the Triumph folding knife. All of the following information is left in place as a reference for collectors and anyone else that has an interest in the knife. The company does offer another knife called the Triumph N.E.C.K. which is a fixed blade designed to be carried around the neck. We may have a review of the new N.E.C.K. in the future. For now, however, you can get additional information on it by clicking here.
The Triumph
The CRKT Triumph is a folding knife with many features the BlueSheepDog Crew look for in a quality duty knife, including the option of a serrated blade, a sturdy and textured G10 handle for superior grip in working conditions, and a blade made from high-quality AUS-8 stainless steel.
If you've been following us for a while you know the BlueSheepDog Crew has a high opinion of most CRKT knives and tools. This endorsement comes from personal and professional experiences using several of their products and observing the quality construction, durability, and dependability during a wide range of working conditions.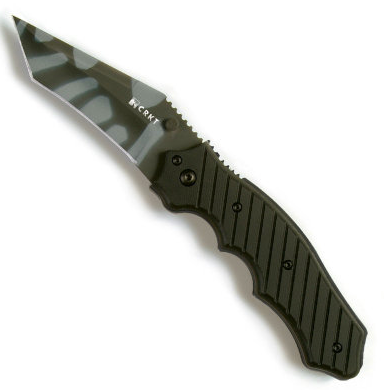 Specifications
Open Overall Length – 8.5″
Closed Length – 5.0″
Weight – 6.3 oz.
Thickness – 0.14″
Blade Length – 3.5″
Blade Thickness – 0.14″
Blade Material – AUS 8 Stainless Steel
Blade Grind – Hollow
Blade Style – Tanto
Handle Material – G10
Liner – 420J2 stainless steel
Lock Type – Locking liner
Safety System – AutoLAWKS
Carry System – Two Position Clip
MSRP – $149.99
Sale Price – $44.99.
Triumph Features
The Triumph folder is designed by Pat Crawford of West Memphis, Arkansas, and his son Wes Crawford. Both Crawfords have been in the knife business for some time now, and Pat is more known for his custom designs. However, the production Triumph design still has a lot of features that make it more than a simple folding knife. The Triumph uses AUS-8 stainless steel that is comparable to 440B stainless steel. This is high-quality steel that should provide long life while maintaining its edge. Professional users, like police officers, should not trust their life or job performance to tools made from inferior materials. For those who like SOG knives, AUS-8 is used extensively in the SOG line.
The CRKT Triumph is not a spring assisted knife, however, the thumb stud will make opening the knife a simple flicking motion. In addition, the Crawford's designed the Triumph with double finger "choils", thumb friction grooves, and a deeply grooved G10 handle to provide superior grip during heavy use. These features should do well for the officer needing a dependable knife in the worst kind of working conditions. The Triumph uses 420J2 stainless steel liners that are a respectable 0.1″ thick, and one of which is locking for safety.
The Triumph's 0.14″ blade is a dual-grind Tanto design with a recurve cutting edge, and false top edge grind that will support penetrating power when needed.  Made of quality AUS-8 stainless steel, the Triumph blade has an EDP finish and is rated at a 58-59 on the HRC hardness scale. This quality of steel is designed to last a long time while keeping its edge.
The G10 handle is a great material on its own for providing superior grip. In addition, the Triumph has diagonal CNC-machined grooves cut into the handles to allow mud, dirt, and liquid to move away from the user's hands. The "TS" model comes with a gray tiger stripe design on the blade, for those who like a unique look to their knives.
Veff Serrated Edge
Another great feature of the CRKT Triumph is the option to have a combination Razor-Sharp and patented Veff Serrated blade. The first time I saw the Veff Serrations was at the SHOT Show a few years ago, on the CRKT Optima knife. The Veff Serrated blades are absolutely phenomenal in cutting everything from a heavy rope, to electrical cords, to vegetation. Unlike traditional serrated blades with narrow serrations perpendicular to the edge, Tom Veff designed his Veff Serrations with wide cuts into the blade that are angled back 50 degrees towards the knife's handle.
Perfectly designed to grip the intended material to cut, and then feed the material into the Veff Serrations grooves, this design feature makes cutting heavy items much easier. This cutting movement is accomplished without the common snagging effect of most other serrated blade designs. Instead, the Veff Serrations provide smooth cutting operation. The Veff Serration design lends itself to the knife user's natural slicing movement, whether the knife is used in a traditional edge down manner, or the knife-edge is inverted upward in a manner commonly used when cutting heavy items requiring more force.
AutoLAWKS Safety
CRKT has included their own, patented AutoLAWKS safety into the Triumph, that automatically actuates when the folder is opened and locked, creating a virtual fixed blade instantly. The AutoLAWKS feature is a safety bar that slides in behind the locking liner bar when the blade is fully opened. The AutoLAWKS must be manually deactivated by a small, but easily manipulated lever, on the bottom edge of the frame.
When the knife user is using a folding knife with AutoLAWKS safety they can feel as confident about the lock as if they were using a fixed blade knife. Locking liners are great designs, but there is the potential that a user may inadvertently disengage the locking liner – especially during heavier cutting requiring more force. In that case, the blade could close on the user's fingers causing serious injury. The AutoLAWKS in effect prevents this from happening and provides much greater safety for heavier work using a folding blade knife.
Final Thoughts
The CRKT Triumph delivers a lot of outstanding features needed for professional users. This is not a simple folding knife, but instead a well-thought-out and designed tool for the trade. With the current "Outlet" sale price of less than $50, I'm confident that any purchaser will be very pleased with the quality knife they receive at a great price.
EDITOR'S DISCLAIMER: BlueSheepDog does not have any affiliations to CRKT or the Crawford's who designed the Triumph. This article is based on a press release from CRKT, and the author's personal experiences with several other CRKT knives. BlueSheepDog has not received any compensation for this article, and CRKT is not currently a sponsor of the site.