Columbia River Knife & Tool (CRKT) just announced the release of their Civet neck knives by popular knifemaker Flavio Ikoma, of Prudente, Brazil. Ikoma is an innovative designer responsible for a number of quality knives like the CRKT Fossil.
CRKT continues to produce outstanding knives and tools designed to meet and exceed the needs for everyday users rather than highlight display cases. The CRKT team has partnered with dozens of highly qualified knife making masters producing some of the most popular options on the market today.
The Civet knives are named after an Asian and African cat with extremely sharp teeth and claws. The Civet knives are fixed blade everyday carry neck knives, designed to provide extremely sharp cutting ability in a small, concealable carry package.
Civet Neck Knives
The CRKT Civet 2.4″ Bowie-style blade transitions between a compact, concealable back-up defensive knife, to an all-purpose utility tool capable of cutting, scraping or other work needs. Due to the nature of the small Civet neck knife, that could be a last resort defensive knife, Ikoma added jimping on the spine of the blade to provide enhanced cutting and stabbing control.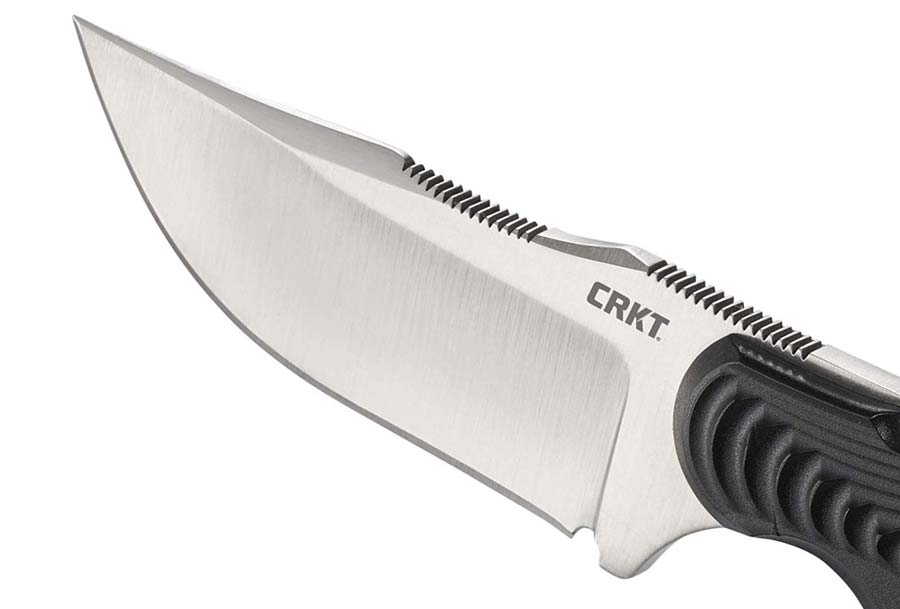 Randall previously wrote about the usefulness of police neck knives, and I suggest reading his article if you have any interest in carrying one yourself.
The Bowie or Drop Point configurations provide both stabbing and cutting ability. The Civet's ergonomically designed handle comes with a forefinger groove for added grip, along with a moderately textured scales so the user's hand remains firmly attached to the knife's small frame even during less than ideal situations.

Ikoma finished off the Civet with a truly revolutionary sheath that can be taken apart allowing for easy and effective maintenance. Debris is easily removed, making rust and damage maintenance much easier to control. The user simply slides the top portion out of the base, to quickly rinse or wipe dirt or debris out of the sheath. The Civet sheath is made with very strong glass-reinforced nylon and is designed with a specific blade rest. There are also dual mounting holes for the neck chain, providing a balanced carry option.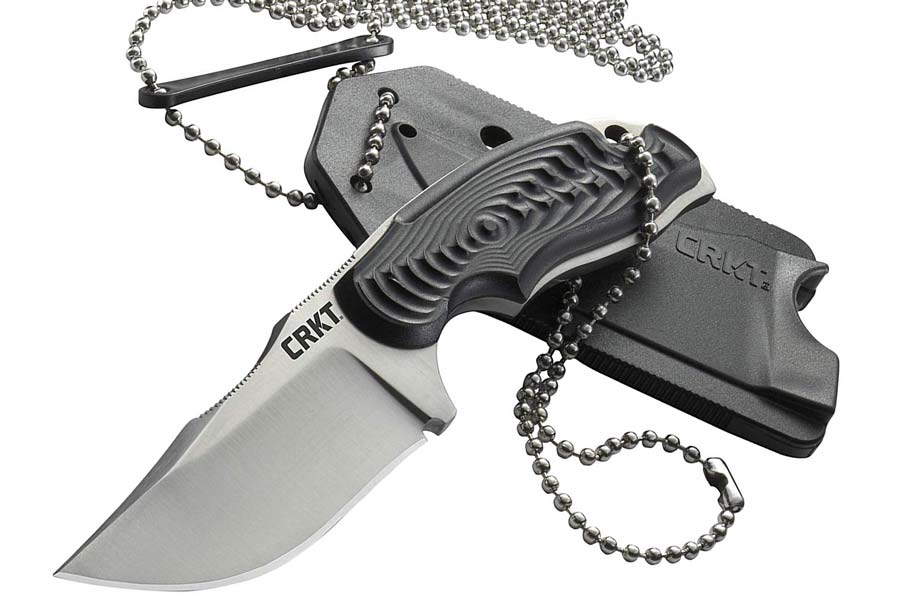 The CRKT Civet comes with the mastery of Flavio Ikomo who possesses several creative patents and innovations. Ikomo has said he draws inspiration from things like sports cars, jet fighters, and stealthy animals. Ikomo's latest blade, the Civet neck knives, feature an innovative Easy Clean slide apart sheath.
Specifications
Overall Length: 5.626 inches
Weight: 1.8 ounces
Blade Length: 2.417 inches
Blade Thickness: 0.121 inches
Blade Material: 8Cr13MoV
Blade Hardness: HRC 56-58
Finish: Satin
Grind: Hollow
Style: Drop Point or Bowie Clip Point
Edge: Plain
Handle Material: Glass-reinforced nylon
Carry System: Take apart sheath with neck chain
Carry System Weight: 1.1 ounces
MSRP: $49.99 (available for much less here)
Final Thoughts
As you probably know I am a big fan of CRKT knives and tools, though I also own several knives from Gerber, Kershaw, and other brands. The CRKT Civet appears to be a well-made knife, and there are many officers I know that prefer a neck worn knife option. There are several benefits to this carry method.
The knife is right in the "workspace" during confrontations or simply needing to retrieve a knife quickly. Most uniform shirts have mock buttons, and are actually zippered shirts, making access to a neck knife fairly quick and easy. Having a concealable knife if beneficial for officer safety, and to minimize the potential of complaints of officers being too armed.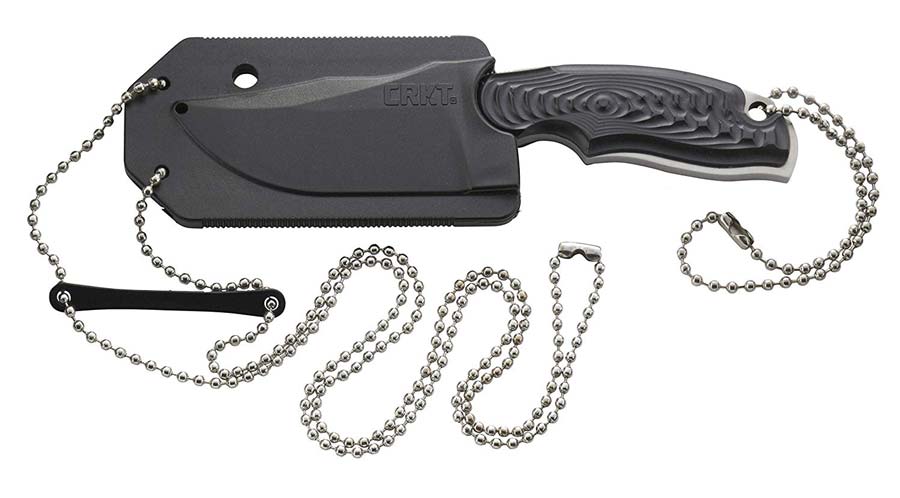 However, I have never really been a fan of the neck carry knife. One reason is I carry my back-up firearm on a ballistic vest holster. I don't want anything hindering my ability to get to my back-up pistol. In addition, I have found that my uses of a knife on-duty are almost a daily need. As such, I simply carry a knife with a pocket clip that can be retrieved without manipulating my uniform. This makes draw and return of the knife much easier.
What are your thoughts on neck-carried knives? Do you use a neck knife? If so, is it simply a back-up defensive knife or is it a dual-purpose utility knife?
Certainly, if you like the concept, it is hard to beat the quality and pricing of the CRKT Civet.
Disclosure
As with any of our reviews, we choose to disclose any information that may bias our opinion on the item being tested or discussed.
Neither the author nor the publisher has any financial interest in CRKT or any other knife maker. The author and publisher both own CRKT knives that have been purchased with our own funds. The knife in this review was not provided to the author by CRKT.
BlueSheepdog (BSD) is a for-profit website. Our main focus is to provide honest reviews and training information to law enforcement officers and other law-abiding citizens. At the time of the writing, CRKT is not an advertiser, nor are we in any talks with them to be one.
BSD used affiliate links on the site. Should you elect to use one, we would earn a small commission (typically less than 4% of the purchase price) on anything you might buy. The use of the links is not mandatory, they don't slow the site down and we don't get to see what any individual purchases. If you use one, it helps us out. Since we feed our families with the income from this site, we genuinely appreciate your use of them.
Feel free to shoot us any questions you may have about this knife, our policies or anything else that comes to mind. We do our best to respond in a timely manner.
Update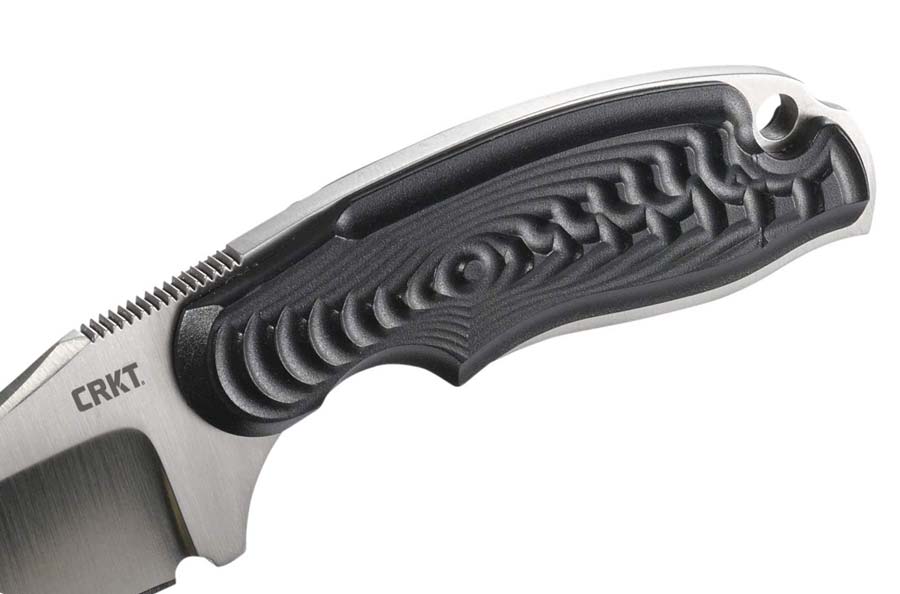 This article was originally written in 2016. Since then, CRKT discontinued the Civet line of knives. We do not have any indication why the neck knives are no longer in production, but it is not unusual for a knife company to pull a model after a few years to make room for a new design.
At this time, there are few Civet knives left in dealer inventories. Right now, Amazon seems to have a few of them left at a clearance price. Amazon policies prevent me from displaying the price, so click here to see it.