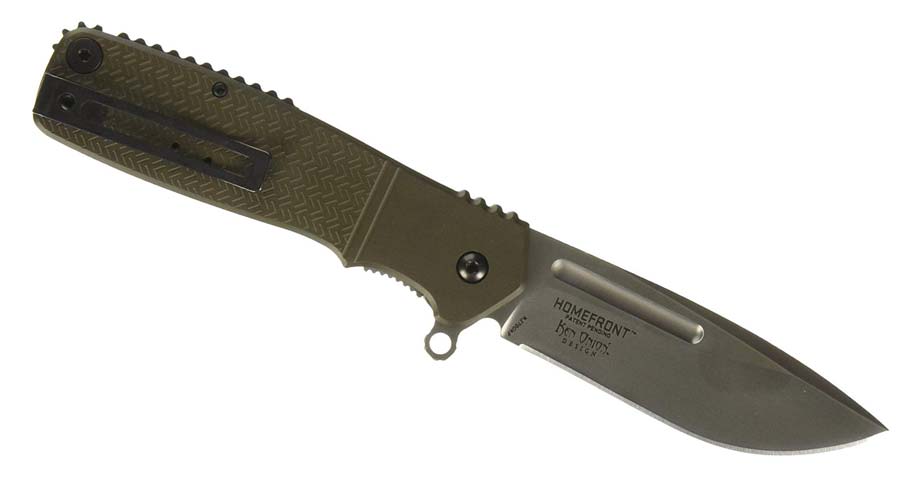 Columbia River Knife & Tool (CRKT) just released its new Homefront knife at the Annual Blade Show in Atlanta, Georgia taking place this weekend.
The knife is specifically designed to honor America's military service members, and this knife is a part of the company's "Forged By War" program. The Homefront does not require military service to own but can be a fine addition to anyone's collection or as an every-day-carry (EDC) knife. As I've mentioned before, several of the BlueSheepdog writers are big fans of CRKT due to the company's high quality combined with reasonable pricing.

CRKT Homefront Knife
The CRKT Homefront knife takes on a classic folder appearance while being the first knife to incorporate CRKT's latest innovation with Field Strip Technology. This in-field, the toolless feature allows the user to take apart the hard-used and grimy knife in the field, wash it out thoroughly, and return the knife to full use in minutes. No tools are necessary, and the process of break-down and re-set is very simple.
The breakthrough, patent-pending "Field Strip" innovation comes from world-renowned knife maker Ken Onion and has been in the making for over ten years. The Homefront is disassembled when the knife is in the closed position. The user then pushes the front release lever away from the blade and spins the turn release wheel on the rear of the handle away from the pivot shaft. Once the user feels the handle release, the handle pieces can be pulled up and away from the blade. This provides three main pieces that can be cleaned, oiled, or polished easily. Reassembly is as easy as reversing the procedure.
Below is a YouTube video on the field strip process for the CRKT Homefront.
From his shop in Kaneohe, HI, Ken Onion designed the Homefront knife to stay true to its vintage military roots with a unique WWI heirloom appearance. The bayonet lug-style flipper sets off the smooth open action of the 3.5″ modified drop point blade, while tank jimping on the backstrap sits snugly against your palm.
Each handle piece has a unique design mimicking a tire tread. The spine of the handles has a tank tread The manual flipper is designed and inspired to reflect on the bayonet lug so often used during the "War to End All Wars". In the muddy mess of trench warfare, the bayonet, knife, and other tools were as often used as rifles and machine guns.
Features
AUS-8 Stainless steel blade
6061 Aluminum handle
Locking Liner
Field Strip Technology
Tip up pocket carry clip.
Homefront Specifications
Blade Material: AUS-8 stainless steel
Handle Material: 6061 aluminum
Overall Open Length: 8.313 inches
Closed Length: 4.728 inches
Blade Length: 3.502 inches
Blade Thickness: 0.133 inches
Type of Blade: Modified drop point
Weight: 4.8 ounces
Blade Hardness: HRC 57-58
Blade Finish: Brushed steel
Edge on Blade: Plain
Lock Type: Locking liner
Special Feature: Field Strip Technology
Lifetime Warranty
MSRP: $150.00 (street price closer to $90)
Final Thoughts
This new CRKT Homefront knife is a very attractive knife with a really unique field strip feature. Getting down into the nooks and crannies is particularly difficult on most knives, even those with open handles. This new feature will likely become a big hit for CRKT, and one mimicked by other knife makers.
The $150.00 MSRP may seem a bit steep for some people. Heep in mind, however, that this knife has innovative, patent-pending technology, great looks, and is made from top-notch materials. Thankfully, one of our affiliate partners has these on sale for less than $90. That is a significant saving and brings the knife right into the sweet spot where quality and price combine into a great value. Add in the lifetime warranty, and this EDC knife is a winner.
If you are looking for a durable EDC knife, but at a lower price, check out our review of the Kershaw Duojet (about $24.)
EDITOR'S NOTE: BSD does not receive financial compensation for our reviews, and CRKT is not an advertiser on this site. In fact, BSD depends on our Amazon-affiliate links to fund our reviews and travel to the SHOT Show. This program provides BSD a small percentage (usually 3-8%) of the overall sale price for being the referrers. This does NOT affect your price at all.