Gerber released their Gator Premium Fixed-Blade Knife this year, is a tribute to the 25-year-old line that established Gerber as a quality knife maker. From handling these knives at the SHOT Show, and having had very positive experiences with certain Gerber knives, I believe the Gerber Gator Premium knife is completely appropriate for professional use.
Let's take a look at what this knife offers hard-working citizens and police officers.
Fixed Blade Knife
The new Gator Premium fixed blade knife is a full-tang design made with quality CPM S30V stainless steel, providing outstanding corrosion and wear resistance. The Gator Premium blade is 4.0 inches long with a plain razor, drop-point configuration. The Gator Premium blade is machine polished and semi-mirrored, finishing off an already impressive aesthetic. Each knife bears a stamped Gerber logo as well.
Gerber claims the Gator Premium sports their most stylized handle yet. Made with glass-filled nylon and wrapped in a highly rubberized grip the Gator Premium handle is specifically designed to provide superior grip during harsh and wet conditions. The reptilian texture captures the essence of the alligator's skin that inspires this highly popular Gerber knives.
The Gator Premium's lightly textured, grooved nylon top is a chafe resistant barrier for bare hands work. A high polished rear pommel and front bolster give the Gator Premium a natural balance. Advanced manufacturing coupled with a unique reptilian texture grip, deliver reliable and confident grip in any situation.
The comes with an American made leather sheath for safe transport and storage. The leather appears to be high quality, though is not as preferred for modern knives as in years past. Though the leather should last for many years, a lighter nylon sheath with connections and Velcro straps might be more attractive to law enforcement users.
Specifications
Blade Material: CPM-S30V steel
Handle Material: glass-filled nylon, rubber over-mold
Overall Length: 9.0″ (22.9 cm)
Blade Length: 4.0″ (10.2 cm)
Weight: 8.0 oz (249 g)
Made in the USA
MSRP: $133.00 (currently less than $90 here)
Folding Version

While the fixed blade version of the Gator Premium may be best suited for SWAT, a patrol officer may be best served by the Gator Premium Folder.
This knife is similar to the fixed blade, but with a shorter, clip point blade. It has a fine edge. It uses the same S30V steel with the rubber overmolded handle. It has a lockback system to fix the blade in an open position.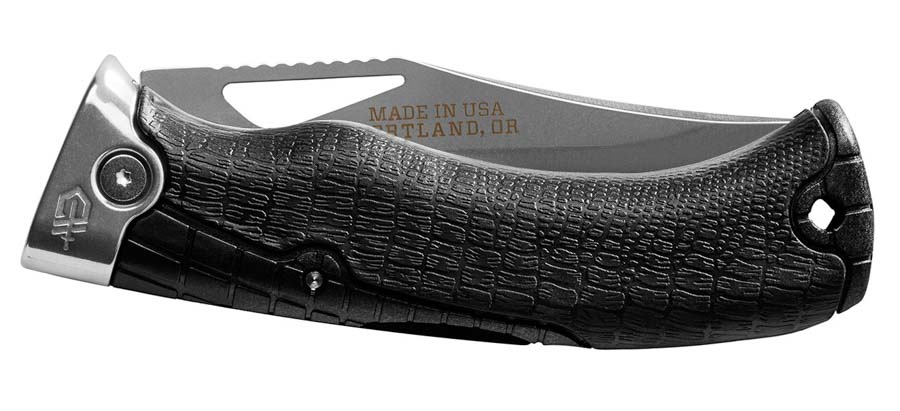 The folder version of the knife also comes with a leather sheath.
I've owned one of the original Gerber Gator folding knives since they were introduced. It has seen a lot of use from outdoors activities to patrol use. This knife rode with me every day of my law enforcement career in my bailout bag. It was – is – a quality knife. I don't plan on replacing it, but the newer Gator Premium is a nice addition to my collection.
Specifications
Blade Material: CPM-S30V steel
Handle Material: glass-filled nylon, rubber over-mold
Overall Length: 8.5″ (21.6 cm)
Blade Length: 3.6″ (9.1 cm)
Weight: 4.8 oz (136 g)
Made in the USA
MSRP: $111.00 (less than $85 here)
Made in the USA
In recent years, Gerber has been criticized by some in the blade community for a perception of slipping quality. The same folks tend to blame Chinese manufacturing for the perception. However, many knife makers use steel from China. The key seems to be selecting the correct manufacturing facility and following up with rigorous quality assurance checks.
Regardless, these knives are made in the United States of America. While the steel may be imported, it is American craftsmen who are working the metal and checking them before they leave the factory. I believe Gerber still makes quality products, and the Gator Premium knives are an example of this. Gerber backs these with a limited lifetime warranty.
The leather sheath is sourced in the United States and crafted by Americans.
Final Thoughts
I have possessed and used several Gerber knives in my life, and each one has been well made and lasted through heavy use. I was able to handle the Gerber Gator Premium at the SHOT Show, and I really appreciated the grip texture and overall balance of the knife. The steel and blade cut appeared to be well made and durable.
If the Gator Premium makes sense for your needs, I recommend checking it out. Click here for the best price on the fixed blade version. If you are more interested in the folding version, check out the lowest price here.