It's official: Modular Handgun System (MHS) contract with a slightly modified P320 Carry pistol. This pistol contract is absolutely huge! Sig Sauer will earn up to a little over $580 million over the next 10 years to produce around 1.9 million pistols, with spare parts for the Army. That means the Army is getting a steal of a deal as each pistol will only cost around $300.00 instead of the MSRP of around $600.00. The new Sig Sauer XM17 will replace the venerable [easyazon_link identifier="B00P7CZO9I" locale="US" tag="bluesheecom-20″]Beretta M9[/easyazon_link] after over 30 years of service. The name of the new Army pistol has not officially been announced, but will likely drop the "X" (or trial indicator) to become the M17.
The decision made its rounds in the Media Room at SHOT Show on January 19, 2017, and despite the significance of the award the Sig Sauer representatives were hush-hush about the details. Sig Sauer did finally provide a press release on January 20th praising the [easyazon_link identifier="B015HO2SJO" locale="US" tag="bluesheecom-20″]P320[/easyazon_link] and expressing their obvious excitement at being awarded the contract. Before I posted the announcement I wanted to see if Sig Sauer was releasing pictures of the winning entry, and they finally have.
Sig Sauer P320 Carry/XM17
In winning the Army's MHS contract, Sig Sauer beat out [easyazon_link identifier="B0014VX2M2″ locale="US" tag="bluesheecom-20″]Glock[/easyazon_link], Beretta, FN America, and several others along the way. Smith & Wesson, STI, and a few others were eliminated early on during the MHS competition, that was widely criticized for its excessively long duration and cost. The award going to Sig Sauer is no small feat. All of the companies in the final running have had significant success in previous military contracts and overall.
Sig Sauer cemented their front running P320 with a promise to manufacture and distribute all of the Army's new pistols from their New Hampshire factory. American made pistols in America's Army's hands sounds much better than pistols from a foreign land. Sig Sauer has been in the United States since 1985, and in their New Hampshire location since 1990. According to CEO Ron Cohen, Sig Sauer was on the ropes in 2004, but the addition of [easyazon_link identifier="B011X9V70I" locale="US" tag="bluesheecom-20″]AR-15[/easyazon_link] style rifles turned the company around. Thankfully so, as Sig Sauer has produced some amazing firearms since then.
Sig Sauer is no stranger to military contracts either, even within the United States. For years, U.S. Navy SEALs were issued the excellent [easyazon_link identifier="B0044UJF6C" locale="US" tag="bluesheecom-20″]Sig P226[/easyazon_link] for missions, and other special operations forces had access to them as well. Anyone who has fired a Sig Sauer knows they have shot a quality firearm.
Sig Sauer XM17 Modifications
Sig Sauer had already designed the P320 to be modular. In that, the pistol's frame is capable of interchanging calibers by simply swapping slides, barrels, and magazines. This is incredibly important for a military contract where mission-specific needs or desires may dictate different calibers.
The [easyazon_link identifier="B00SHU26XO" locale="US" tag="bluesheecom-20″]P320 Carry[/easyazon_link] is the upper middle-sized pistol in the P320 series. Having a reduced overall size is very important in reducing weight and size signature. Despite the smaller size, the Sig Sauer P320 (XM17) still packs an amazing 17+1 capacity in 9mm – the cartridge that will be the primary issued U.S. Army pistol round.
The Army's XM17 will have all Flat Dark Earth (FDE) controls and magazines, as opposed to the standard P320 FDE versions that have some black controls and magazines. In addition, the Army's XM17 will offer a full-sized slide option without changing the P320 Carry frame. In essence, a longer slide can be substituted on the slightly smaller frame of the [easyazon_link identifier="B01DEA5BIS" locale="US" tag="bluesheecom-20″]P320 Carry[/easyazon_link].
There is still some mystery to the Sig Sauer Army pistol as the pictures Sig provided show the Carry model frame, while some literature says they will offer a "Full Size" and "Compact" version. This could simply be semantics with the Carry version being offered in standard and long-slide versions.
In addition to the larger slide option, the Army Sig Sauer XM17 will offer an extended magazine as well. The pictures from Sig Sauer show this option with the longer slide option, but I'm sure the magazines could be used in either model. Another interesting difference between the new Sig Sauer XM17 and standard P320 Carry FDE pistols is the existence of a black strip on the top of the slide.
Current Sig Sauer Carry Features
The P320 Carry provides the shooter a smooth, crisp trigger that assists with accurate, and intuitive shooting. The P320 Carry 3-point takedown process makes field disassembly, cleaning, and maintenance very easy. The Sig Sauer P320 Carry offers a full-length grip, compact slide, and choice of contrast or [easyazon_link identifier="B00NET83GM" locale="US" tag="bluesheecom-20″]SIGLITE Night Sights[/easyazon_link].
In addition, the Sig P320 Carry can accept 9mm, .357SIG, 40S&W and .45ACP calibers. Safety features include a striker safety, disconnect safety and optional manual safety. The new XM17 pistol will offer (3) M1913 Picatinny rail attachment points for lights, lasers, or other accessories.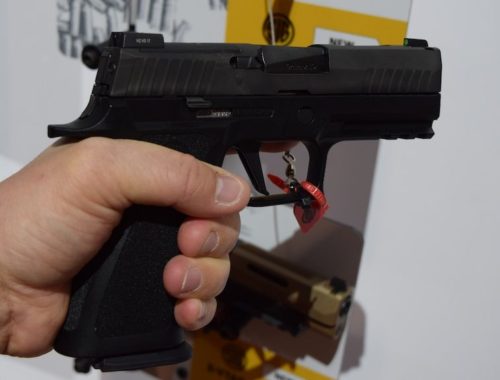 Current Sig Sauer Carry Specifications
Slide Material: Stainless steel
Frame Material: Polymer
Grip Modules: Interchangeable (S, M, or L)
Action: Semi-auto, striker-fired
Overall Length: 7.2 inches
Barrel Length:3.9 inches
Height: 5.5 inches
Width: 1.3 inches
Weight: 26.5 ounces (empty)
Trigger Pull: 6.5 pounds
Capacity: 17+1 (9mm)
Front Sight: White dot post, or SIGLITE night sight
Rear Sight: U-notch 2-dot or SIGLITE night sights.
Sig Sauer's Award Announcement
SIG SAUER, Inc. announced today that the U.S. Army has selected the SIG SAUER Model P320 to replace the M9 service pistol currently in use since the mid-1980's. Released in 2014, the P320 is a polymer striker-fired pistol that has proven itself in both the United States and worldwide markets. The P320 is the first modular pistol with interchangeable grip modules that can also be adjusted in frame size and caliber by the operator. All pistols will be produced at the SIG SAUER facilities in New Hampshire.
The MHS Program provides for the delivery of both full size and compact P320's, over a period of ten (10) years. All pistols will be configurable to receive silencers and will also include both standard and extended capacity magazines.
"I am tremendously proud of the Modular Handgun System Team," said Army Acquisition Executive, Steffanie Easter in the release. "By maximizing full and open competition across our industry partners, we truly have optimized the private sector advancements in handguns, ammunition and magazines and the end result will ensure a decidedly superior weapon system for our warfighters."
Ron Cohen, President and CEO of SIG SAUER, said "We are both humbled and proud that the P320 was selected by the U.S. Army as its weapon of choice. Securing this contract is a testimony to SIG SAUER employees and their commitment to innovation, quality and manufacturing the most reliable firearms in the world."
Final Thoughts
The selection of the Sig Sauer P320 for the U.S. Army's Modular Handgun System (MHS) is not without controversy. The P320 has only been on the market for a little over two years, so many firearm enthusiasts claim the pistol has not proved itself in a baptism of fire, so to speak. On the other hand, Sig Sauer has proven itself multiple times over with outstanding quality firearms that are considered among the top of the line.
Though I have written positive comments about the Special Operations Command selecting the Glock 19 as their primary pistol selection, I am actually quite pleased with the Army's selection. Sig Sauer has earned a reputation for outstanding quality, accuracy, and durable firearms. The modular option Sig Sauer provided in size and caliber is a very nice match for modern U.S. Army needs.
In addition, I am very excited to see the U.S. Army and Special Operations Command switch from traditional all-steel hammer-fired pistols, to modern polymer-framed striker-fired pistols. Special Operations Command has selected the Glock 19 for SEALs, Rangers, and Marine SPECOPS, while standard Army troops will be issued the slightly modified Sig Sauer P320 Carry.
All in all I think this selection is a big win. Special Operations gets a hardy, simplistic, and durable pistol in the Glock 19 with no external safeties, while regular U.S. Army troops get an amazing striker-fired option Sig Sauer with a manual safety. Though the Army did not ultimately choose to tag on to the Special Operations contract for the Glock 19, the selection of the Sig Sauer P320 Carry (XM17) continues the tradition of competition that fuels advancement for tomorrow's soldier!