Ruger continues to deliver with the release of its new PC Carbine chambered in 9x19mm. The new PC carbine from Ruger combines the influence of the highly successful Ruger 10-22 Takedown with the most popular handgun cartridge on the market, the 9mm.
The takedown feature of the PC Carbine makes this new firearm incredibly versatile for a wide range of shooters. The Ruger PC Carbine is also equipped with interchangeable magazine wells allowing shooters a wide variety of pistol magazine options for everyday carry handgun compatibility.
We have noted several times in recent articles the incredible ingenuity and production performance of Ruger in the last few years. Unlike most of the competition, that has simply been upgrading existing firearm lines, Ruger has jumped completely outside of the box and produced several new firearms. The new Ruger firearms have married technological savvy, with the hottest market demand, to create outstanding final products at very low prices. The Phoenix has indeed reincarnated stronger and bolder than ever.
Ruger's 9mm Carbine
In the latest bold move by Ruger, the new PC Carbine chambered in 9mm presents a very appealing option for those who want the longer ranges and accuracy of a rifle, while still having the reduced recoil and cheaper ammunition of pistol shooting. Ruger's 10-22 rifle is what most consider the flagship .22 caliber rifle. The new PC Carbine uses the same 10-22 trigger components to provide the shooter a very familiar light, crisp trigger pull with positive reset.
One of the most innovative features of the Ruger PC Carbine is the interchangeable magazine wells. Understanding how frustrated shooters can become when a firearm is limited to a single manufacturer's magazines, Ruger really hit a home run by offering several popular magazines for shooting the PC Carbine. The carbine comes with Ruger SR-series and Security-9 magazine wells to satisfy the Ruger faithful with carbine/pistol interchangeability but then goes further to offer a Glock magazine well recognizing the incredibly popular handgun maker.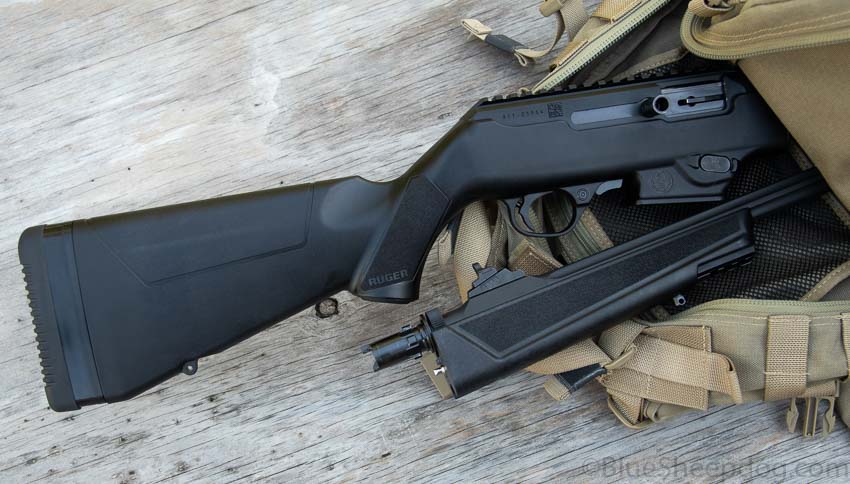 The PC Carbine is definitely a new firearm, but the influence of previous Ruger designs cannot be missed. The overall appearance is a mix between the 10-22 and Hawkeye rifles. Incorporating the very impressive Takedown feature is a great feature of the PC Carbine, allowing shooters to discreetly carry the carbine in a backpack or other small cases. The ghost ring rear sight and flared post front sight are reminiscent of Ruger's Scout rifle, with Picatinny upper rail for mounting reflex optics or scopes.
To keep the overall weight down, the Ruger PC Carbine will have a glass-filled nylon stock fitted with a soft rubber butt pad for comfort and length of pull adjustments. Though perhaps not necessary for 9mm, Ruger has included a very attractive heavy contour chrome-moly steel fluted barrel. The barrel is cold hammer-forged for excellent strength and accuracy from the rifling process. The receiver is made from "aerospace-grade" 7075-T6 aluminum billet, with a Type III anodized hard coat added for superior corrosion and rust protection.
Though likely not considered in the design of the PC Carbine, Ruger may have just produced a very attractive police patrol rifle. Typically, the American law enforcement patrol rifle has been an AR-15 variant. There are a lot of benefits of the rifle-level option when considering penetration, armored adversaries, and wound potential. However, officers working at an agency fielding 9mm pistols could interchange magazines with the Ruger PC Carbine delivering an advantage in the field. Upgrading your pistol with a rifle accuracy by simply interchanging your pistol magazine into the PC Carbine, is a credible option worth considering.
Additionally, the argument of what is the best home defense firearm just had another option dramatically enter the conversation. Though rifles and shotguns provide the greatest potential in stopping power, they also present the very real possibility of over-penetration and collateral damage.
Handguns are great for mobility and compact storage around the house, but also require extensive training for accuracy and typically do not match the stopping power of rifles and shotguns. Having a pistol-caliber carbine combines the best of both worlds. A more accurate and easily handled firearm, with a reduced potential for over-penetration or excessive damage in a home defense situation. This is particularly true with the addition of a nice reflex optic light Aimpoint, EoTech, or Vortex.
Carbine Features
Cold hammer-forged chrome-moly steel barrel
Aerospace-grade 7075-T6 aluminum billet receiver with Type III anodized coating
Black synthetic glass-filled nylon Takedown stock with proprietary grip
Heavy contour fluted barrel, with optional threaded version
Light, crisp trigger pull with positive reset using 10-22 trigger components
Dead blow action with a custom tungsten dead blow weight
Shortened bolt travel to reduce felt recoil and muzzle rise
Machined chrome-moly, heat-treated bolt
Interchangeable magazine wells: Ruger SR/Security-9, Glock, Ruger American Pistol
Reversible charging handle and magazine release for ambidextrous use
Ghost ring rear sight for fast acquisition of protected blade front sight
Soft rubber butt-pad with adjustable spacers
Includes one SR-Series pistol steel magazine
Includes hex wrenches for sight, butt-pad, and charging handle adjustments
Specifications
Caliber: 9x19mm
Overall Length: 34.37 inches
Barrel Length: 16.12 inches
Weight: 6.8 pounds
Length of Pull (LOP): 12.62 – 14.12 inches
Grooves: 6
Twist Rate: 1:10 RH
Thread Pattern: 1/2 inch – 28 (for threaded option)
Sights: Protected front blade; Adjustable rear ghost ring
Magazines: Ruger SR/Security-9, Glock magazine wells included
Option: Ruger American Pistol (RAP) magazine well
Capacity: 10, 15, 17
MSRP: $649.00 (Often sold for less – we found the best price through our affiliate link here.)
Final Thoughts
As active and retired police officers the BlueSheepdog Crew are very focused on real deal firearms and equipment for those working a beat. The new Ruger PC Carbine offers a very interesting option as a patrol rifle. Though not offering the power of a traditional AR-15 or another patrol rifle, the PC Carbine could be an excellent companion for those officers carrying Ruger or Glock 9mm pistols. Having magazine interchangeability cannot be under-emphasized.
Coming with a very nice ghost ring and front post iron sights, the PC Carbine could be ready to field out of the box. Including a Picatinny top rail only increases the potential of the PC Carbine with reflex or magnified optics.
Outside of a police patrol rifle, the PC Carbine offers a great option in a small game hunting rifle, home defense option, or just plain old fun plinking rifle in something bigger than .22 LR and still very affordable with today's 9mm prices. Overall this new carbine appears to be a winner and just one more big statement from one of the hottest firearm's manufacturers
Disclaimer
BlueSheepdog.com is a for-profit website. I do not charge readers a dime to access the information I provide.
Some of the links on this page and site are affiliate links to companies like Amazon and Palmetto State Armory. These links take you to the products mentioned in the article. Should you decide to purchase something from one of those companies, I make a small commission.
The links do not change your purchase price. I do not get to see what any individual purchases.