Breaking glass, especially automobile glass, is a lot harder than you might think.  I've seen police officers fruitlessly beat on a driver's window with an ASP baton and do more damage to their egos than to the glass.
I've also seen a teenager break out a car window with nothing more than a piece of an old spark plug. So, what gives?
As with all things in life, there is no single answer. Rather, there are a number of factors that go into how likely you are to break out a window. The type of glass, the curvature of the glass and the tool used are just some of the factors which can spell success or failure when trying to breach glass.
There are good glass breaking tools for police. Let's not waste any time and jump right into this.
Glass vs Steel
Glass is much harder than you might think. Both the Mohs and Brinell hardness scales show glass as being harder than stainless steel – yes, glass. Tool hardened steel can be harder than glass, but then glass can also be strengthened through tempering, lamination and other processes.
Windshields use a multistep lamination process which affixes two layers of glass to each other with a layer of vinyl sandwiched between them. This creates an extremely tough glass pane to try and penetrate.
If you've ever seen a gunshot through a windshield, you probably noticed that the point where the bullet penetrated the glass was damaged; yet, the entire windshield still maintained its integrity. It did not fall apart or send shards of glass flying. Trying to breach a car through the windshield is a nearly impossible task. I don't recommend trying it in anything other than a controlled training environment.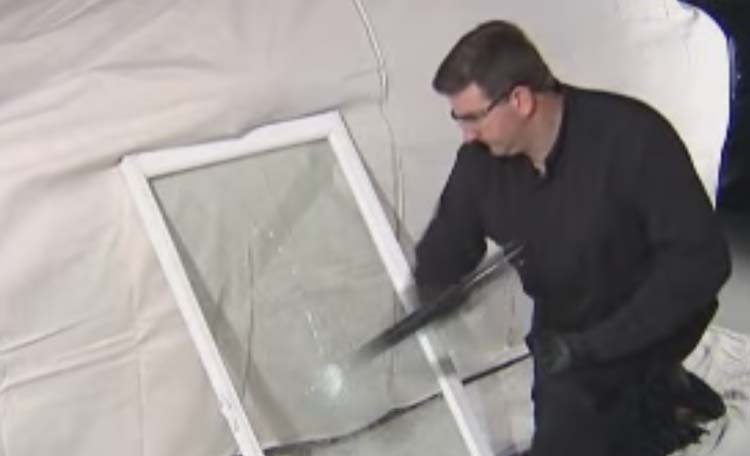 Tempered glass is typically used in the side and rear windows of modern cars and trucks. The tempering process strengthens the glass up to four times the strength of normal annealed glass. Additionally, curved auto glass tends to be stronger than a flat pane of glass. So, hitting a strengthened car window with a comparatively softer baton often yields dismal results.
The funny thing is that most street criminals know a good tool for breaking auto glass: a broken spark plug.
Typical spark plugs use porcelain as an insulator. A quick whack with a hammer will break the porcelain into small pieces. Those small pieces of porcelain will easily shatter a car window when they are thrown against the glass.
Most cops who have been on the street for a while already know about the spark plug trick, but search for "breaking glass spark plug" on YouTube if you want to see a video demonstration of this. It doesn't take a lot of force, or even a big piece of porcelain, to break a window.
Never fear, there are solutions to the problem of breaking windows beyond brute strength and carrying bits of broken spark plugs in your pocket.
Tactical Tools
Fortunately, there are a variety of glass breaching tools on the market. The forms and delivery systems are different, but police window breaker tools do share some common traits.
First, all of the glass breaching tools use the idea of applying force to a small point. The narrower the point of pressure applied, the more easily the glass will break. Once the glass breaks at the point, the entire pane will spiderweb and fall apart.
The second trait shared among glass breaking tools is the use of harder than glass materials for the contact point.
Typically, the best tactical glass breaking tools will use tungsten carbide tips. These tips are very hard and are durable enough to be used on multiple glass breaches without having to be sharpened or replaced.
I have seen some "off-brand" products use tips made from stainless steel which is substantially softer than tungsten carbide. These tips may fail, so I strongly urge caution if you consider purchasing one.
Let's take a look at some of the products on the market for law enforcement use.
Leatherman's Z-Rex
The Z-Rex is a specialized multi-tool for law enforcement officers and others who may need to force entry through a window. Aaron has the full story in his article Leatherman's Z-Rex: A First Responder Multi-Tool Review.
XS Sight Systems Glass Assault Tool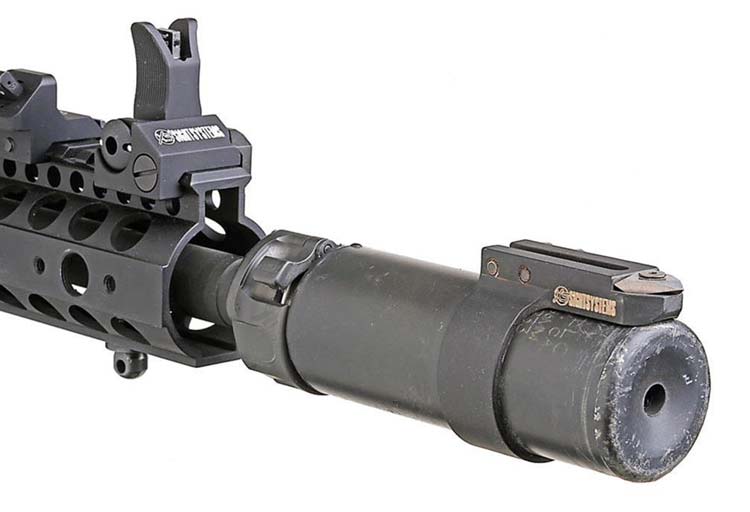 The original Glass Assault Tool resembles a micro-bayonet that attaches to the flash hider of an AR-15 or M4 rifle. The GAT is designed to attach quickly and not come loose during extended shooting sessions. Once attached, the muzzle of the rifle is able to easily punch through the glass.
A major advantage the GAT has over many competing products is that an officer can breach glass without ever taking his hands off his weapon.
Other versions of the GAT for pistols are designed to fit on a SureFire or Streamlight weapon light. This GAT slips over the top of the flashlight's bezel and will fit in all normal police duty holsters which are designed to work with the weapon light.
To use the pistol version of the GAT, the officer wraps his support hand over the top of the pistol's slide, capturing the trigger finger against the gun's frame to prevent a negligent discharge. The officer then presses the tip of the GAT into the window, causing it to shatter. According to XS Sight Systems, a number of law enforcement agencies have been testing the weapon light GAT on their pistols and the reports from the field have been outstanding.
All of the GAT products are available direct from XS Sights. However, Optics Planet has better pricing on the following models:
We've had very positive customer service experiences with Optics Planet and fully recommend them.
Bust a Cap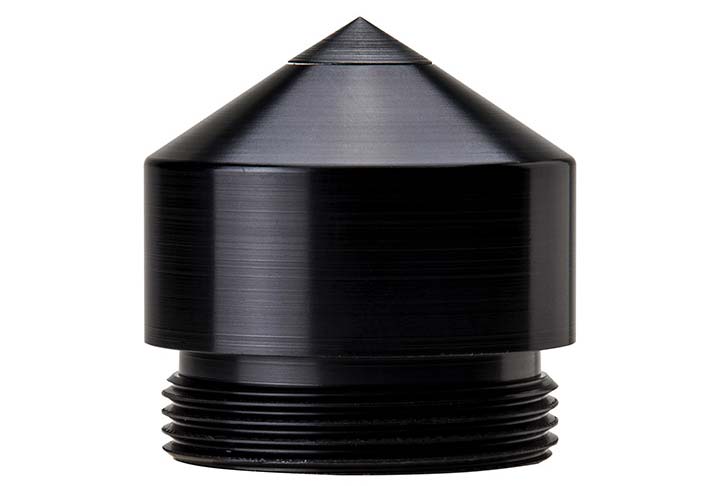 Bust a Cap has a line of window-breaking caps for expandable batons and flashlights. The caps replace the original tail caps with a cone-shaped device that comes to a point made of specialty steel. The points are not so sharp as to be painful when you rub against them, nor will they catch on, or tear, uniforms.
Currently, Bust a Cap makes glass-breaking tail caps for a range of Streamlight and Maglite flashlights in addition to ASP expandable batons. They do not make tail caps for flashlights or batons which have a button in the tail cap.
Bust a Cap also announced a new glass-breaking bezel for SureFire flashlights at the 2012 SHOT Show. The new bezel is a simple replacement of the stock bezels on the SureFire model 6P, G2, Z2 and C2 flashlights. The new bezel addresses the problem of having the flashlight switch on the tail cap by moving the glass breaking tool to the front of the light. This allows the officer to tap the side window with the front of the flashlight to breach the glass.
Bust a Cap pricing varies depending on which model you need. Pricing for the new SureFire bezels has not yet been announced.
Gerber Hinderer CLS
Gerber makes a knife with a built-in window punch called the Hinderer CLS (Combat Life Saver). The CLS is a folding knife with a partially serrated 3.5″ blade plus a number of other features that make it very good for rescue personnel in addition to the average street cop.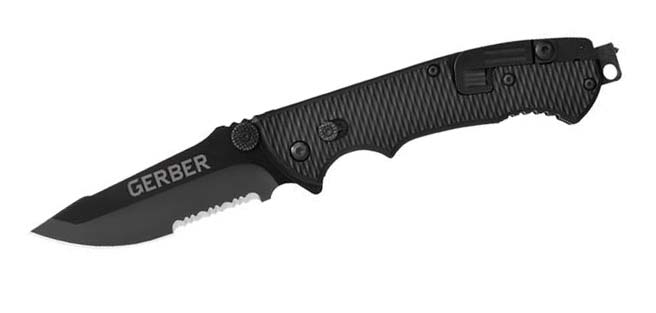 Gerber built this knife with a glass breaker at the base. It also has a seat belt cutter and an oxygen tank wrench built in.
Unlike some rescue knives, the Hinderer CLS has a sharpened, not blunted, tip. This makes the Gerber a more appealing knife choice for law enforcement officers.
The MSRP is $76 for the Gerber CLS. However, the best price on these at the moment is on Amazon.
Buck Redpoint Rescue
Update: Buck Knives discontinued the Redpoint Rescue knife. It featured a 2 3/4″ drop point blade and a tempered glass breaker in the rubber-coated handle. There was also a specialized seat belt cutting tool built into this knife.
The knife can still be found in some places with a yellow handle. The Redpoint Rescue had an MSRP of $55. While they last, BladeHQ has them discounted to less than $35.
Spyderco Assist
The Spyderco Assist is a folding knife designed specifically for rescue. The Assist has a blunted tip, serrated blade and a retracting tungsten carbide window punch in its base.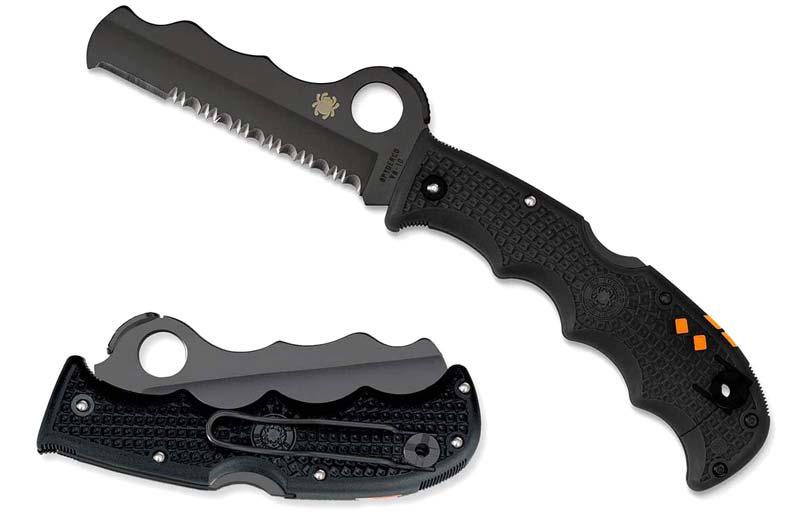 The window punch on the Assist works differently from what is found on many other knives and multitools. Instead of having a tip that is always exposed or spring-loaded, the carbide tip on the Spyderco is recessed.
To deploy the Assist window punch, the officer squeezes the folded knife which pushes the tip out for use. Release your squeeze and the tip retracts.
The Spyderco Assist has an MSRP of $170. The best price I've found on them is at Amazon where it is much cheaper.
Benchmade 365 Outlast Rescue Knife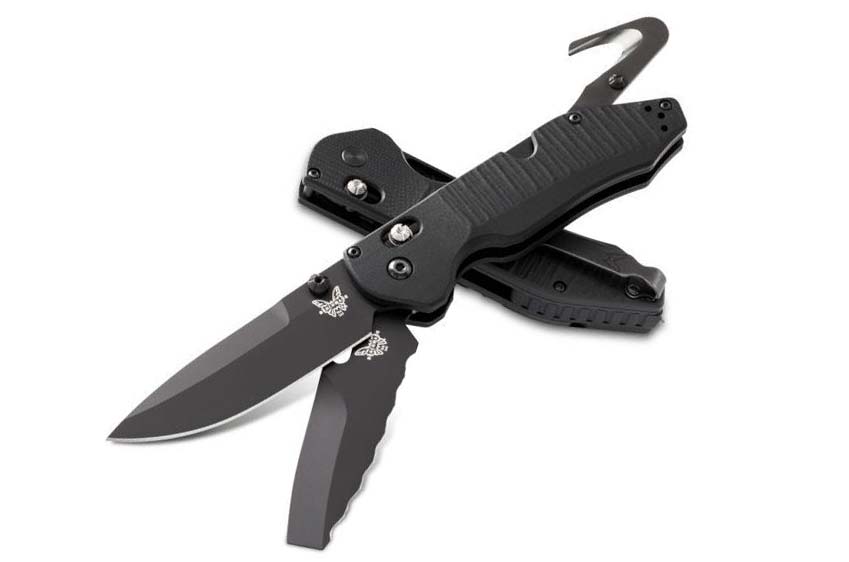 This may be the most flexible of the rescue knives that integrate a carbide tip glass breaker tool for police. It incorporates two specialty blades plus a rescue hook for safely cutting seat belts.
One blade is a plain edged knife that offers all of the normal cutting power Benchmade is known for. The second blade is completely serrated for easier cutting through fabric and fibrous materials. It also has an integrated oxygen wrench.
Benchmade asks $300 for this knife, but the best price right now is on Amazon.
Final Thoughts
Breaching glass, especially automotive glass, can be a difficult chore without the right tools. Using a baton or flashlight may get the job done with the right amount of strength and the right striking point on the window. However, it is not a reliable way to force entry.
In law enforcement, we sometimes only have one chance to get it right. Delays in breaching glass can result in a suspect having time to shoot another officer or an auto accident victim being burned alive. Neither are good outcomes.
Using one of the specialty tools made specifically for breaking glass will dramatically increase our ability to get the job done right on the first attempt.
You should also take care to protect yourself when breaking glass. Wear cut resistant gloves and other clothing whenever possible. If you are exposed to a dangerous subject when breaching, make sure you have a cover officer to provide support.