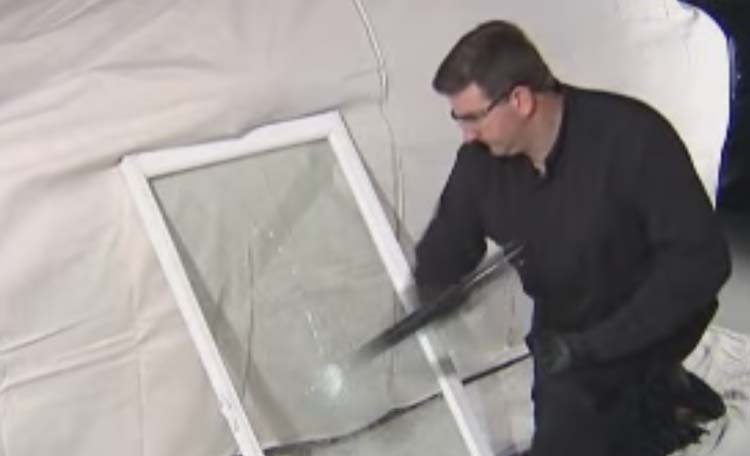 Learning how to break glass safely is an integral part of a police officer's job. From rescuing people in burning vehicles to forcing entry on a hostage rescue, there are many incidents in which an officer needs to safely break a window.
Please note that I am not discussing the legal aspects of forcing entry either under exigent circumstances or with a warrant. Those are issues we cover elsewhere. This article only speaks to forcing entry through a window once you have the legal authority to do so.
If you are just looking for a window punch or other tool, see our Glass Breaking Tools for Police article.
Let's not delay any longer and get right into window breaking.
Types of Glass
Before you can talk about how to break a window, you need to know what kind of glass you are dealing with. This will help you to safely plan your emergency entry.
There are three main types of glass you will encounter: tempered glass, non-tempered glass, and laminated glass. This list is not exhaustive as there are many variations on each type.
Tempered Glass
Tempered glass is heat-treated and is much stronger than non-tempered glass. Tempered glass is used where there is a likelihood of human contact and as such is made to shatter into small ¼" pieces when broken. The small pieces are not very sharp and safer to deal with than the next type.
Non-Tempered Glass
Non-tempered glass is a different animal. When broken, non-tempered glass makes large, irregular, jagged pieces that are razor sharp. It is much more dangerous than tempered glass.
Laminated Glass
Laminated glass has plastic layers sandwiched between glass layers. Because of the plastic sheeting, it tends not to break, but be punctured under force. High impact is needed to defeat laminated glass, and fragmentation and spalling can occur which send small flakes and powdered glass inward.
Automobiles
Glass types are selected based on where and for what they will be used. The two primary locations where police officers will need to break glass are automobile windows and building windows.
Auto glass is purposefully strong and resists breaking. If non-tempered glass was used in cars, there would be far more injuries and deaths from auto accidents.
Car side and rear windows are frequently made of tempered glass. However, there is a push to use laminated glass for all car windows. Right now, tempered glass is the norm.
Car windshields are constructed with laminated glass, which is the safest but toughest of the glass types discussed here. The problem is that you have to punch out the entire plastic sheet to clear the window and it can take some time.
For breaking car glass, we recommend that you use gloves, safety glasses and a purpose-built window punch. While safety equipment may not be available in a fast-evolving emergency, you should still have a glass breaking tool with you. Check out our article Glass Breaking Tools for Police that offers suggestions for some of the best options on the market.
Window punches used for car side glass are usually effective at a lower corner. In general, there is less danger from the tempered safety glass than with non-tempered glass when it comes down.
You can break a side window with a baton or flashlight. However, it can be extremely difficult to do and is not an optimal solution. Get yourself an actual window breaking tool.
Buildings
Buildings can have either tempered or non-tempered glass.
Many commercial applications, storefront windows and modern sliding glass doors are made of tempered glass. In fact, there are often building codes or laws that require tempered glass to be installed in residential and commercial windows that are within 48" of doors.
You can sometimes identify tempered glass as it normally has a manufacturer's watermarks at all four corners. However, this is not foolproof as it can be ordered without the watermarks.
Non-tempered glass is most often encountered in ordinary residential windows, whether jalousie, casement, Miami-style, single or double-hung. Older sliding glass doors and older storefront windows were also made from non-tempered glass.
Large windows made of non-tempered glass can cause severe lacerations and even kill you when shattered. These break into large, heavy, sharp shards. When these come crashing down a single piece can slice your arm, face or leg open. In the wrong place, you could bleed out before paramedics got to you. This is another reason why you should carry a tourniquet on your person.
I once worked for a window company and all of us dreaded replacing large non-tempered glass. It is extremely dangerous to work with.
Skylights and some commercial storefront doors and windows are constructed with laminated glass. As with car windshields, these are tough to defeat also.
Another type of laminated glass is wire glass. This is made for security purposes and is very hard to defeat, as the wire mesh is anchored to the window or door's frame.
If you are unsure of the type of glass you are about to break and have time, wear gloves, eyewear, and protective gear. If you have to break out a large window in an older structure, I would not break it at the bottom. If it is non-tempered glass, it will rain down heavy fragments that will injure you badly.
The safest place to strike large glass is near an upper corner, while you are standing as far to the side of the window as you can. Once the glass is broken, use a longer item, like your baton or a long-handled tool, to clear the glass from the opening. Pay particular attention to clearing out the glass above you.
Breaking tempered glass in a residence is the same as with a car window. You can use a punch and attack a lower corner. Just make sure you are certain it is tempered glass.
Many things can be used to break non-tempered glass. Your baton is an obvious choice, but it also puts you closer to the danger than a shovel or SWAT tool might. Do your best to respect the glass and use as much safety gear as you have available. This is where the Ares cut resistant gloves we reviewed can come in handy.
Make sure you read our Glass Breaking Tools for Police article for a look at some of the best window punches and other tools for defeating glass barriers.
Randall is a twenty-three year sworn police officer in a mid-sized Florida police department. He has been an FTO, K9 Handler, Detective and SWAT Team Leader. He is currently the Midnight Shift K9 Sergeant and department SWAT Coordinator.