This is a long-term review of the Terralux LED replacement for the Streamlight Stinger flashlight.
Over seven months ago, I ordered and received two Terralux LED replacements for my duty-issued Streamlight, Inc. Stinger. The standard Stinger incandescent flashlight puts out 90 lumens of light from a Xenon gas-filled bi-pin bulb for approximately 1.25 hours, according to Streamlight.
I was returning to Midnight Shift after a decade-long hiatus. I wanted a better, brighter flashlight, but as many older cops are inclined, I did not want to spend much (or any) money if I could help it. I have several department-issued Stingers, so I figured they could be a starting point.
Years ago, I had updated two AA Maglite Mini-Mags with replacement LED's and red lenses for my SWAT gear. Light Emitting Diodes (LED's) are not bulbs and have several key advantages over incandescent bulbs. LED's have an increased light output and longer battery life when compared to their filament-bearing counterparts. Filaments generate heat, an enemy of electronic devices, which LED's do not. LED's draw less power, thus increasing battery life. Last, an LED is virtually unbreakable, where incandescents are more sensitive to impact and therefore more fragile.
I went shopping for LED replacement heads for my Stinger and was pleased to find a $34.00 product (M.S.R.P. $59.99) from a Terralux on-line retailer. The specs for the LED were 220 lumens with a two-hour run time, according to the manufacturer. This was twice the light output and nearly double the battery life over my existing torch.
Installation was accomplished by removing the old bezel, reflector, and bulb, then inserting the new LED and microchip board into the bi-pin bulb holes. Once you screw on the new bezel, you are finished.
I compared it to my unaltered Stinger. The original Stinger generates a yellowish light and has an adjustable beam, from flood to spot. The Terralux-improved Stinger threw a more pure white light with a very slight bluish hue. This is typical of LED-driven flashlights. I find this light to be more useful in building searches and general use, as the light is brighter and does not tend to distort visual perception.
The Terralux head is not adjustable from flood to spot, but it does throw very bright light in the center of the beam and provides good light in the periphery.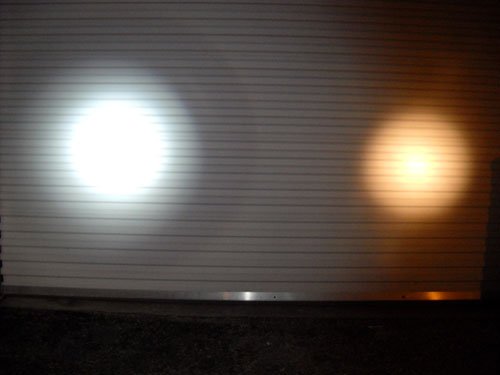 The Terralux head diameter is just slightly larger than the standard Stinger unit, but it still fits the issued traffic cone and open-topped belt sheath. My opinion is that the Streamlight Stinger, at 7.38 inches, is the very minimum size for a patrol flashlight. If you have ever tried to put a Surefire 6P or Streamlight Strion between your upper arm and torso while you write on a notepad or ticket book in the dark, you know what I mean. The Stinger is also an adequate size for traffic direction. Because of its length, aluminum construction, and 10 oz. weight, it can serve as an impact weapon if the need quickly arises.
After seven months of Midnight Shift abuse, the Terralux LED's have worked without fail. They have been inadvertently drop-tested on a few occasions, but still function as installed. I had to charge my standard incandescent Stinger on a daily basis. With the LED upgrade, I charge my light once every one to two weeks, although I've gone three weeks and it's as bright as ever. When the original Stinger, or any of my old full sized Maglites, was running low on juice, it would start emitting a slowly degrading yellowish beam. LED's maintain consistent output until the power source is nearly depleted.
During many building searches, in over a decade of Midnight tours, I have witnessed officers struggle with nighttime searches using a fading, weak yellow flashlight. It is a severe compromise to officer safety. This is also true of Day Shift, where officers who rarely needed a flashlight were confronted with a dark building and a flashlight that went uncharged for many weeks. It is a technological and tactical advantage to have usable bright light on tap when your safety is on the line. The Terralux replacement LED was an economical and functional answer to my needs.
Randy is a twenty-three year veteran officer of a mid-size Florida police department.  He served as a SWAT team officer for 21 years, to include 12 years as a team leader.  His other duties included police K9 handler, FTO, and detective.  Currently serving as a midnight shift sergeant, he is also his department's SWAT Coordinator.