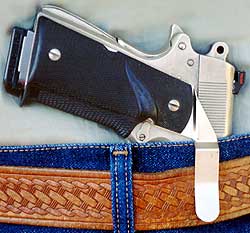 I have seen a recent trend in off-duty and concealed firearms carry that strikes me as dangerous.  The proliferation of smaller, more powerful handguns has spurred a wave of creative carry ideas that are potentially lethal to the user.
I would say these carry methods tend toward the "holsterless" gun.  Two examples of this are the carry clip and the pocket wallet.
Carrying a handgun without a holster is nothing new.  Traveling back to the Old West, you may see revolvers stuck sideways in a belt.  Sepia photographs from those days are flush with cowboys, lawmen, and ruffians proudly displaying their guns this way.
Massad Ayoob wrote about a holsterless waistband carry method in 19th century Mexico that let the civilian vaquero ditch his handgun, at the approach of the mistrusted Federales, without wearing the incriminating holster and belt.  It was called "Mexican Carry" and is not derogatory.
These things of the past aside, several companies are now marketing clips that can be affixed to the receiver of a handgun to allow the gun to be slid into a belt or waistband sans holster.  I find this to be very dangerous and ill advised.
This clip-it-in-the-waistband style was perhaps first popularized two decades ago by the Barami Hip Grip, which was a revolver handle with a slightly flared "wing" on one side which allowed you to tuck your Smith & Wesson or Colt snubbie in the top of the pants.
The modern adaptation of the Hip Grip has been a spate of clip carry accessories that bring this method to the auto-loading pistol.  Because more and more of these small guns are being toted, more of these products are making it to market.
The purpose of a holster is not only to protect the gun (from the owner), but the owner from the gun.  A proper holster, whether it is for the belt, waistband, pocket, or ankle, must cover the trigger and contain the firearm securely.  A clip carried handgun has neither and is several steps closer to a negligent, and/or lethal, discharge.
A cousin to this hazardous method of carry is the "Pocket Pal" or "Pocket Shot" style of handgun wallet.  Both of these are made for pocket carry of the gun, but leave the trigger exposed, so that the gun may be fired with the "holster" attached.
While this may seem safer than a clip because most of the firearm is encased, it still leaves the trigger accessible.  Not only that, but the reciprocal functioning of the pistol's slide is dependent on the holster not interfering in the action.
I have doubts whether users of these pocket wallets actually go to the range and shoot several hundred rounds through their guns, which are now contained in two slabs of leather.
These shortcuts solve problems that do not exist for truly committed practitioners of concealed carry.  There is a dizzying array of gun holsters out there such that one can find that balance between safety, concealment, and comfort with just a little expenditure of time, money, and good sense.
Those in law enforcement and others licensed to carry concealed firearms must take their responsibilities very seriously.  We can be our own worst enemies.  Any measures that circumvent the safe carry of firearms are detrimental to life and limb and the trust bestowed upon us by our government.
Randall is a twenty-four year sworn police officer in a mid-sized Florida police department.  He has been an FTO, K9 Handler, Detective, and SWAT Team Leader.  He is currently the K9 Unit Sergeant and department SWAT Coordinator.