Christensen Arms has just announced the release of their Mesa Lightweight Rifle. The Christensen Arms Mesa combines outstanding features with remarkable craftsmanship to produce what appears to be an outstanding and versatile bolt-action rifle. The founders and engineers at Christensen Arms came into the firearms market with dozens of years of Aerospace technology experience.
Using their proprietary combination of carbon fiber and high-grade steel manufacturing, Christensen Arms has produced barrels that are stronger than steel but much lighter as well. The Christensen Arms AR-15's and previous precision rifle offerings are some of the lightest on the market already, and the new Mesa appears to be another very nice option.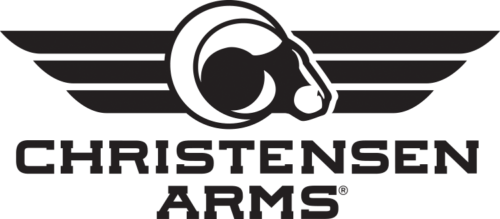 Christensen Arms Mesa
The BlueSheepDog Crew were first introduced to Christensen Arms at SHOT Show. Their unique carbon fiber barrels (with steel chamber inserts) were amazingly lightweight with the added strength provided by carbon fiber. The finer qualities of Christensen Arms rifles do not stop at the barrel. The form and fit of the components are top notch, and the company only uses top end materials throughout their rifle construction.
The Mesa is designed with the venerable [easyazon_link identifier="B0051UJQU4″ locale="US" tag="bluesheecom-20″]Remington 700 action[/easyazon_link] as a model. Each component has been evaluated and upgraded by the Christensen Arms engineers. At first glance, the Mesa may appear to be just another nice rifle. However, a closer inspection reveals the truly fine craftsmanship and design efforts put behind this rifle.
The new lightweight Mesa rifle is another nice production from Christensen Arms. The Mesa bucks traditional carbon steel barrels found on most rifles, by instead using a pure stainless steel barrel. The Mesa barrel is formed into a "featherlight-contour" capped with a seemless, removable brake designed to help reduce muzzle rise and felt recoil.
Despite the corrosion-resistant properties of stainless steel, Christensen Arms went above and beyond by adding a [easyazon_link identifier="B019NNVEPO" locale="US" tag="bluesheecom-20″]Tungsten Cerakote[/easyazon_link] finish to the barrel. This added feature mutes the shininess of the stainless steel, while providing an excellent scratch and corrosion protection. The look of the Tungsten is also aesthetically appealing, especially when viewed over the black and gray webbing stock.
The Mesa is designed with a precision machined billet receiver, meticulously shaped for fit, function, and appearance. The receiver uses Invar pillars for secure bedding in the carbon-reinforced fiberglass stock. The strictly tight mating requirements of the receiver and stock, along with a free-floating barrel, ensure the success of Christensen Arms' Sub-MOA Guarantee. The receiver is also pre-drilled for scope mounting; like the [easyazon_link identifier="B00DS0AQMQ" locale="US" tag="bluesheecom-20″]Vortex Viper HS-T[/easyazon_link] or [easyazon_link identifier="B00NKNK47I" locale="US" tag="bluesheecom-20″]Leupold Mark VI[/easyazon_link].
The butt stock includes a [easyazon_link identifier="B00J01N8XQ" locale="US" tag="bluesheecom-20″]Limb Saver recoil pad[/easyazon_link] to further reduce felt recoil and provide a more pleasurable shooting experience. All of the Mesa features are complemented by the overall lightweight 6.65 lbs.
Internally, the Mesa features an adjustable match trigger, and match-grade chamber. So far Christensen Arms has not released the trigger pull weight range, but I would expect something between 2.5 to 5.0 pounds. My personal preference for a sniper or hunting rifle is a trigger pull weight of about 3.0 to 3.5 pounds. Heavy enough weight to avoid being a hair trigger, but light enough for extremely smooth travel and consistent break.
The one area I am disappointed with the Mesa is the selection of a hinged-plate internal magazine. Though the hinged-plate is by far better than an enclosed internal magazine, the modern trend for bolt action rifles (particularly police/military rifles) is to have a detachable box magazine.
The hinged-plate magazine follows the traditional Remington 700 design, but cartridges have the potential of getting hung up on the internal rails. In addition, the follower can be inadvertently knocked out of alignment causing loading to be slowed and possibly requiring the cartridges to be dumped and the loading process started all over. In a professional setting this is unacceptable.
A detachable box magazine can be loaded prior to deployment, but kept safely separate from the rifle. When ready to load, the simple insertion of the magazine until it locks into place allows the shooter to immediately begin engaging targets. Some magazines can be finicky, but with Christensen Arms reputation for excellence I'm sure this could have been ironed out for success.
The Mesa uses a fluted bolt, which looks nice but does not necessarily improve function. The bolt handle has three milled holes to slightly reduce weight and add visual appeal. The bolt knob is slightly enlarged and has textured grooves to assist gripping.
The Mesa uses the Remington style safety lever, located on the top of the grip and to the right of the bolt. This is a very intuitive location for the shooter's thumb to disengage when preparing to shoot.
The Mesa is available in multiple calibers including, .308 WIN, 6.5 Creedmoor, .300 WIN MAG, 7MM-08, and 7MM Rem Mag.
Christensen Arms Mesa Features
BARREL
Featherlight Contour
Match Chamber
Seamless Radial Brake (Removable)
Free Floating Barrel
Tungsten Cerakote Finish.
STOCK
Fiberglass with Carbon Fiber Reinforcement
Sporter Style
Invar Pillars
Spot Bedding
Limbsaver Buttpad
Black with Gray Webbing.
ACTION
Christensen Arms 416R Stainless Steel
Enlarged Ejection Port
STD Rem 700 Optics Base Compatible
Adjustable Match Trigger
Internal Magazine with Hinged Floorplate
Aluminum Bottom Metal.
BOLT
Twin Lug, Spiral Fluted
4340-Nitride Treated
M16 Style Extractor
Receiver Integrated Bolt Release.
Christensen Arms Mesa Specifications
Barrel Material: 416R Stainless Steel
Barrel Finish: Tungsten Cerakote
Stock Material: Fiber-glass with carbon fiber reinforcement
Stock Style: Christensen Arms Sporter
Overall Length: Not listed
Weight: 6.5 to 6.65 pounds
Trigger: Adjustable Match
Loading Mechanism: Detachable box magazine
Accuracy: Sub-MOA guaranteed
Available Calibers: .308 Win; 6.5 Creedmoor; .300 Win Mag; 7mm Rem Mag; 7mm-08
MSRP: $1295.00.
Final Thoughts
Christensen Arms makes incredibly well-built rifles taking advantage of the amazing benefits of carbon fiber. Reducing overall weight, while increasing overall strength, is very smart and highly favorable to heavier traditional rifles. The craftsmanship of Christensen Arms rifles is something a shooter would expect from a custom shop, with tight tolerances and precision mating of components.
The stainless steel barrel is a great addition and should perform very well for the Mesa. Despite the protective nature of stainless steel, Christensen Arms added a Tungsten Cerakote finish which will provide not only a nice appearance but even greater scratch, mark, and corrosion protection.
The decision to use a hinge-plate internal magazine is one of the only complaints I have with the Mesa. If you have read my posts you know I highly favor a detachable magazine system for my bolt action rifles. Particularly in professional use, like law enforcement, having a detachable magazine is the best solution. The ability for rapid reloads, or change out loads for particular obstacles confronted, cannot be understated. Though a hinged-plate internal magazine functions as designed, the design is much slower and less reliable than a detachable box magazine.
The Mesa is currently shipping and available for purchase. Christensen Arms dealers can be found at http://www.christensenarms.com/find-a-dealer/.  Full specs on the Mesa can be found on the Christensen Arms' website, http://www.christensenarms.com/.