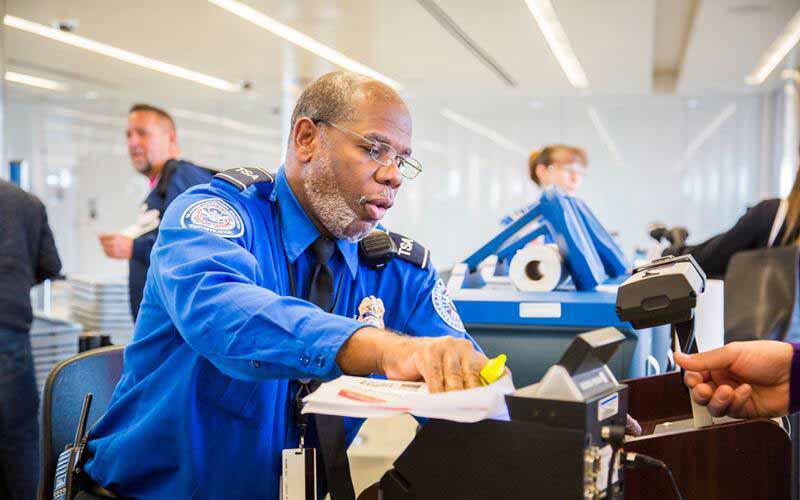 Ed. note: This article answers the question of how to fly with a gun. However, laws and airport regulations change over time. This is not legal advice and you must check the current regulations before heading to the airport.
How do you safely and legally fly with a gun?
I was traveling to Washington, D.C. with a fellow officer on a trip to the National Law Enforcement Officers Memorial and realized I had never flown with a firearm before.
I knew that flying with a pistol or other firearm was legal, but I didn't know what the steps I had to take were.
So, let me share what I learned and how it's played out for me at airports around the nation.
How to Fly with a Gun
Flying with a gun is regulated by federal law and airline policies. However, local laws can also affect you depending on where the departure and destination airports are located.
It is important for you to understand all of the laws and regs that will affect you.
I go over many of the things you need to know and what you can do to make things a bit easier. However, the final word lies with the Transportation Security Administration (TSA). You should also read their official page here.
Can I carry a gun in the plane's cabin?
Regardless of your status as a sworn police officer or private citizen, you will have to secure your firearms in checked luggage in nearly every circumstance.
Unless you are on official business, law enforcement officers are not allowed to fly with a firearm in the passenger cabin. You will have to have documentation of your official business from your agency and declare yourself to both the airline and Transportation Security Administration (TSA) prior to boarding.
I do not know of any circumstances in which private citizens are allowed to carry a firearm in the cabin of a commercial airliner.
Packing a Gun for Flight
My friend had flown with a handgun in checked luggage many times.  I had always thought flying with a gun would be a hassle, but he convinced me to give it a try.
So, I decided to see how it really worked for domestic air travel.
The most important hurdle is doing your homework to package your gun and ammunition correctly, as defined by TSA regulations and by the rules of the air carrier on which you are traveling.
The TSA regs seem to be fairly constant but vary widely from airline to airline. What works for Delta may not be ok with Southwest.
Containers
The firearm must be unloaded in a lockable, hard-sided container.  My first tip is that the plastic gun case your firearm came with may not be secure enough.  The regulations prohibit cases that can be "pulled open with little effort.
Even if you are able to padlock the manufacturer's gun case, many lack the rigidity to keep the ends from being pried apart far enough to liberate your gun.  I recommend buying a metal case made specifically for securing a firearm.
Recommendation
There are a number of containers that you can use. Two I recommend for trainsporting a handgun in your luggage:
Flying with Ammunition
Ammunition is the next issue to be addressed.
Ammunition must be stored in cardboard, wood, or metal containers specifically designed to carry small amounts of ammunition.  Ammunition cannot be stored in magazines or clips unless they completely and securely enclose the ammunition (which they do not unless they have some sort of cap).
I've been told that the magazine lids for Magpul PMAGs do not count, but I suspect that it is left to the discretion of the airline agent doing the check-in. I recommend separating them to avoid any hassle in the airport.
The ammo can be stored in the approved hard-sided container with the firearm.
I travel with the ammunition in small factory boxes that are placed inside my gun box.  It is also permissible to place the ammunition in off-the-shelf ammunition cases like those used by handloaders to store ammo.
The Role of Your Luggage
The next topic would be your luggage.  The most secure luggage for any personal property is the hard-sided suitcase.  Most travelers, however, use soft-sided luggage these days, and I admit I have traveled with a secured firearm in soft luggage.
There is a drawback to the standard hard-side suitcase. These are usually secured at the mounted latches by combination or specific keyed locks that are not readily accessible to TSA, which means they will break your bag open if necessary.
The firearms container I use has a handy cable lock that I weave in the soft-sided suitcase's metal frame.  It adds a bit more security, but if someone wants the whole bag, they'll get it.  On the plus side, nothing on the outside of your luggage will indicate there is a firearm inside, per ATF and TSA regulation.
Locks
You will need two locks to secure your handgun: one for the handgun case and one for your luggage. But, please pay attention to what locks you need to use.
Your firearm container must not be secured with a TSA, or airport universal, lock.  Your luggage, however, must have a TSA accessible lock or be unlocked.  Since you are not sending a gun through in unlocked bag, buy a TSA padlock for your luggage.
There are many good quality locks on the market. I've personally found that the offerings from Master Lock work well.
Quick Note
There are many good quality locks on the market. I've personally found that the offerings from Master Lock work well. Here are the ones I use:
At the Airport
Now you are en route to the airport.  I suggest giving yourself a bit more time than the average traveler because your interaction at the airline counter and TSA may add a short delay.
By TSA regulation, you must declare you have a firearm in your checked luggage at airline check-in. You cannot do this with curbside check-in. You must get in the line at the ticket counter.
I have flown with a checked firearm in and out of international airports in New York, Washington D.C., Las Vegas, San Francisco, Los Angeles, and my home airport of Tampa.  I have not encountered a problem. But, there are sometimes delays. So, get there early.
Check-In
First, you must go through the counter check-in procedure at your airline.
I'll repeat what I said earlier because it is important: you may not declare the firearm at curbside check-in.  You have to go through the regular ticketing line.
Once at the counter, tell the attendant that you are a police officer declaring an unloaded firearm to check in your luggage.
For our many non-law enforcement readers, I would tell them you are declaring a legal, unloaded firearm in your checked luggage.  By first stating you are law enforcement, or otherwise legally checking in, it seems to keep the drama to a minimum. (However, know your local laws. Scroll down to the Going Home section for a cautionary tale about this.)
This is where things get interesting.  Some airlines will ask to see the unloaded weapon and inspect the packaging of the gun and ammunition, per Transportation Security Administration (TSA) regulations.  This is to be expected so don't freak out.
At some airports and some airlines, I have found that they do not ask to see the condition of the gun or the ammo.  As a passenger, I find this disconcerting.  It seems each airport and carrier have different procedures, so go with the flow.
At all airlines, you will be asked to sign a card declaring the unloaded firearm.
This card will be placed inside the bag, usually on top of the gun case.  This is all the paperwork you do.  You are now allowed to lock the gun case and bag.
Most airports have a special airline attendant or TSA representative to walk you and your bag to TSA screening.  They will place your luggage in a screening machine while you are there.  Once it is examined, you are free to head to the airside.  Done!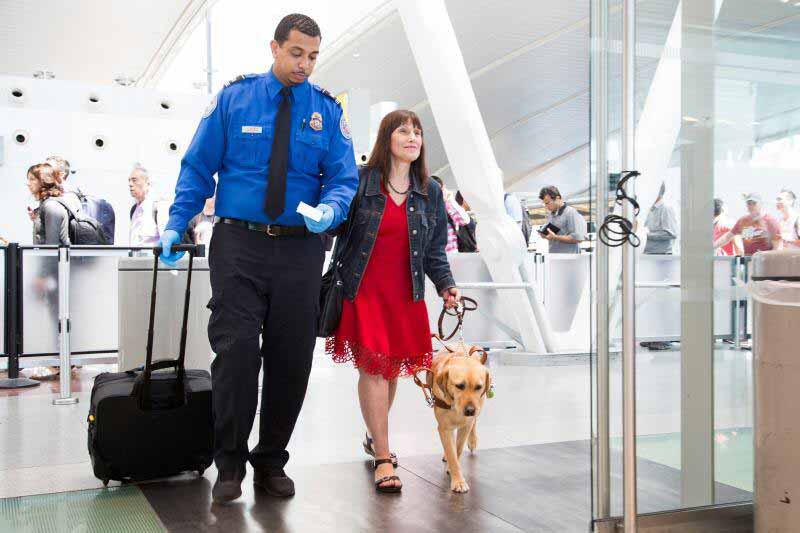 In at least two cases, I was told the TSA luggage screening was on the other side of the airport and I would be contacted at the gate if there were a problem.  My bag was then either dropped on the conveyor belt with the rest of the luggage or carried away.
OpSec
Without sounding overly dramatic, keep in mind what is going on around you during the check-in porcess. When you declare your firearm, other passengers in the vicinity of the counter may observe what is going on.  These are the same passengers who will disembark at your destination airport and head for baggage claim when you do.
Guess what: honest citizens and convicted felons both take flights around the nation. Some of them may even be radicals or mentally ill. There's no way of knowing who is aware of the gun you've checked.
When the airplane lands, I head for baggage claim with all possible haste.  I want to be there when the first piece of luggage slides on to the carousel and retrieve my bag before someone else does.
The reality is that my bag, whether it has a gun or not, is as likely to be lost by the airline as anyone else's bag.  Because of this, I would not travel with my platinum encrusted, finely engraved, super rare, and very expensive barbeque gun.
If I had one.
At Reagan International, my fellow officer's suitcase did not appear on the carousel with the other passengers' luggage from our flight.  He was…concerned.  After a half-hour, we found it standing at attention with the other regularly misplaced bags.
Going Home
You have attended your conference or enjoyed the wonders of the local theme park.  For your flight out, you are now headed back to a possibly unfamiliar airport where travel with firearms may not be approached in the same way as your home airport.
Prepare for all the steps above, but remember that things are different on someone else's turf. Know the local laws.
I discovered at J.F.K. in New York that the Port Authority Police are called whenever someone declares a firearm at the counter.  If you are not traveling under LEOSA, or another New York recognized situation allowing for the carrying of a concealed firearm, you are subject to arrest on the spot.
The Port Authority police officer that responded to my counter was very courteous once he had checked my credentials.  He even offered to jump us up in the TSA security line.
It's not a fair situation for non-law enforcement travelers. For example, let's say you get dumped in a New York airport due to canceled flights or a missed connection. You manage to get a ticket for another flight, and when you check your bags a Port Authority officer shows up and arrests you.
I suspect in the coming years we will see court cases make their way to the Supreme Court that will overturn or modify New York's draconian gun laws.
Final Thoughts
The steps to airline travel with a firearm are straightforward.  It is simple if you know and follow the regulations.  Some people print out the TSA regulations, and those for their specific air carrier, and take them to the airline check-in counter. Frankly, that's a good idea.
Remember to be courteous and patient, even if the situation becomes difficult.  You are a representative of other firearms owners and your agency. Set the example for courtesy – don't become a YouTube sensation for all the wrong reasons.
Ask for a supervisor if needed.
At your trip destination, remember that you are responsible to abide by the local laws.
Safe travels.