Editor's note: This Glock 19 RTF2 review was written in 2009. Since that time, Glock discontinued the RTF frame. However, the newer Gen4 and Gen5 guns incorporate a texture similar to the RTF2, though not as aggressive. For more information on those guns, click here.
The Glock Model 19 RTF2 (Rough Texture Frame) is a new version of the Glock Model 19 chambered in 9x19mm and follows on the RTF model designation. The Rough Texture Finish is the surface treatment done to the gripping areas of the pistol — here the Model 19RTF2. (As indicated by the "2," there were two changes made by Glock before settling on this version.)
A series of raised, upward tapering dull points has been molded in these areas. The uniqueness of this treatment caused Glock to create a new word to describe it by labeling each individually raised point with the term "polymid." (Better than calling them upside-down ice cream cones, to be sure!)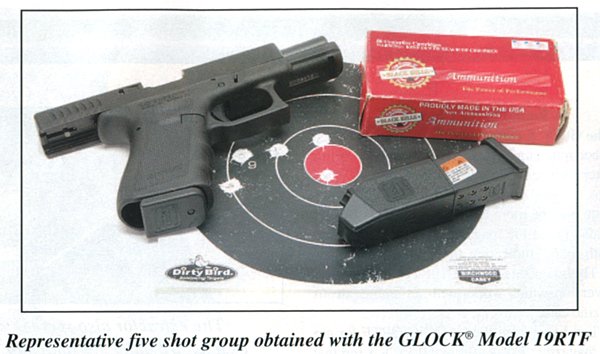 How Does It Feel?
The polymids now cover the entire gripping surface, including the dual-sided thumb rest depressions. The accessory rail remains, as do the finger grooves, with these now reduced in height.
The polymid treatment on this Glock RTF2 does improve my ability to control gun "squirm" during rapid firing and also improves my ability to maintain a consistent grip when doing precision shooting. I base this on my first reviewing the Model 22RTF in .40S&W — a caliber which is no slouch when it comes to providing significant, abrupt recoil.
Contrary to the various negative claims about the effect the polymids have on one's hands, they do not remove skin in this Glock 19 RTF2 review. For that matter, few handguns can or will do this, despite the overactive imaginations of those who have not fired the particular handgun they're criticizing, such as when the .44 Magnum cartridge came out.
More than one so-called "expert" cautioned against shooting this caliber handgun if not wearing a glove as it was sure to injure the shooter's hand. Of course, no such action occurred. The bottom line: I see the RTF2 surfacing eventually being integrated across the Glock line.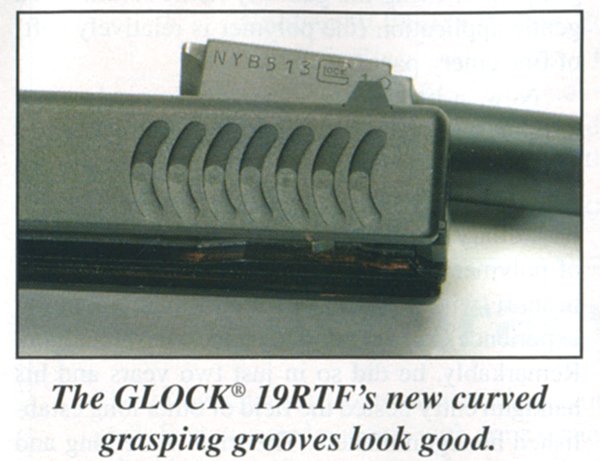 New Grooves – Glock 19 RTF2 Review
Another noticeable change to the Model 19 has been made to the slide's grasping grooves. Formerly vertical and straight, they're now crescent-shaped, with open ends rearward.
This was done to correct an already existing hand cutting problem with the vertical grasping grooves. As these have somewhat of an abrupt lower edge, someone shooting with a high grip or with large hands can find the lower edges dragging over their shooting hand thumb. In fact, a friend of mine has a slight scar from this action. As to how well they lend themselves to improving or equaling the vertical grooves, I still prefer the original ones.
Visual inspection — eyeball measuring, if you will — indicates the Glock RTF2 frame to be a bit thicker overall. The thumb depressions, too, by this measurement, are more shallow. No other changes have been made, according to my GLOCK source, who also told me this new model incorporates a recent change to all Glocks in how the front sight is attached.
A screw is now used to hold the polymer front sight in place. The rear sight is dovetailed into the slide, allowing it to be drifted left or right for windage adjustment. Also, Glock offers three additional heights of rear sights as an option to make vertical changes. (In my experience, though. I have never found the need for any of the other height variations to change elevation and have only infrequently needed to make horizontal bullet strike correction with Glocks across the board.)
In addition, GLOCK does offer optional metal sights which also have the white dot front sight insert and the white "U" outline of the rectangular, notched rear sight, as well as Trijicon® night sights.
A Round in the Chamber?
The Glock extractor now serves as a loaded chamber indicator in that the forward portion of its outer surface is thickened enough so that, when it cams outward by a chambered round, this position can now be more easily seen and felt.
I also noted the magazine follower is stamped with a "6," indicating the sixth change made to it. The magazine for the 19RTF is Glock's new version which works with an ambidextrous magazine catch.
When I reviewed the Glock 22RTF for another magazine, I was told by Glock's rep that the accuracy standard for a 25 yard five shot group is four inches or less. I find that the 9x19mm guns shoot better than this, but, with this gun, I failed to think to ask for a factory accuracy benchmark.
15 Yard Groups
Regardless, and while only shooting at 15 yards indoors due to bad weather, I got the same sized groups I get with my own pistol — five shots in two to four inches and these were wholly dependent on the shooter, not the gun or ammunition used.
At the range and as mentioned above, we really appreciated the benefit of the new texturing and the M 19RTF2 remains as accurate as my Second Generation M19 with grenade checkering and no finger grooves. Glock 19 RTF2 review.
In reality, though, the groups were pretty much an afterthought, as I was more focused on making sure I shot a good mix of 9x 19mm ammunition to confirm (once again) that GLOCK pistols are reliable when shot using generally available defensive and training ammunition.
On the subject of ammunition, it's worth restating, what with ammo prices much higher and everyone's budgets tightened, the ever present temptation to use the cheapest (lead) reloads is even harder to ignore. However, I'll stay with the GLOCK warning to not shoot lead bullets in its guns. (GLOCK also warns against shooting reloaded ammunition, as does almost every firearms manufacturer.)
Two Minor Issues
While performing this T&E, I was again reminded of two minor annoyances I have with the GLOCK pistol.
The trigger safety, even when fully rearward, protrudes enough from the trigger face that I sometimes don't press the trigger directly to the rear, causing my groups to open up. This configuration of drop safety and trigger face is done, of course, to make the safety's disengagement when the trigger is pulled to be as failproof as possible.
Also, the magazine catch is sharp edged and, sometimes, the catch digs into my support hand when gripping or firing the gun. My home solution is a gentle application (the polymer is relatively soft) of fine emery paper.
Now, a little history: For those readers not familiar with the Glock pistol, the gun was created in 1980 by Gaston Clock in response to the Austrian Army's desire to have a new handgun for its military.
Mr. Glock, an Austrian manufacturer of polymer products, learned of this request and, in short (with no previous firearms manufacturing experience), set his mind to create a new handgun. Remarkably, he did so in just two years and his handgun entry bested the field of other long established handgun makers. The trials were long and quite thorough. (I actually hefted and scanned the original test results which filled a very large binder.)
From this relatively small beginning, the Glock pistol in calibers .380 ACP, 9x19mm, 9x21mm, .357 SIG, .40, 10 mm, .45 ACP and .45 GAP (which stands for "Glock Automatic Pistol") now has passed the 4,000,000 mark and is in use worldwide, adopted by military and law enforcement entities as well as the legally armed public.
Make sure you pick out a good concealed carry holster to go with this pistol if you decide to carry one. GunsHolstersAndGear.com put together an in-depth look at the holsters available for the G19 here.
About the Author: Walt Rauch is a writer and lecturer in the firearms field. He is published regularly in many national and international publications and is the author of the self-defense book, REAL-WORLD SURVIVAL! What Has Worked For Me. Mr. Rauch has also authored PRACTICALLY SPEAKING: AN ILLUSTRATED GUIDE to The Game, Guns and Gear of the International Defensive Pistol Association With Real-World Applications. 
This Glock 19 RTF2 review is a contribution from Police & Security News.  P&SN is bi-monthly law enforcement magazine that is packed with training articles and gear reviews for the patrol officer.  P&SN is a valued supporter of BlueSheepdog and the Blue Crew.