One of the things that continues to dismay me is how many police officers tend to neglect their gear. Cops depend on their equipment on a daily basis, yet when is the last time you inspected and cleaned yours?
The handgun is one piece of equipment that you are not likely to use, but if you do need it, it is literally a life-and-death situation. Keeping your pistol cleaned and lubed is important if you want to make sure it is ready for a violent encounter.
The J. Dewey Manufacturing company makes high-quality gun cleaning parts and kits. Many of their products are designed for the harsh environments in which the military operates. The kits are certainly up to the task of keeping a street cop's gun running.
I received a pistol cleaning kit from J. Dewey for review. The kit was for the 9mm, .38 Special and .357 Magnum calibers. (All three cartridges share a nearly identical diameter bore/bullet, so one kit can cover all three.) Pistol kits are also available for the .40/10mm, .45 and the .22.
In addition to the pistol cleaning kits, the company produces rifle cleaning kits and many different kinds of rods, brushes, jags, mops and other cleaning accessories. I previously reviewed one of the company's AR-15 rifle field cleaning kits at GunsHolstersAndGear.
J. Dewey Manufacturing is a family-owned company based in Connecticut. All of their kits, parts and gear is made in the USA. The company has a number of high-profile customers including the US Navy SEALs, Federal Air Marshals and the US Olympic Shooting Team.
The Kit
The pistol cleaning kit is a self-contained solution that I think works extremely well as a piece of equipment kept in the locker at the department. All of the bits and pieces are kept in a zippered case, that is very similar to a bank pouch used for deposits. While everything you need is included in the kit, the pouch is large enough to add some additional tools, solvents and patches.
The kit includes:
zippered carrying case
6-LB brass pistol loop rod with 8/32 female threads
brass muzzle guard
bore brush
patch loop
cotton flannel patches
silicone treated cloth in ziploc bag
0.5 ounce bottle of Shooters Choice FP-10 All-In-One Cleaning Solvent/Protectant/Lubricant
double ended cleaning brush
Ok, I get it: the above components sound like standard stuff found in any old cleaning kit. Until I handled my kit, I kind of thought the same thing. But let me tell you, the quality of these parts is immediately apparent when you handle them.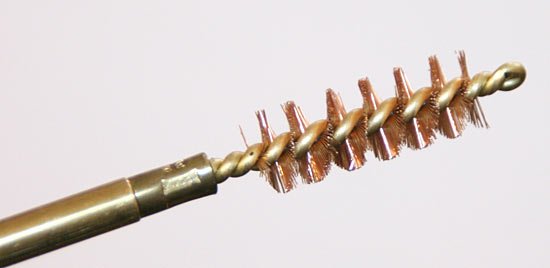 The starkest difference between this kit and cheap kits found in the big box stores is in the cleaning rod. The single-piece, heavy weight rod is made of solid brass and has nary a blemish on it. The rod is clearly very well made.
Coupled with the rod is a solid brass muzzle guard that slips over the end of the rod. The roughly conically-shaped muzzle guard is held in place by friction, and it protects the muzzle of the barrel from unintentional marks and other damage during cleaning.
I have no doubt that the cleaning rod and muzzle guard will someday be handed down to one of my grandchildren by my son, and from him or her to one of his or her grandkids. These parts are top notch quality.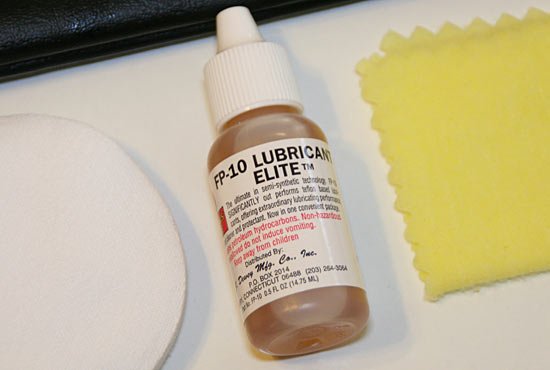 I've never used a silicone treated cloth to wipe down my pistols before. However, one of the officers on my squad swears by it. He claims it really keeps corrosion at bay.
We work in a city that is surrounded by salt water on two sides. So, in addition to the normal elements, the salt air does take its toll on our gear. I've started using the included cloth to wipe down my pistol. Thusfar, I've not noticed any difference. However, the cloth is included if you prefer to use one.
The pistol kit retails for $21.95 on the J. Dewey Manufacturing site. Considering the cleaning kit is a throwback to the pride-in-craftsmanship that seems so rare nowadays, I believe the asking price is more than reasonable.