The Dodge Durango Special Service is aimed at police, fire and general fleet customers. It slots between the Dodge Charger Pursuit patrol car and the Ram 1500 Special Service utility vehicle. Available in the second quarter of 2012, it will be built at Chrysler's Jefferson North Assembly Plant in Detroit.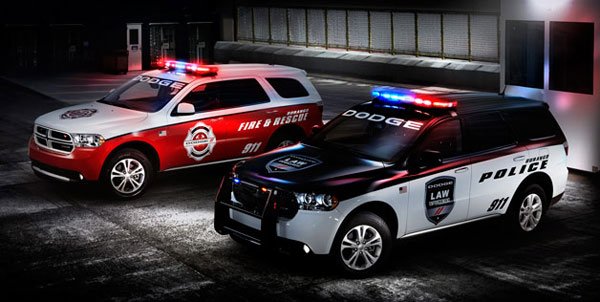 The Dodge Durango Special Service can be ordered with a choice of two engines: the 3.6L Pentastar V-6 and the 5.7L HEMI® V-8. Both versions will be available in either rear-wheel drive or all wheel drive. The V-6 produces 290 horsepower and 260 ft lbs of torque, while the V-8, equipped with Fuel Saver Multi Displacement Technology, delivers 360 horsepower and 390 ft lbs of torque.
According to Chrysler, the V-6 version has a range of over 550 miles with the fuel in its 24.6 gallon tank. The EPA numbers for the 2WD V-6 are 16 mpg city and 23 mpg highway (19 mpg combined), while the corresponding ratings for the V-8 are 14 mpg city and 20 mpg highway (16 mpg combined). The V-6 version can tow up to 6,200 pounds and the V-8 has a 7,400 pound rating.
Chrysler has made several upgrades for law enforcement and fire department duty. They include a heavy-duty brake package; a heavy-duty battery; a larger output 220 amp alternator; a heavy-duty water pump; and an engine oil cooler. There is also a customizable rear cargo area with under floor storage compartments and ad- ditional storage in the side compartments. Durangos have over 30 storage areas and a rear cargo area of nearly 85 cubic feet which can accomodate a ten foot ladder with the front passenger seat folded flat. The third row of seats has been deleted for more cargo capacity.
Other modifications include a special service interior dome lamp for officers on night patrol and a revised headliner and spot lamp wiring preparation. The rear air-conditioning and heat controls are retained so perps can ride in comfort. Standard safety and security features include seat mounted and side curtain air bags in the front and curtain air bag protection for second and third row passengers – if there were seats for them. The Durango also includes standard front row active head restraints.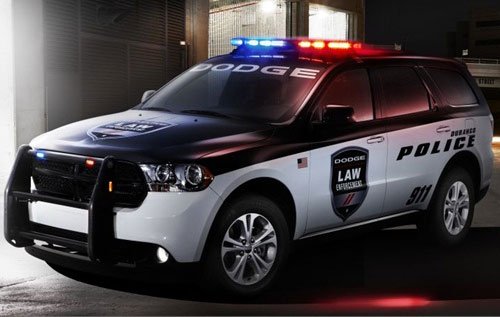 Excellent handling is claimed with its four wheel independent suspension, near 50/50 weight distribution, and responsive steering. Standard equipment includes Electronic Stability Control (ESC); Electronic Roll Mitigation (ERM); and HillStart Assist and Trailer-Sway Control (TSC) to enhance off-road and towing capabilities. All of this adds up to 45 safety and security features which have earned the Dodge Durango a "Top Safety Pick" from the Insurance Institute for Highway Safety (IIHS).
New Ford Cop Cars Save Fuel While Idling
The average police vehicle idles about 67% of the time – 6.7 hours in every ten hour shift. This was the conclusion of a recent study of police car use in Ottawa, Ontario. The typical police vehicle uses about a half a gallon of gasoline during each hour it idles.
The base 3.5L, 288 HP V-6 engine in the Police Interceptor sedan uses 35% less fuel when idling than did the 4.6L V-8 engine in the retired Crown Victoria. The 3.7L, 304 hp V-6 in the Po- lice Interceptor utility uses 32% less fuel when idling than the Crown Victoria. Importantly, there is no compromise in pursuit performance.
One way Ford increases fuel economy at idle is with Electric Power Assisted Steering (EPAS). Hydraulic power steering typically consumes power and wastes fuel since the pump runs while idling. In contrast, EPAS only uses energy while the steering wheel is turned. Optimizing the energy consumed by the air-conditioning compressor and the alternator also saves fuel.
Ford has calculated that a 35% fuel economy gain during idling could mean that an agency with 100 vehicles in its fleet would save taxpayers $153,300 annually with gasoline priced at $4 per gallon. This number might be low since here the vehicle idled for only three hours per day for two shifts. The city and highway fuel economy ratings for the new Police Interceptors have increased by 25% over the Crown Victoria. The base 3.5L V-6 delivers 18 mpg city and 26 mpg highway. That is four miles per gallon city and five miles per gallon highway plus 38 more horsepower than the Crown Vic.
The optional EcoBoost 3.5L V-6 in the all wheel drive Police Interceptor sedan is rated at 16 mpg city and 23 mpg highway. The Interceptor Utility (the police version of the Ford Explorer) powered by a 3.7L V-6 returns 16 mpg city and 22 mpg highway.
Carbon Motors E7
Carbon Motors Corp., which has developed its E7 diesel powered purpose-built law enforcement patrol vehicle, recently received a significant financial blow. The U.S. Department of Energy has indicated that it will not proceed with Carbon's $310 million application for a direct loan under the Advanced Technology Vehicle Manufacturing (ATVM) program established during the Bush administration and continued under the Obama administration.
According to a Carbon Motors' press release, "Similar to the experiences of other applicants, we spent over 30 months responding to every request made of us by the DOE – many of which were, at best, challenging and, at worst, unnatural. We are outraged by the actions of the DOE and it is clear that this was a political decision in a highly charged, election year environment. Since Solyndra became politicized last fall, the DOE has failed to make any other loans under the ATVM program; has pulled back one loan which it previously committed; and, as of this month, the DOE has pushed aside the three remaining viable loans under active consideration."
Carbon Motors is actively examining its strategic and financing alternatives to continue development. The company says it has received over 20,000 reservations for the E7 from over 500 law enforce- ment agencies across all 50 U.S. states, plus over 35 foreign law enforcement jurisdictions.
About the Author: Bill Siuru is a retired USAF colonel. He has a Ph.D. in mechanical engineering from Arizona State University. His military assignments included teaching engineering at West Point, commander of the research laboratory at the U.S. Air Force Academy and Director of Engineering at Wright-Patterson AFB. For the past 35 years, he has been writing about automotive, aviation and technology subjects.
This article is a contribution from articles and gear reviews for the patrol officer.  P&SN is a valued supporter of BlueSheepdog and the Blue Crew.  You can obtain a free subscription to the Police & Security News magazine by joining the Blue Crew.