Over many years of police work I've come to appreciate the fact that cops hate the repetitive aspects of the job. Whatever the repetitive task, people always look for short-cuts. Often we can get away with it, but sometimes times those short-cuts are taking us down a path that will lead to disaster.
One of the most frequently conducted activities of the patrol officer is the traffic stop. In all but the most busy jurisdictions an officer can be reasonably expected to make at least one car stop per shift. Doing it safely is extremely important to your survival.
If you work an 8-hour shift that comes to about 250 car stops a year. Even on a 12-hour shift with the same expectation, an officer can be expected to make over 150 stops per year. With those kinds of numbers you can bet officers will try to find short-cuts, but on this kind of activity we're walking ourselves into the bad man's trap.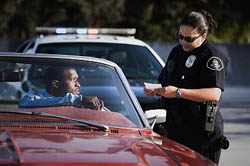 I'm the kind of officer that sees the traffic stop as a tool to interdict and disrupt criminals, and occasionally remind "soccer mom" that cell phones, gas pedals, and red lights do not mix. It is not my goal to write a lot of tickets, but rather encourage the public to drive safely and get real criminals off the street.
In my 14 years of law enforcement I can conservatively estimate that I have made over 15,000 vehicle stops. In addition to normal patrol duties, I spent nearly 3 years in our Traffic Unit as a DWI enforcement officer.
In this article, I will reinforce the proper traffic stop safety procedures, and hopefully introduce you to a few new tricks that I have developed over the years.
Calling Out the Stop
It troubles me as a Sergeant to hear officers completely destroy any semblance of a well called-out car stop. When I was in the Academy we learned a form of car stop radio procedure that I'm sure is very similar to what many of you learned. It was called the C-Y-M-B-O-L method of identifying your vehicle stop:
L – Location, and then:
C – Color of vehicle
Y – Year of vehicle
M – Make/Model of vehicle
B – Body style of vehicle (2-door, 4-door, SUV, etc.)
O – Occupants of vehicle (how many, description)
L – License plate information (number and State)
This was a great way for a new recruit (sheep) to learn what information needed to be relayed to dispatch for computer checks and for back-up officers in the event of trouble.
Due to officer safety input from FTO's and other officers, and the order our CAD computers take information on vehicles, our modified model of car stop radio procedures looks like this:
L – Location!
L – License information C – Color Y – Year M – Make/Model
B – Body style O – Occupants information
L – Location!
When I was an FTO I was particularly strict with my probationary officers about getting this procedure memorized. Obviously, there are times where circumstances do not allow us to complete this model, and during those times probationary officers were instructed to get out their location, type of activity, a basic vehicle description, and repeat their location. In fact, most of time my officers will start to respond for back-up when another officer fails to get out all of the information on the belief that something unusual is occurring.
We need to remember that it is often the "unexpected" event that causes the officer to fail in the deadly force encounter. Although we should always be at Condition Yellow (on-duty or off), we need to increase that awareness level to Orange upon any type of enforcement activity. It's often the "routine" that turns deadly.
Officers who know they're responding to an armed robbery call are on high alert and usually respond accordingly. But that same armed robber may be in that minivan you stopped for speeding, and the effort you make to properly relay your stop information may be the difference between you fighting alone or fighting with company!
I know some guys give out ribbings to other officers about "like to hear yourself on the radio", but there's nothing more frustrating than knowing that officer needs help and not having all the information needed to respond and give that help.
Patrol Car Placement
Another important consideration for officers conducting traffic related activities is how we position our patrol cars at scenes and car stops, and what we do with ourselves when doing so. These little details could very well make the difference between life and death, and are often overlooked.
Three Basic Traffic Stop Positions
There are three basic methods of positioning our police cars during a vehicle stop, and in talking with officers from several different states it seems that these are fairly universal.
Directly In Line – In this method the officer pulls the patrol car behind the offender's vehicle in a manner that causes the vehicles to be directly in-line of each other as they would be if they were stopped in traffic. This method allows for the least amount of intrusion into vehicular traffic, but also provides the least or no amount of protection to an officer who approaches the offending driver's door.
This is often the preferred method on rural or curved roads that do not have adequate shoulders to allow traffic to pass by unobstructed. In this method, however, officers are immediately exposed to threats from the violator upon exiting the patrol car, in addition to the traffic hazards.
Should an approaching car get too close the officer is very exposed to impact. Rear-approaching vehicles that impact the patrol car may or may not continue into the officer's path, but who wants to be standing around during that collision? Spacing of the patrol car from the violator car becomes it's own consideration, and I'll touch on that momentarily.
One benefit from this position is that the patrol car's emergency lights, and take-down lights are directly on the suspect vehicle, and it could be an option for 2-man units. However, in my opinion, the Direct In-line method should be used very sparingly.
Off Set – This method has the officer positioning the police vehicle straight on behind the offender's vehicle, but the patrol car is about a half car width into the lane of travel. In this method the police vehicle provides a "safe" lane of approach to the offender's driver's door, as the police vehicle is blocking rear approaching traffic from driving directly into the officer's foot path.
I say "safe" because, as Richard has mentioned in an article about the passenger side approach, the officer is still somewhat exposed to the idiots that can't avoid a marked patrol car with emergency lights on.
Roads with larger shoulders could allow for traffic to pass unobstructed if the offender pulls far enough off onto the shoulder, but we know that rarely happens. This method provides some traffic obstruction (if the officer's car is on the roadway), but provides some officer protection as well.
In this method officer's have momentary protection from the violator upon exiting the patrol car, as the engine block of the patrol car provides partial cover. During rear-end collisions with the patrol car the officer has some protection from impact as the patrol car and the offender's vehicle will absorb a lot of energy, but again, who wants to be standing out exposed during that crash? The spacing of the patrol car becomes very important here, as well.
Off-set is also an option for 2-man units.
Angled – When performing the angled car stop position an officer pulls directly in behind the offender's vehicle and then angles the patrol car approximately 30 degrees into the lane of travel. I've seen some officers cant their vehicles as much as 45 degrees. Although this provides a great deal of protection from the violator, it really starts to make emergency lights limited in their use because of the angle of the light bar facing approaching traffic. With the 30 degree angle this method provides some traffic obstruction, but still gives a good visual of the police car to approaching motorists without losing the effectiveness of the overhead lights.
This method also provides the best cover and protection to the officer upon exit, because the entire engine block, windshield and other parts of the patrol car are between the officer and the violator's car. If the officer does a driver's side approach there is a brief time the officer will be exposed to traffic when he/she walks around the front of their patrol car, but then they have a "protected" approach lane the rest of the way.
Remember, officers are always exposed to traffic on the driver's side.
Some have said that the angled method can also protect officers from rear-end collisions with their patrol car, as the force of the impact, combined with the angled position of the car, will send the patrol car away from the officer. My crash investigation training and experience tells me that high speed collisions won't have this desired effect immediately, but there may be some factual science in this belief for lower speed collisions.
This method also is the best for taking advantage of a passenger's side approach that Richard and I are great believers in. Because of the angle of the patrol car, officers can easily slip around behind the patrol car and approach the violator's vehicle often unseen.
One draw back to the Angled method is that the take-down lights lose some of their effect.
Commercial Vehicle Traffic Stops
I recognize that some officers, particularly those who do a lot of Commercial Vehicle Enforcement, are taught to pull in front of the violator's vehicle (usually a big 18- wheel tractor trailer rig) because it offers the greatest view of the driver upon approach, and puts the rig between the officer and approaching traffic.
Since this method seems to be used mostly in CMV enforcement I will not touch on it further in this article.
Additional Considerations
Watch the above video of a car stop turned gunfight. In this video, officers stop a pick-up truck, and the driver immediately exits and begins firing on the officers with a handgun. This thug was motivated and had some skills, firing first on the passenger officer, then firing on the driver, and returning to the passenger officer before disengaging from the gunfight because his truck (cover) was moving away from him, and officers were returning fire.
Due to the officers being in a 2-man unit they opted for the Off-Set method when stopping, and that was probably the best position for their circumstances. It offered some protection and allowed both officers to get into the fight rather quickly.
During my career I have used the Angled method of car stop positioning more than any other method because I feel it provides me with the greatest protection, and more options for approach when I exit the patrol car. However, I have used all the methods of stopping vehicles I've mentioned, including in front of the violator.
No matter what method you choose, an officer should try to take advantage of the safest method available to them at the time and location of the stop, and make that decision before the lights and sirens are ever turned on.
Exiting the Patrol Car
Ok, so you've called in the stop and positioned your car. Now, how do you exit the patrol car? Are you deliberate every time or do you casually exit like you do any vehicle?
Although getting out of the car is frequently overlooked, exiting the car should be as critical a movement as anything you do in the car stop. How and when you exit may be the difference you need to survive.
When I was training new officers my instructions were that they were to be prepared to exit the patrol car as soon as the suspect vehicle came to a stop. That takes a lot of preparation – calling in the stop in advance, choosing good stopping locations, timing, and good patrol car placement on a stop.
In the shooting video above, the suspect very quickly exited his truck after the stop and engaged both officers in the patrol car before retreating back to his truck. It only took 4.25 seconds for him to exit, walk to the back of his truck, shoot multiple times at both officers, and then turn to retreat. Despite the suspect's speed and aggression, the officers in the video did a great job in engaging this felon and ultimately were victorious.
The point is you had better be prepared when the vehicles come to a stop. And sitting in your car watching the show is not being prepared. You must be outside of your car and ready to conduct business, advance, foot chase, or even tactically retreat if needed. To do this you must be absolutely prepared when that suspect stops.
Here are a few tips that will help you take the tactical advantage and be prepared for the unthinkable should it happen to you:
Anticipate your enforcement action and plan on a location that puts you in a tactical advantage over the other driver. Avoid the opposite as much as possible.
Call in your stops before the emergency lights go on.
Plan your patrol car positioning during the stop based upon location, traffic conditions, your safety needs, and your tactical plan.
As the suspect vehicle is almost stopped unfasten your seatbelt and make sure it is clear of your duty gear.
Make sure your hands are free of radio mics, pens, food, drinks, or whatever.
Plan to give your patrol car an acceptable distance behind the suspect – I recommend 15-20 feet between vehicles to give better protection from approaching motorists, and a good safety distance that the bad guy must close to engage you, with bullets or by other violent means.
As soon as you can when that suspect stops put your patrol car in park while at the same time opening your driver's door.
Exit as quickly as you can and try to position yourself to be facing the suspect vehicle as you do so. Pause briefly upon exit to examine the suspect vehicle for any potential dangers.
Have a plan for a driver's side or passenger's side approach and carry out the plan, keeping the suspect vehicle in sight as much as possible. Do not cross in front of your patrol car and give the suspect an opportunity to back into or pin you between the vehicles.
Practicing these tips will become second nature, and will increase your confidence in stops, while providing you the greatest safety position that you can assume. If bad guy exits quickly his confidence will be hindered when he looks back and you're already out of your car ready to engage him.
Be safe, get in the right mindset to survive, get off the X if you find yourself there, and keep fighting until the fight is done. Fight to win to the end.
Use of Light and Movement
Something that is just as critical in making safe car stops is the use of lighting and our movements to and from violator vehicles.
In the In-line and Off-set methods of patrol car placement the officer has full, or at least partial use of the take-down lights on the light bar. In the Angled or Canted method the officer can only count on a minimal amount of light from the take-downs, however the overall lighting effect may still be blinding to the violator.
Spotlight
If you use the Angled/Canted method like I do, where do you put your spotlight? I'm personally a fan of putting the spotlight on the rear window of the violator's vehicle. This method provides me the greatest idea of what is going on inside, especially when there are multiple occupants.
From training I find that position to be the most invasive method and really shuts down the occupants ability to see what I'm doing.
I know that leaves the driver's mirror open, which is usually the other method used for the spotlight, but that's why I carry a flashlight. I've found that if I do put the spotlight on the driver's mirror, and then conduct a driver's side approach, that I end up walking into my own beam and thus eliminate any benefit from the spotlight. I can accomplish the mirror blinding with my flashlight and still blind occupants and illuminate the interior by placing the spotlight on the rear window.
If I do a passenger side approach, the spotlight on the driver's mirror does me little good, but illuminating the rear window can have great effect. These considerations should be made whenever making stops. Regardless or your preferred method we should aim at giving ourselves the greatest advantage in every tactical situation, and any enforcement action is a tactical situation.
How many of you use your spotlight during daylight hours? Why not? Even during the day that light is bright and powerful, and can provide at least a minimal amount of interference to the violator. If that violator is Joe-Citizen it is a minor inconvenience. If that violator is intent on harming you, you've just provided one more barrier that could interfere with his desire to do you harm.
I have to admit that I don't always remember to use the spotlight during daylight hours, but I'm almost always approaching the car with a flashlight in my off hand. Even during daylight hours a flashlight can have amazing effects on a violator who may appear to be turning into a threat.
Many flashlights today have more than 100 lumens of light, and when that light is "painted" over the suspect's eyes, even for a short time, it gives a momentary blindness and disorientation that plays right into our game, and takes the edge from our potential adversary.
Body Positioning
Now what about body positioning on a traffic stop? I think most officers are taught to stand at the pillar between at the rear of the driver's door. This provides us a good view of the interior while at the same time forcing the driver to maneuver awkwardly to turn towards us in the event of a threat. Precious seconds count, and that extra movement may be the difference we need to respond to a threat.
I've also seen some officers approach to the driver's door pillar, and then re-adjust to stand in front of the A-pillar at the front of the driver's door. The thought here is to be able to view the driver and occupants, but also keep our peripheral vision on any wayward approaching motorist.
I've seen many Highway Patrolman use this technique and I've tried it a few times as well. Although, there are some advantages to this position, I personally feel that it should only be used occasionally and for short durations of time. There's just too much exposed to the driver from that position.
Passenger Side Approach
Richard has touched on the passenger side approach and I will again emphasize the great tool that this is.  If able to, try the passenger side approach, and you might find that it becomes your preferred method of approach.
Society (and bad guys) is programmed for officers to approach on the driver's side. Showing up on the passenger side has a very disarming effect on the bad guy, and usually causes all sorts of confusion to Average Joe Citizen.
You will probably not get a better, and safer in my opinion, view of the interior of the vehicle than from the passenger's side. I can attest to standing outside of a suspect vehicle for several minutes without anyone inside knowing that I was observing them hide dope and beer. Once contact is made, it is so devastating to the occupants' OODA cycle that confessions and confiscations are usually very easy.
On one recent stop I observed a passenger lighting up her dope pipe. I made a passenger side approach and immediately contacted her. She stuttered so badly from being contacted first that she was all too ready to retrieve her crotched dope and pipe – ouch!
Disengaging
Finally, we need to tactically withdraw from a vehicle while still protecting ourselves from traffic. Obviously easier done on the passenger side, but from the driver's side we can still take measures to provide us the greatest tactical advantage. There are really two trains of thought here: walking backwards and walking at an angle.
By walking backwards the officer maintains a full view of the occupants and is in an immediate shooting/defensive stance should the need arise. However, walking backwards is dangerous for even those who practice it a lot. And should bad man exit with intent to do harm, our first reaction may be to create distance, which makes walking backwards that much more difficult to maintain footing.
The other thought is to turn and walk almost directly back to our patrol car, but with our head and maybe shoulders slightly turned to watch the occupants on the walk back. This is a more normal walking method, but the twisting of the head and shoulders can also have an imbalanced feel to it.
Simply turning and walking back to the patrol car is unacceptable. Our busy highways and roadways would easily cover a door opening, and if we're not aware than it's too late.
Regardless of your withdraw method an officer should practice, practice, practice, until movements become second nature and we avoid running into vehicles, tripping or worse – walking into traffic.
Paperwork and Warrant Checks
Once we're at the patrol car we can re-enter to conduct checks and complete citations, or we can stand outside of the car. If we stay in the car we need to keep our eyes on the suspect vehicle. Obviously, writing citations will take our eyes away, but those times should be brief.
As an FTO I instructed all my officers to not write more than one line on the form before looking up, and when they looked up I wanted them to take time to observe what was really going on – not just going through the motions. This seemed to work well and kept us in the loop of activities in the car in front of us.
I also instructed officers to check their mirrors frequently. There is nothing worse than having Average Joe Citizen who's lost rap on your window while your dealing with an unknown danger in the car ahead.
Besides scaring the you know what out of you, it's an immediate recognition of a failure of officer safety. What if that was the friends of the driver you were preparing to arrest who pulled up behind you?
If you choose to stay out of the vehicle, the rear passenger side is probably the safest and most tactically sound. However, with that position on-coming traffic must be a constant concern, so I would advocate facing your patrol car and maybe using the trunk as a writing platform. That way peripheral vision may pick up that idiot about to smash your patrol car, and give you time to get out of the way. And if you use the same guidelines above, you should be looking at the suspect vehicle quite often and that should keep you on top of things.
Final Thoughts
This ideas and concepts in this article aren't revolutionary, but adhering to the core techniques may be the difference we need to win the violent encounter and survive the dangerous roadways.
There is no magical moment when we no longer need to learn, or re-learn. The moment we stop, we actually start to lose those things we thought we knew.
Think about your safety, your brothers and sisters, and get home safe to your families.