I have noticed a trend over the last decade of patrol officers failing to carry the police shotgun either in their squads or on calls on a regular basis. I am not talking about officers whose departments do not issue such weapons or officers who have access to rifles. I refer to a change in the mindset of the officers themselves about the shotgun.
Having been a field training officer on and off since the eighties, I have noticed a gradual shift in attitude away from the shotgun. In urban policing, it was not common for a police officer to be armed with a rifle or sub-gun until after LAPD's North Hollywood shootout in 1997. The primary long gun seen before that was the patrol shotgun.
Sometimes called a riot gun, the police shotgun is a devastating combat weapon. In its modern form, it has served the military and police departments well since World War I. The manual of arms is fairly straightforward. A properly trained officer with a shotgun, spare ammunition, a sling, and a mounted light will absolutely rule the day in close quarters battle.
In the first few years I worked Midnight Shift, officers would race to a "man with a gun" call. Everyone would exit their cars and there would be a cacophony of clackity-clacks as the pump-action Remington 870 shotguns were charged.
Fast forward to last year, where I went on an armed subject call and saw just one out of the five arriving officers with a shotgun. The remainder of the officers went pistol-only. Fortunately, three of us arrived with SWAT weapons.
Starting out at the beginning of shift, an FTO has the rookie check out his car for damage and drivability. A search is done of the prisoner's caged area for contraband and weapons. The shotgun is unloaded, checked for function, reloaded in a cruiser-safe mode, and placed in a rack or trunk.
It is disturbing to me that my last few recruits had no competence in handling the shotgun while checking it. I don't think their initial academy training was technically deficient, but it was sorely lacking in repetition, by which one becomes familiar and proficient with the shotgun.
I have been on incidents with our troops and surrounding agencies, and have witnessed officers and deputies employing their general issue shotguns without carrying any spare shotgun shells. Boom, boom, boom, boom. And you're done.
Because of the shotgun's limited ammo capacity, an officer needs a handy way to access more shells, like side-saddles, buttstock holders, or pouches. If you are firing a shotgun, whether pump or semi-auto, you need to be constantly stoking the tube magazine to keep the gun topped off.
Nowadays, the shotgun is usually an entry-level weapon for newer officers. With time and training, many agencies will graduate them to a rifle. While some departments will trust a rookie with an AR-15, mastery of the shotgun is de rigueur for all officers.
If you do not feel comfortable with the shotgun, practice with dummy rounds for loading and unloading. Find range time with an instructor to hone your skills. The shotgun should not be treated as a "scattergun," but like a precision rifle.
12-gauge 00 buckshot spreads, with current police ammunition, hover around one inch per three feet of distance to the target. This will vary with the ammunition, barrel length of the gun, and choke size (cylinder-bore in a police gun). Test your shotgun and ammo at various target distances to see how your gun patterns.
To paraphrase master trainer Clint Smith of Thunder Ranch, a handgun is for fighting your way back to your long gun. Not everyone has a police rifle. We cannot take a shotgun with us on every call. But because it greatly increases our lethality quotient in an armed confrontation, a shotgun should be carried when it is tactically appropriate for the situation and need is apparent.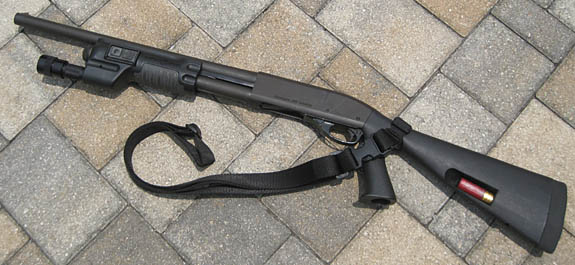 Randall is a twenty-three-year veteran officer of a mid-size Florida police department. He served as a SWAT team officer for over 21 years, to include 12 years as a Team Leader. He is currently the Midnight Shift K9 Sergeant and department SWAT Coordinator.